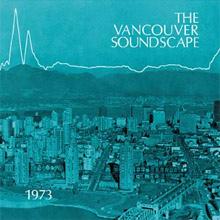 In 1973, a group of composers and academics at Simon Fraser University took to recording and preserving the sonic landscape of Vancouver, as part of the World Soundscape Project. It became known as The Vancouver Soundscape, and in 1996, it was revisited by one of the original project's guiding forces, Barry Truax.
In 2008, inspired by the project's subject matter, a group of VFS students and grads made Soundscape Vancouver: in essence, both a documentary about a documentary and a self-contained exploration of sound in the city, produced with the blessing of the filmmakers' respective VFS departments.
"The project started out of my own necessity to describe and 'organize' all the sound layers around me," explains director and Film grad Kathrin Krückeberg. "When I came to Vancouver to start at VFS, I was able to see the big differences between cities, not only on the landscape and on the look of the streets and the buildings, [but] also how different they can be on the sound level."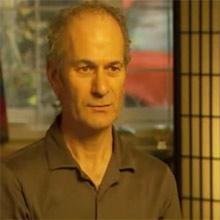 Sound designer Nigel Frayne is one of the experts interviewed in the film
"I'm not a musician or a sound designer, but still I am very connected with sound, and I think it's very important to talk about it from different perspectives."
Although Kathrin had graduated by the time she started directing the Soundscape Vancouver documentary, Sound Design grad Andres Santana came on as part of his final VFS project.
"I was looking for my final project to work on - my idea was not to get an animation... [but] something that I can share with other people and they will get something from it. That is what the project means for me."
Before coming to VFS, Andres was a sound engineer in Colombia, where he worked with Digital Design grad Ivan Mosquera. Andres had an interest in sound post-production, and Ivan recommended the school. For Andres, the appeal of the Soundscape project wasn't just in the technical scope of the original work, but the broader implications as well, including "acoustic contamination, the silence, and also why people use headphones so constantly in the cities."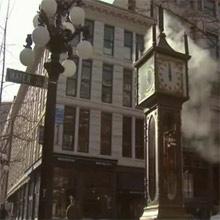 The famous Gastown Steam Clock is a familiar part of Vancouver's soundscape
Kathrin's back in her native Germany, where she worked on the Wachowski-produced Ninja Assassin, and is now stationed in a Hamburg production house. Soundscape Vancouveris still on her mind. "I'm still working on the Soundscapeproject, finishing and promoting, and looking for the new location to do the next chapter."
She promises us to keep us posted about the project's future: festivals and screenings are on the radar. Keep an ear to the ground!