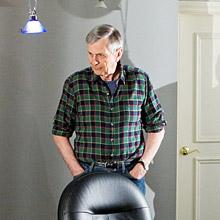 As if getting your script produced wasn't enough to get you excited! Imagine having two seasoned, pro actors offer to help bring your story to life. It's a dream-come-true for current Writing for Film & Television student Michael Thede, whose script "My Best Friend, Charlie" will star William B. Davis (of The X-Files fame) and Keith Martin Gordey (Men in Trees, Smallville).
"There were definitely a couple of wow moments along the way, especially watching them on the monitor during the shoot," Michael says. "Through their interpretations of the script, they both managed to illuminate aspects of the characters and the story that I don't think I was fully aware of until I saw them perform it. That was pretty cool."
Michael and his classmates are all witnessing  their heavily-rewritten short scripts become professional film productions as part of the Writing program's Portfolio Shorts course. Overseen by Head of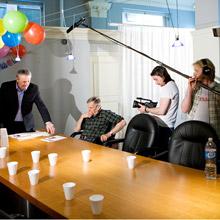 Department Michael Baser and produced by Production Coordinator Wade Fennig, a student's "Port Short" represents their first step into the film and television community. Some of these films go on to screen at film festivals.
Following the story of a retiring FBI agent who's visited by his one elusive wanted man, "My Best Friend, Charlie" went to camera last week under the command of professional Director and Portfolio Shorts veteran, Katrin Bowen.
Congrats, Michael!
Update: Click here to see the final cut of My Best Friend, Charlie.