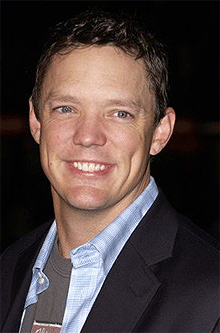 In what's been described as a "bracingly honest" interview with BlackBook, VFS Advisory Board Member Matthew Lillard spoke about his career and what being cast in Alexander Payne's The Descendantsmeant for him:
"Nobody ever comes to me. Nobody in the history of filmmaking has ever gone, 'You know who we need for this? Matt Lillard." That's the truth. It was an audition. I read the audition and I was like, 'Dude, there's no way I'm going to be this guy. There's no way I'm George Clooney's wife's lover. That's not happening."
And yet it did happen. According to this behind the scenes video shot on set in Hawaii, Lillard said he did the audition quickly with his kids waiting in the car, which actually played a part in him landing the role, according to Payne. Once he was cast in "one of 2011's best" movies -- a role that could potentially blow the doors off of the legacy of successful franchises like Scooby-Doo!and Scream -- Lillard turned to his friend and colleague, Head of Acting for Film & Television Bill Marchant, for coaching help leading up to production.
Considering the many hours Lillard has dedicated to weekend workshops with VFS Acting alumni, not to mention his previous guest speaker engagements, working with the passionate veteran actor seemed like a no-brainer for Bill, who was kind enough to share his thoughts on the entire experience:
On Matthew Lillard, the Actor
"Matthew Lillard is very much an actor's actor. He is classically trained and very professional in his attitude toward the work. Because he spent most of his youth and early adulthood immersed in the slacker oeuvre, he is too often dismissed as being a slight character, a goof, a man-child. Yes, he is all those things but they represent a very small part of his palette. He is very much  a masculine force of tremendous power and charisma with a surprising depth of sensitivity. He is also like mercury, silvered and quick and electric, ultimately impossible to pin down."
"I think it is Alexander Payne's great genius to recognize this wild cactus flower, the outrageous beauty of bloom where we expected none. What a remarkable eye to know that behind the archetype that Matthew represents, lies an actor of extraordinary substance."
The Coaching Process
"Matt was excited about The Descendants, obviously, but he was calm compared to me. I am a huge fan of both Lillard and Payne. I knew that this bit of inspired casting was akin to the masterstroke of using Paul Giamatti as the hero in Sideways. I am sure Matt did have his concerns about flying to Hawaii and doing the gig but he remained fairly casual through out the process. It is never wise to do a project of this scope without working on it with a coach. It was my honour to play that role."
"[VFS instructor] Matt Fentiman and I flew down to the Lillard home in Pasadena ready to work. But we didn't get right to it. We talked over the script and major scenes casually during the course of the next few days as Matt [Lillard] took care of his kids and wrangled busy schedules with his wife. I was chomping at the bit to play. Matt Lillard prefers to simmer. Slow."
"The day before we left for home, we finally got down to it. We started by walking for miles in beautiful suburban Pasadena down tree-lined avenues, just going over the lines, over and over again, letting them seep deep into the tissue of the actor's body. On breaks we would ramble and debate about the truth of love and relationships and betrayal and getting caught. These are all the major hurdles his character faces in The Descendants."
"Finally, we took it back to the 'work' room of Matthew's house and got the scene up on its feet. Matt Fentiman took on the Clooney role and we let it fly. Lillard is all animal impulse. He censors nothing as he repeats the scene, honing and tweaking and pushing at the edges of the scene until the ragged but glorious truth emerges. It's not pretty. It's not easy. But it is outrageously fun. Within a couple of hours we were done and wisely let it go. I knew Matthew could remain constant in the scene while adapting to all change regardless of the circumstance. His key strengths are energy, permission, and the connective sinew of love that defines the great actor. He brings it every time. That's who he is."
Thanks for the insight, Bill! And a big congrats to Matthew Lillard on a wonderful performance!
UPDATE (1/16/12): The Descendantshas won the 2012 Golden Globe for Best Motion Picture (Drama).
UPDATE (6/13/12): Watch Bill conduct a fascinating interview with Matthew here: