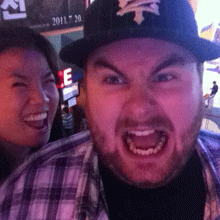 Since graduating from Makeup Design for Film & Television in 2006, Mike Nickiforek has carved out quite a career for himself in prosthetics and fabrication. With recent credits Unknown, Mr. Popper's Penguins, and Rise of the Planet of the Apes under his belt, Mike was invited by fellow grad Jonghee Song to help on a shoot in her native South Korea. Ever the adventurer, Mike accepted and filed this report.
Guest post by Mike Nickiforek
Jonghee hired me to come over and head the shop work she was doing over there for the makeup effects preproduction work on the film. I basically was in charge of the shop work, as well as doing most of it myself. I was there for 2 months for all of July and August.
I sculpted an old age makeup for the film, turning the main character from about 33 to 70 years old. Once the main sculpt was finished I broke it down into eight pieces, then made separate molds of the pieces. Hand appliances were sculpted and created as well. There was also a 50's stage, and we created separate subtle prosthetics.
From there we needed to run 60 days worth of silicone prosthetics. That means every day they use a new set of 10 prosthetics on the actor, which in turn means we needed to make about 600 prosthetics+ in total for all the different age stages. Due to time constraints though I was unable to finish all the pieces before I had to return to Canada. They continued the prosthetics fabrication after I left and finished it themselves. I trained VFS grad Mikyong Choi how to efficiently run the pieces herself. By the time I left she was doing an amazing job!

VFS grads Bora Jin, Jonghee Song, and Mikyong Choi
Throughout the process of creating the prosthetics I was involved in doing the first test makeup, then later giving pointers to Jonghee as she did three more tests. After the first test, I had to redo the neck and cheek prosthetics, which means I had to re-sculpt and re-mold them, then run new prosthetics from those molds. Then after the second test with the new pieces in the mix, I also ended up re-sculpting the foreheads and chin prosthetics. After that we were able to achieve a look the director was really happy with.
From the shop perspective, it [the South Korean film industry] doesn't differ much at all really. The only thing is what's available to them there as far as supplies and materials go. We had to do a lot of ordering from the States as that's where most makeup products are actually produced, and if you do buy anything locally in Korea of the makeup effects nature it is usually double the price. So even with shipping it was cheaper to buy from the States for a lot of stuff. The on-set test makeup stuff we shot seemed to be very similar to North American standards of on-set work, and they even use some of the English film terminology which was surprising to find out!
Thanks, Mike!