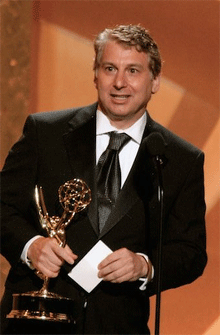 We recently welcomed Emmy-winning editor Stuart Bass for a VFS event put together by the Canadian Cinema Editors Association.
Rosalie Yagihara, a current student in Film Production, filled us in on all the details from the talk, which covered Stuart's high-profile career and his approach to the art of editing.
Guest Post by Rosalie Yagihara
On March 1st the Canadian Cinema Editors (CCE) hosted a presentation by primetime comedy sitcom editor Stuart Bass to a theatre of editors and film students eager to hear the ins and outs of an established editor working in the biz.  Stuart has worked on shows such as The Wonder Years, Arrested Development, The Office,and Pushing Daisies. In town from Los Angeles, his presentation showed the transition he lived through from working with film to hybrid editing systems to going fully digital.
An editor like Stuart, who has transitioned from film to digital, offers emerging editors like us a strong sense of previs, as the reality of cutting on film is a physical task as opposed to a virtual one on a digital timeline.  You had to think before making a cut with film and act with clear intention that differs from digital editing styles when using programs such as Final Cut Pro and Premiere Pro.  A trick that I came away with was to use a track for background crowd sound and add distortion and other effects so that it is good to go.
The presentation showed the limited coverage for a scene that he was given and how he cut it to be engaging.  The comparison between one editor's cut of The Wonder Years that didn't work was compared to a cut that Stuart did, and he discussed how to keep the viewer invested in the story, demonstrating his mastery of technical skill and creativity.
For directors out there, the key to delivering footage that gives your editor the best options for editing is to get as much coverage as possible!  Another key tip from Stuart is when viewing dailies, start cutting in your head; envision what pieces will go well together as soon as possible.  I got a lot out of watching the clips and having them broken down with his experienced perspective and feel inspired to get back into the edit suite.
Thanks, Rosalie! And thanks to the Canadian Cinema Editors Association for hosting the event at VFS.