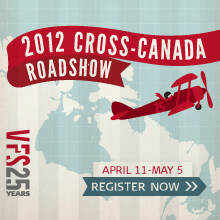 We're celebrating Vancouver Film School's 25th anniversary by visiting 13 cities across Canada from April 11 to May 5, 2012 - and we're bringing an exclusive scholarship opportunity with us!
Founded in 1987, VFS has become the destination for amazing artists from all over the country - and around the world. The 2012 Cross-Canada Roadshow is your chance to discover if VFS is right for you, and how you can get started on a rewarding path in the entertainment industry.
Sign up to attend one of these free info sessions, where you will:
- Hear about an exclusive scholarship opportunity for attendees
- Get an inside look at student life at VFS
- Discover how VFS prepares you for your career in film, TV, games, and design
- Meet a VFS Admissions representative for application and portfolio tips
April 11: Fredericton
April 12: Ottawa
April 14: Toronto
April 17: Winnipeg
April 18: Saskatoon
April 19: Edmonton
April 21: Calgary
April 25: Victoria
April 26: Vancouver
May 1: Penticton
May 2: Kelowna
May 3: Kamloops
May 5: Prince George
Click here to find out all the details and register now. We hope to see you this spring in a city near you!