Alessio Mellina is a current VFS student in the Sound Design for Visual Media program. He recently attended a lecture given by Rob Blake, Audio Lead for the Mass Effect franchise at BioWare and member of the VFS Sound Design Advisory Board. Alessio kindly provided this recap of his experience.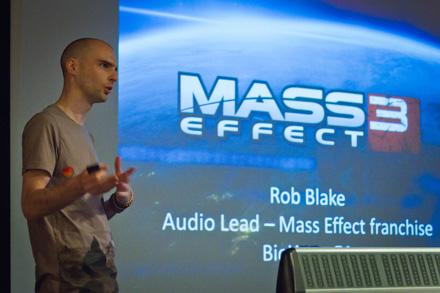 By Alessio Mellina 
Students from the Sound Design for Visual Media program had the incredible opportunity to hear an exclusive lecture from Rob Blake about the sound of the best-selling title, Mass Effect 3. With 9 years of experience in the field and previous employment within the film industry, Rob has been Audio Lead at BioWare since the second installment of the franchise, Mass Effect 2. He was able to share with us a very insightful speech on each and every sound aspect of the game.


Behind the Scenes 
We were first presented with the massive amount of work that a major game like Mass Effect requires. The 15 people on the audio team were in charge of managing a total of 12,500 sound effects, 40,000 lines of speech and 3 hours of new music. In order to deal with a workload of such magnitude, Rob explained how each team member was assigned one or more audio components, which in the case of this game was ambiance, level events, cut-scenes, in-game and conversation speech, combat sounds, foley, interactive objects, creature sounds and music.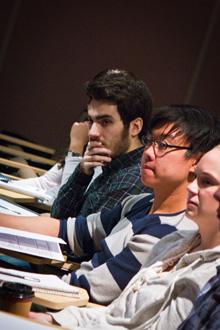 During the lecture, Rob went into detail about each of the audio components, covering all of the various considerations and problematics involved in each scenario. It was not just a frontal lecture though, as he also shared with us with some of the design challenges he and his team faced during production and asked us how we would approach them. Since Rob was Audio Lead on different iterations of the game, he stressed the importance of future-proof design choices, meaning that each solution needs to be evaluated in all of its consequences, as it may cause unexpected problems further down the line.
In the later part of the lecture, we were able to take a look at how sounds are directly hooked into the game and how events and parameters can be manipulated in real time while a development version of the game is running. In order to do this, Rob showed us Audiokinetic Wwise, a powerful authoring tool used for sound implementation in Mass Effect 3. Wwise is a reference software in the game industry and Sound Design students are quite familiar with it as it is widely used throughout the Game Audio course.
Industry Hints and Tips 
To conclude his day-long lecture, Rob was kind enough to share with us some valuable tips regarding how to break into the game industry. He explained to us the the do's and don'ts regarding resumes and cover letters and stated the importance of using demo reels to showcase both skills and versatility, a talent much appreciated in the industry.
Alessio Mellina is currently enrolled in Vancouver Film School's Sound Design for Visual Media program.