Since graduating from the VFS Film Production program in 2004, Patrick Britton has been working steadily in the world of Post Production and loving it.
In 2011, Patrick was nominated for a Leo Award for Best Editing in a Short Film for Death Wish. Death Wish was written and directed by another Film Production alum, current Foundation Visual Art & Design instructor Chad Costen. As we mentioned in a previous blog post, the film crew featured alumni from all over VFS, representing seven different programs at the school.
Check out the trailer for Death Wish:
Patrick recently spoke with us about his long-time passion for post production and film editing and what it's like to be recognized with awards for the work that he loves to do.
What made you choose Vancouver Film School and Film Production?
Patrick: I chose VFS because I wanted the fastest possible path to figuring out if what I wanted to do was what I should do. I finished the program 12 months later knowing that Post Production (which I had been doing since I was 10 years old - copying movies onto VHS tapes and removing the scenes I didn't like) was where I belonged.
What was life like right after graduating from VFS?
Patrick: After graduating, it's tough. No one hands you a map - you really have to make your own path. The key is just to do whatever it takes to get you where you want to be. Volunteer, beg, borrow, do whatever you have to do, but don't give up. You'll get there eventually. For me, every single day that I wake up and continue to be able to do what I love makes each drop of sweat it took to get me there worth it. I still can't believe people are willing to pay me for this.
You have found a lot of success in the film industry. What role did VFS play in getting you there?
Patrick: VFS showed me that there were other crazy people out there that felt the same way I did. They validated what I was thinking, and pushed me down my own path. It was a kick start to where I wanted to be.
You have won awards and numerous nominations for your work. How does it feel to be recognized in this way?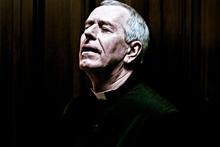 A still from Patrick's most recent work, the 2011 short film Prophet.
Patrick: Nominations and awards are very cool. You don't realize how much you want them until you get them. When something you've worked on gets a trophy, or wins something, that tells you that the work you did was good. It's totally bizarre, uplifting, and humbling at the same time. And it makes you want to do even better on your next project.
What are you working on now?
Patrick: Right now I'm working on a few new projects with some of the directors that I've collaborated with in the past. I would anticipate editing another feature later this year and I will be working on two web series. As an editor/post director it's always great to continue working with people that you enjoy. It also validates the relationship that you've built with them.
Thanks for your time Patrick and good luck with your upcoming projects!