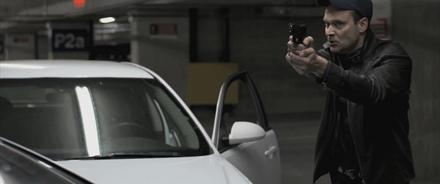 Update: In November 2012, Blackrock Films announced they'd acquired the North American rights to Captive. Expect to see it in 2013!
"You get one shot at your first feature. You don't want to drop the ball."
That's Jordan Brown, co-writer/co-director of Captive,  the first ever feature-length film made by VFS Film Production students. The groundbreaking project, which began as the collaborative effort of a small team of students, was filmed in just 13 days.
Captive follows John Rancour, a corrupt detective on the run for murdering a fellow police officer in cold blood. With enemies on both sides of the law wanting him dead, Rancour has no choice but to seek help from the very man that exposed his crimes and sent him into exile: journalist Tyler Chase.
VFS sat down with several of the students, now grads, behind the crime thriller to find out how they pulled this ambitious project off. After everything they went through making the film, would they do it all over again?
The Origins of a Thriller
All of the students came into the project armed with different expectations and responsibilities but sharing one common goal - doing something no other students in the one-year program had been able to do.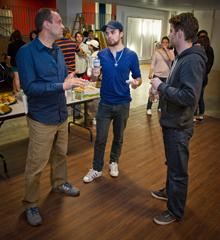 "We all collaborated together and worked extremely hard," says Producer Jessica Lee. "Captive originally started in January 2012, and was completed in August. The final production cost, including [what] VFS gave us, I would say was close to $130,000, which is, for us, an extreme amount, but on the scale of making an actual feature-length film, it's pretty much on the low end," she explains. So how does a group of film students get this kind of cash? Alongside the resources in the Film Production program, the group began a crowdfunding effort that ultimately raised $50,000.
"There were certain times where I was very scared that we wouldn't reach that goal and then this project wouldn't happen," Jessica says.
"I was approached by Jordan and Jonatan [Burnett]," says Director of Photography  Childs Hultquist."We all started it with just the first 10 sentences of the story and built it from that."
"Yeah, off the top, they came to us," adds Mitch Spicer, Editor and First Camera Assistant. "I think [Jordan] came to me first and said, 'We're planning this big thing. We want to do something that's never been done before.' Off the get go, I was like, 'I'm definitely interested, I definitely want to be a part of this, but I don't know. It's going to be hard. If we're gonna do this, we've got to plan really, really meticulously.'"
The Rules
One of the ways the crew managed to get Captive done boils down to three simple rules.
"The rules that I developed on set were initially meant as a lighthearted way of keeping people motivated when they're working long hours for free and just food," says Jordan. "And they kind of evolved into a pretty strict regime that people started to take very seriously."
These were Jordan's on-set rules:
Don't [Mess] Up.
Act Pro.
Have Fun.
Did the rules work? "I definitely think that these three rules were the cornerstones that pushed this project forward," says the film's other co-director and co-writer, Jonatan.
"It would be good if somebody had time to chisel it down on a stone tablet somewhere."
"[Jordan] is a very uplifting guy," Jessica adds. "He knows exactly what to say to keep people going. He's a motivator. So that alone just drove me and I know the rest of my crew to just push harder and keep going the extra mile to make it happen."
The Challenges
But all the rules in the world couldn't change the facts: This was unprecedented. The team faced huge time constraints, a limited budget, and no previous experience making a full-length film.
"Until you start rolling, you don't really know what you have," says Jonatan. "You have the costumes, you have the actors, but you have no idea how it's actually going to flow together."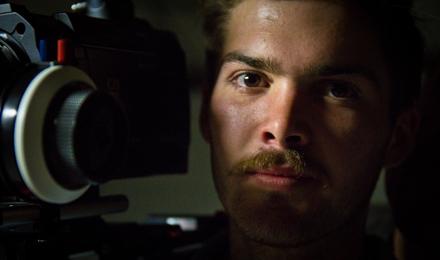 "The biggest challenge we faced was filming 103 pages in 13 days," says Childs. "That right there is something that television series don't do and professional crews of 45, they don't do, let alone 13 students with help from other classes, so that was intimidating."
"As the Art Director, the challenges we knew we'd face as a crew was mainly budget, time, and the size of our crew," explains Roell Maldonado, who was also the Costume Designer. "But we had to figure it out if we wanted to do the project, so with a lot of work and creativity from everyone, we made it."
But it's never that easy - you really have to think of everything, right down to the clothing your actors are wearing. "What made Captive slightly complicated art-wise was the high amount of guns, cars, and blood, because we needed to change costumes a lot, and we didn't have a big budget to buy a lot of costumes, so we had to be very careful. Like, 'are we ready for the blood?' If we're not, don't do it, because we don't have another costume," Roell explains.
Mitch had his own perspective. "I love challenges myself. I've always loved puzzles and everything. So I wanted to see how all of this would fit together."
"When the world keeps telling you 'No, it can't be done, it's too ambitious, it's too big, you're students, you don't have enough money, the project won't fly,'" says Jordan, "the only way to make it happen through that is to fully believe in yourself that it can happen."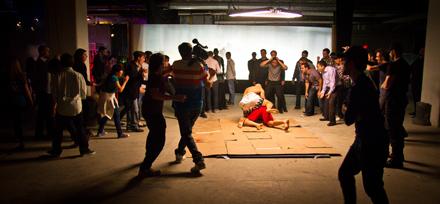 "If We Don't Get This, There Is No Film"
But there were times when the production's challenges did shake the crew's belief that it could be done. Moments when they could only ask, "What have we gotten ourselves into?"
"There was one moment in the production where we literally thought we blew our chance and ruined the movie," Jordan explains. "One of our locations [for the climactic scene] fell through at the last second so we ended up going to a location right beside our school. They were very nice and let us film there for cheap and overnight. We tried to shoot and crush this scene into a location that had nothing to do with the film."
"There was a point for me personally where it was 4am, it looked terrible, we were all down, everybody was depressed, our actors were getting grumpy..."
"I remember walking outside, and I'll remember this to the day I die, Childs was sitting there. And I sat down, and I'm the guy who can give you an uplifting line at any time and I couldn't think of a single thing to say, and we sat there in silence for 10 minutes."
"I just thought, 'This is a major scene in the film, and if we don't get this, there is no film,'" Childs says. "We don't speak one word to each other. And we're both in the same boat, we know it's not going right."
"Finally, he just got up and I got up and then it was right back into work," Jordan says. "Never said a word to each other about it."
"We don't talk about that day anymore," Childs says. "Just let that one go."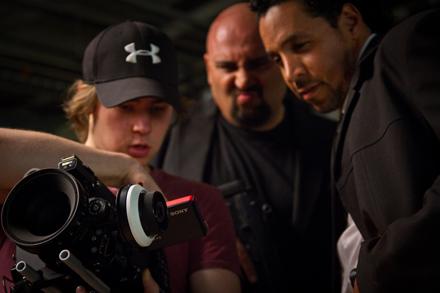 "There Was No Stopping"
"There was no stopping and we were all dead tired," Childs says. "What saved us was the fact that we knew [the film] was going to be better than what we originally thought it was going to be."
Jessica gives props to her directors. "Jordan and Jon, they brought motivation, they brought vision. That script alone, to even think about doing that in 13 days, that was unthinkable."
It's a sentiment echoed by Mitch. "I've got to be honest, it comes right back to the directors. From the beginning, a lot of the cast, a lot of the crew were doubtful. We had our suspicions that we couldn't work this out.
"[Jordan] is one of the greatest team leaders I've ever worked with, and he kind of motivated us all to be, like, 'Yeah, we can do this. If it fails, it fails. If it's a success, then it's a huge success.'"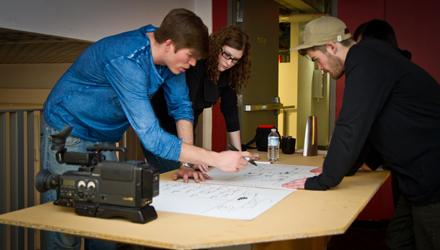 Jordan prefers to turn the spotlight back on his fellow filmmakers. "It's the subtle hint of lighting that Childs was able to do with a lamp he bought from Home Depot on his limited budget, or the way Mitch and [co-editor] Chris [Wilson] were able to cut around a mistake I made on set in my directing.
"It's basically everybody saving me at some point that brings this project together. And for that I'm eternally grateful."
"You know, we adapted, says Childs. "Being adaptable and being ready for anything. Being prepared and being ready to do the hard work. Even if the people around you aren't, you've just got to do the hard work."
Finishing Captive
"Aw, man, when I see the cuts coming together and I take this sentence from the script and I see the shot that I saw and I see it cut with another shot and intercut and a little bit of sound design. it's a great feeling inside," says Childs.
"This is the most unexpected thing in my life right now," Roell says. "I thought, 'Oh, I'll go to VFS and have a very good short film,' and then this happened, and I'm, like, 'Oh, okay. I like this.'
"It was always stressful. We were so tired by the end, but I was, like, 'These are my friends and we're making a film.' I could do this every day of my life and I'll be okay."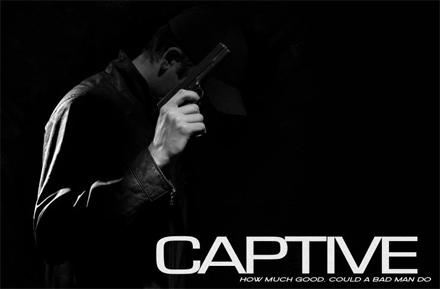 "We honestly think that, with the tools we had, the people we had, and the opportunity we had, we couldn't have done anything better with it," Jordan says.
Jessica - and, indeed, everyone on the crew - agrees. "Every moment, even the challenges, even the good times and bad, everything was worth it."
"I see what everyone's done and. why wouldn't you want to do it again?"