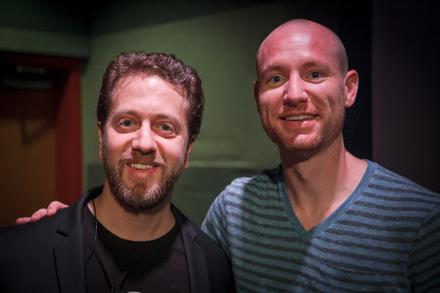 Aaron Gilman graduated from Vancouver Film School's 3D Animation & Visual Effects program in 2001. Since then he has worked at all levels of the animation field on films like Hellboy, Matrix Revolutions, and Journey to the Center of the Earth.
In 2008, he got a position with Weta Digital and moved to New Zealand to work on Avatar. Since then, he has been an Animation Sequence Supervisor on The Adventures of Tintin: The Secret of the Unicorn, Animation Supervisor on The Avengers and Iron Man 3, and Senior Animator on The Hobbit: An Unexpected Journey. He is currently at work on The Hobbit: The Desolation of Smaug.
Aaron recently visited VFS to speak with our animation students about his experiences. Current 3D Animation & Visual Effects student Casey Sanborn was there and shared his thoughts with us.
Guest Post by Casey Sanborn
Recently, I had the wonderful opportunity of attending a talk at VFS given by Aaron Gilman, Senior Lead Animator and Animation Supervisor from Weta Digital.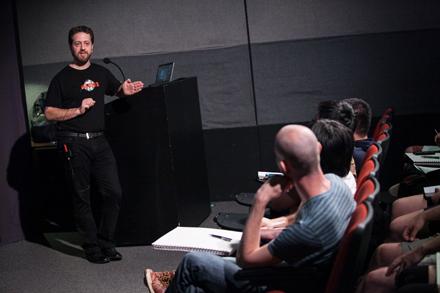 Aaron's resume is literally a "Who's Who" list of industry giants, and the stuff of every VFS student's dreams. I admit, I came to the talk expecting to be impressed, but he blew the doors off my already lofty expectations! It became very clear, very quickly, why he has shot to the top of the film and animation world in just thirteen years.
Among the many great takeaways from Aaron's presentation, the theme of innovation and creative problem solving under immense pressure stood out. He centered his talk around Weta Digital's work on Iron Man 3, giving outstanding examples of how he lead a team of 30 animators to deliver an astounding 422 animation/visual effects shots in a miniscule three and a half months.
Aaron's ability to pinpoint pitfalls and inefficiencies in the production pipeline before they had a chance to arise and derail Weta's production, made it clear why he has been elected to a leadership role. I'm happy to say that our mentors at VFS have also stressed the importance of planning, schedule, and thorough research as important groundwork before embarking down the long road of our demo-reel projects.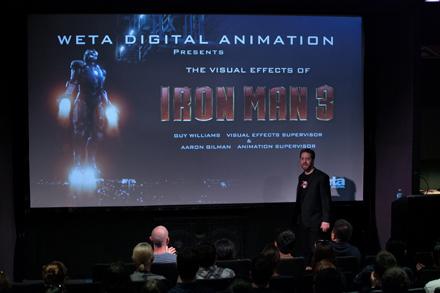 Additionally, the sheer brilliance of Weta employees inventing custom proprietary software when they were faced with complex animation challenges read like something straight out of an Iron Man comic book. Tony Stark would have been very proud of their incredible ingenuity!
Despite all of the dazzling new Weta technology and movie-magic Aaron was showing onscreen, I caught one tiny off-hand comment he made that will stay with me forever. He mentioned a time when he had about $13 and was working as a ladies shoe salesman. I really sat up when I heard him say this and thought, here is someone who came to VFS in their late 20's, was working in a completely non-related career, and had next to nothing in his pocket. Look where he is now. As someone about to graduate from VFS and enter the film and animation industry, I couldn't help but dream for a few minutes. I wonder where will I be this time next year? It's all very exciting.
A big thank you to Aaron for his inspirational visit and to Casey for recapping it for us!