If you've ever wanted to know what it takes to make a game from the ground up, just ask Alberto Mastretta. The Vancouver Film School (VFS) Game Design grad has spent the last year creating Apex Racing League — an online competitive game for PC that was inspired by his family's love of cars and racing. He's developed the project with his brother, using their combined passion for racing to create what Alberto promises will be an exhilarating experience for users. 
We had a chance to ask Alberto some questions about his time at VFS, what it takes to make an original game, and what's next. Read on!
Where are you from originally? What made you decide to come to VFS?
Alberto: I was born and raised in Mexico City. I grew up playing games, racing, and wanting to create things. I used to draw a lot, so I thought that animation was the career that I wanted. After some time studying animation, I began working on a game as a passion project outside of school and decided I wanted to design games more than to animate. I looked for options where I could specifically learn about game design, not only coding and art. I discovered that VFS was the best for what I wanted.
What was your time like in the Game Design program? What was the best part about it? What was the most challenging part?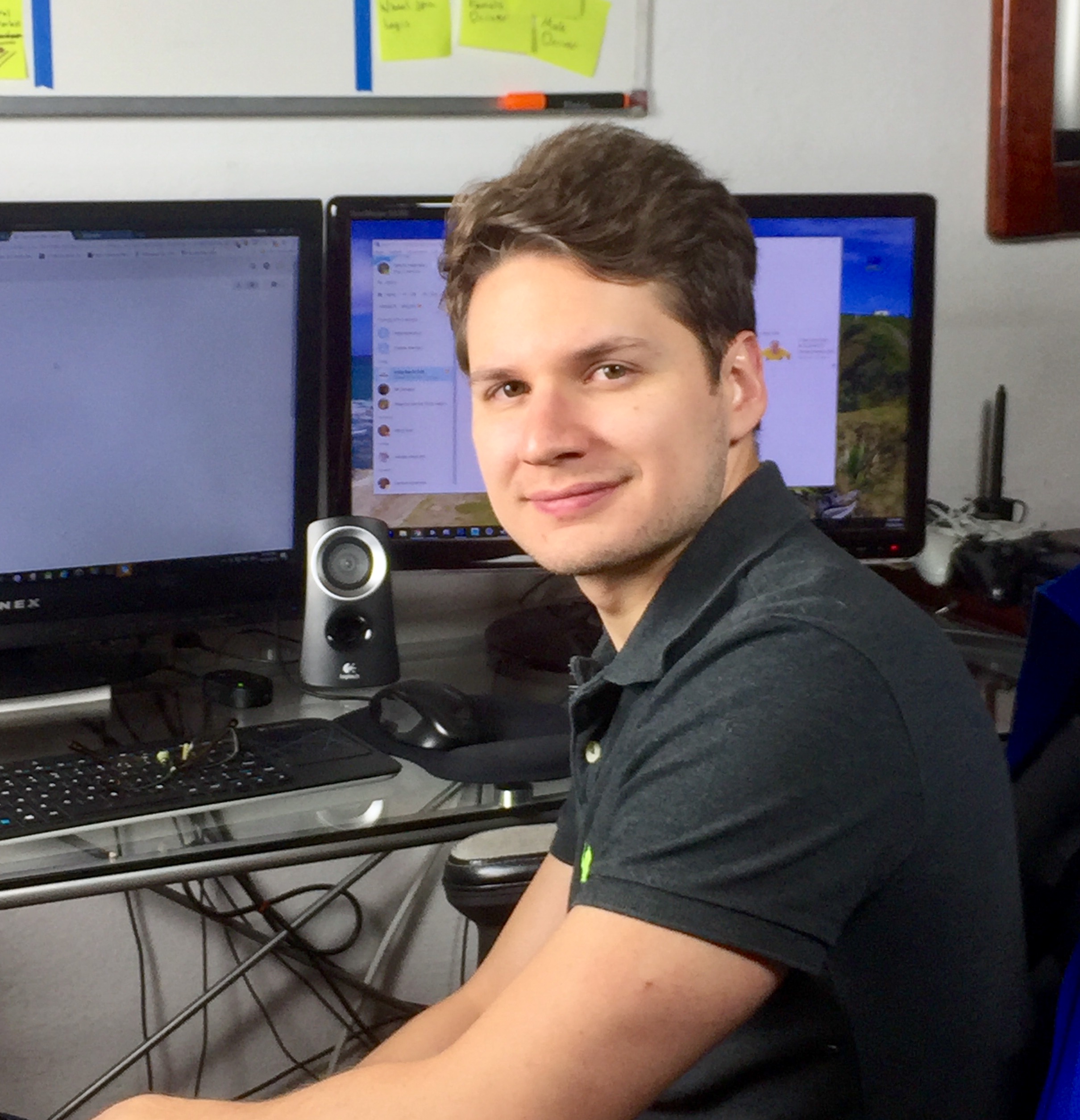 Alberto: Studying in the Game Design program was a growth experience for me. It was the first time I left my country over a long period of time, and I also felt a big shift in the responsibility I had with myself. It helped me develop more consciousness about the impact that my own actions had in my life, and I gave it my best.
The best part for me was the unexpected growth I had during that year. Ilearned a lot of things related to game design and game development, but I also think I grew as a person and that is something I didn't plan for. I now focus on finding experiences that help me grow, professionally and personally, and it all started at VFS.
Towards the end of the program, I would spend more than 12 hours a day working on my final, but that wasn't the most challenging part. The biggest challenge was learning how to be more confident and assertive when talking about my work and myself. I'm glad I had teachers that became great mentors in areas that go beyond the pure theory of game design and game development.
We heard that you created an online competitive game for PC – congrats! What is Apex Racing League? How did you come up with the idea for it?
Alberto: Apex Racing League is a passion project that I wanted to develop along with my brother. We grew up being involved in car racing and in a family that talked a lot about the topic of motorsport, so we developed a long-term passion for it.
The game concept is an inspiration from the time when my father and my brother used to do Radio Control (R.C) Racing back in the 90s. I was very young and thought what they did was the coolest, and to this date I feel the same way. We then got involved in more advanced forms of racing, but R.C always remained the first contact me and my brother had with car racing, so we wanted to make a game to honor that experience.
We also have a family heritage related to cars that started with our grandfather. So in Apex Racing League, one thing we want to do is to pay homage to all the eras of car racing, starting from the time where our grandfather was involved, up to present times, which is where we're experiencing it.
How did you apply what you learned in Game Design to Apex Racing League?
Alberto: There are many things I learned at VFS and I apply all of them! In particular, the ability to search for growth in the experiences I take on is an important lesson I carry with me. It helps me make informed decisions every day.  I believe that this game aligns with how I want to grow, and that is why I work on it every day.
Aside from that, I constantly try to make decisions based on what I learned about game design, and the lessons that my mentors gave me. There are so many concepts to consider, so sometimes I find myself going back to my notes to remember a concept better and check if we're applying it correctly.
I also became quite good at asking others, and myself, the question "why?" a lot.
Tell us about the first steps in creating an original game. Where/how do you start?
Alberto: The first thing I did was to create a document that described the game we wanted to make. It is one thing to imagine it, but there are lots of unknowns about your own ideas that you can find out about by writing about them as thoroughly as you can.
After that, making a prototype to test for fun was the immediate action. We spent about 4 months just testing and improving what driving from a top down view felt like, which is the main action players do. We still tweak that experience constantly, but we tried to get it to a state we felt confident in before implementing anything else.
How long does it typically take, from idea to play testing, to complete a game?
Alberto: It depends! There are so many kinds of games. It is always hard to make one, so I think the minimum amount of time it takes to make a game ready for market would be about 3 - 4 months, but that would be a very small game with a very concise experience — sort of how the VFS final projects are made in Game Design.
For Apex, which we conceived as a "small" game, we expect to work for another full year before it is ready. We decided to add online features to it, which make development a lot harder, but hopefully it will be worth it.
What do you hope players will take away from the Apex Racing experience?
Alberto: I hope they take away lots of exciting race moments with friends and with themselves, just like my brother and I had while we raced cars. There are many racing games out there, some that directly try to recreate real racing experiences, but they have a high skill and hardware barrier. We believe that the best part of racing are the moments where you are challenged by someone else to drive to your limits, and we think you don't need a simulation to feel that. There are so many possibilities for clutch moments in racing, and those are always worth it in my opinion.
What's next for you?
Alberto: To keep developing and improving Apex Racing League until we share it with people! After that, we hope that the game can develop a community that we can continue to create content for. Aside from the future with Apex, I want to continue making multiplayer games. I like getting people to interact with one another, so I hope to do it in many different ways.
Anything else you'd like to say?
Alberto: I feel very grateful for the VFS Game Design teachers that continue to help me and mentor me as a graduate. I graduated more than 2 years ago, and they still reach out to me to give me advice. It's a really great feeling to feel supported by them.
Thanks, Alberto! We can't wait for Apex Racing League to launch!