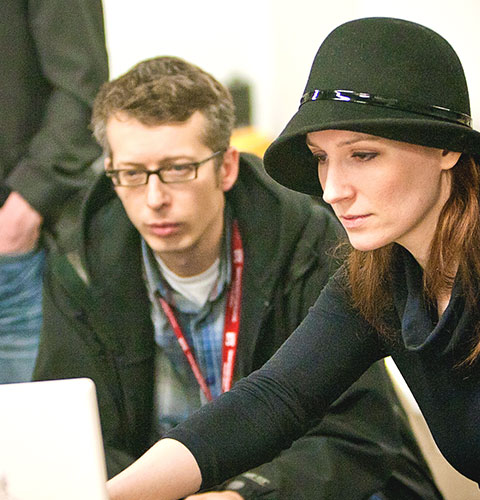 Study Writing for Film + Television in Vancouver, Canada
Vancouver Film School (VFS) and Monterrey International Film Festival (FIC Monterrey) have partnered to offer Latin America students a chance to earn a full-tuition scholarship to study Writing for Film + Television at VFS.
Vancouver Film School
In 1987, VFS revolutionized entertainment arts education with the introduction of the world's first one-year intensive film production diploma program.  Today, VFS is Canada's premier post-secondary entertainment arts institution, offering acclaimed and award-winning one-year diploma programs in 3D animation, film, TV, programming, video game, motion and interactive design.  For the past 30 years, VFS has been devoted to delivering the highest quality education, and developing the next generation of leaders in the entertainment and creative media industries.
FIC Monterrey
Founded in 2005, the Monterrey International Film Festival has managed to place the city of Monterrey on the film festival map as a top cultural and commercial attraction. In its first twelve editions, FIC Monterrey has been attended by 200,000 spectators who watched over 2,000 films representing the work of 2175 film directors. The Cabrito de Plata, official Festival award, is now in 36 countries.
Scholarship Application Process
Applying is easy, but you must download the PDF application kit below, fill it in completely, and submit it in a single, sealed envelope to the following address:
Barbara Martinez Ruiz
Subject: 2018 FIC Monterrey-VFS Latin America Writing For Film + Television Scholarship
Manuel M Ponce 255 2do. piso
Col Guadalupe Inn
México, D.F CP 01020
Tels: +52 (55) 5661 3875, +52 (55) 5661 3397
Applications will be accepted until:
15:00 (PST) October 30, 2017
The winner will be announced:
November 21, 2017
 
VFS Writing for Film + Television
In VFS's renowned Writing for Film + Television program, students learn the screenwriter's role in the film industry by writing, workshopping, and collaborating on a variety of storytelling forms, including feature and short film screenplays, episodic TV scripts and pilots, sketch comedy, and documentaries.