A Word from our President
James Griffin
VFS President
It is very easy to become more preoccupied with the allure of merchandise and forget about quality. At VFS we measure value by things that can't be bought. So in our specific environment, the things that anybody can buy are high-end software or a dedicated post-production facility. They are essential tools but tools don't win top awards or send students to festivals around the world or earn them jobs with Microsoft, Electronic Arts, and LucasFilm. Success comes from the application of these tools in the hands of talented people who know what to do with them. Success is the result of good process.

Even a quick review of our website shows there is a superabundance of student and graduate accomplishments. We don't lay claim to these, but I must note by any measurement, VFS graduates are remarkably productive. This is why industry professionals with experience at stellar organizations like Sony, Pixar, BioWare, Nokia, and Digital Domain choose to join our advisory boards.

Along with the individual achievements are personal narratives from which I confess to drawing a certain inspiration. These narratives reflect diverse backgrounds, talent, skill, luck, a range of cultures and unique circumstance. Collectively they tell the unfolding story of the school and speak to the heart of our worth - the thing we can't buy - our reputation.

It is a reputation built not on promises but on results.
Our Educational Philosophy
The keys to the VFS educational model are structured intensity and immersion in the industry. Vancouver Film School was founded on the philosophy that one year of concentrated work, that balances industry-led theory and hands-on production, gives students the necessary skills to craft a professional-level portfolio or reel.
VFS offers 13 world-class, post-secondary programs—spanning every aspect of the entertainment arts—that are developed and taught by award-winning industry professionals. So that each program's intensive curriculum evolves along with demands of the industry, and the best, current industry practices.
Students' experiences emulate the professional industry world. Students are physically and mentally immersed in Vancouver's film, animation, game, and design industries that surround our campuses, and benefit from career guidance and expertise from industry mentors, instructors, and guest speakers.
TODAY
Vancouver Film School is a recognized world leader in entertainment arts education, offering 13 full-time programs to over 1000 students across eight campuses.

PCTIA sets basic education standards for registered private career training institutions in British Columbia and establishes standards of quality, which must be met by accredited institutions. Their mission is to support quality education in British Columbia's private post-secondary career training sector through regulating standards and providing protection to students.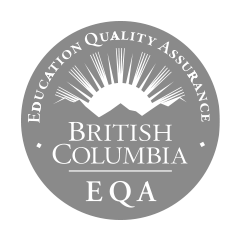 EQA designation attests to the high standard of the quality of the educational services provided by the institution to its students. This seal allows students to easily identify which provincial institutions the government of BC recognizes as having met the quality assurance standards and offer consumer protection to learners. EQA designation is a requirement to be registered with Citizenship & Immigration Canada (CIC) as a CIC Designated Learning Institution (DLI). 
As part of staying in tune with the needs of industry, and the needs of our students, we nurture special relationships with pivotal firms in the fields we teach. We are proud to name the following corporate leaders as our partners:
VANCOUVER ADMINISTRATION AND ADMISSIONS OFFICE
You can reach us in Vancouver if you need answers to your questions, or help with your enrollment.
Phone: 604 685 5808
Toll-free in North America: 1 800 661 4101
Fax: 604 685 5830
198 West Hastings Street
Vancouver, BC, Canada V6B 1H2
Contact Us
INTERNATIONAL OFFICES
Visit the International Students' page to find contact information for our International Offices and local Admissions Advisors.
VFS works with industry, community, business, and education partners on many levels throughout the world. We seek to work with individuals and organizations that share our goal to equip students with the best education, and to position our graduates for success. If you believe collaborating with us can do this, we'd like to hear from you.
International Business Development
Diwakar Gandhi
Industry and Community Partners
Tom Fedechko
Educational Partnerships and Articulations
Ted Gervan, EdD