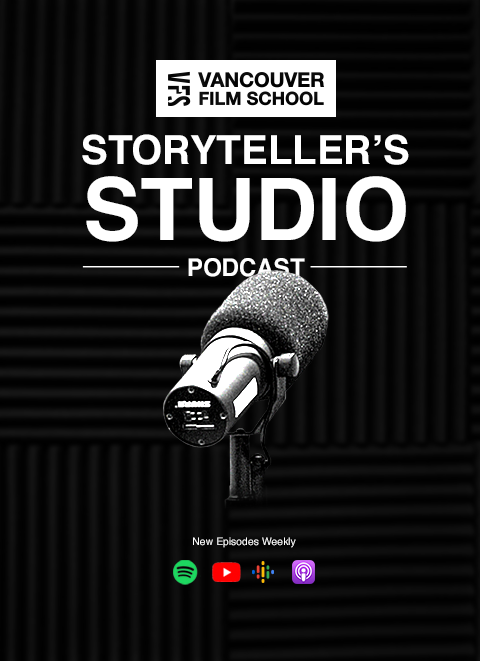 Introducing the VFS Storyteller's Studio Podcast
Every week, notable figures from entertainment, media, and the arts join us in the studio to discuss how they perfected their craft and became leaders in their field. Whether you're an aspiring creative or simply want to be inspired, this podcast is for you.
Listen to all episodes and subscribe
Featured episode
Aaron Gilman: VFS3D to Head of Animation @ DNEG
Aaron recounts how spotting a VFS ad on a bus got him started towards a long, successful career in animation on films including Avatar, the Avengers, The Hobbit, and Godzilla.
Listen to the podcast audio
Latest episodes
Erich Saide: How to Create Award-Winning Photos
Erich reflects on how a series of accidents spurred him on his creative journey, how his artistic process has evolved over the years, and offers tips for creating unforgettable images.
Listen to the podcast audio
Matt Toner: Re-Inventing How Kids Play
Matt discusses where he finds inspiration for his inventions, being recognized by Time Magazine and Fast Company as one of the most innovative companies of 2019, and the future of socially responsible game development.
Listen to the podcast audio
Ahsan Nanji: Creating the Future of Game Development
Nanji takes us deep into the forefront of technology, design, and development at one of the world's biggest studios. A must watch for aspiring game designers and technologists everywhere.
Listen to the podcast audio
Riaz Meghji: How to Snag Your Dream Job
Riaz has hosted for brands such as Citytv's Breakfast Television Vancouver, CTV News, TEDxVancouver, MTV Canada's 969 and marquee events like the Toronto International Film Festival.
Listen to the podcast audio
Prem Gill: Building BC's Creative Economy
Prem discusses the state of the industry both globally and in BC (flourishing), and the worldwide rise in demand for content that makes right now such an exciting time to be a part of the creative economy.
Listen to the podcast audio
Graham Clark: How to Write Comedy
He shares deep insight into the craft of being funny. A must for comedy fans and anyone who's aspired to write or perform stand-up.
Listen to the podcast audio
Cameron Herold: Storytelling for Entrepreneurs
In this episode, we unpack Cameron's proven strategies for growing successful businesses in any industry. A must watch for creative entrepreneurs.
Listen to the podcast audio
Steven Ogg: Grand Theft Actor Exploring the Craft
Steven joins us in the Storyteller's Studio to discuss where he finds inspiration (hint: it's not other actors), the highs and lows of his job, and his celebrated performances as the bad guy in some of entertainment's biggest franchises.
Listen to the podcast audio