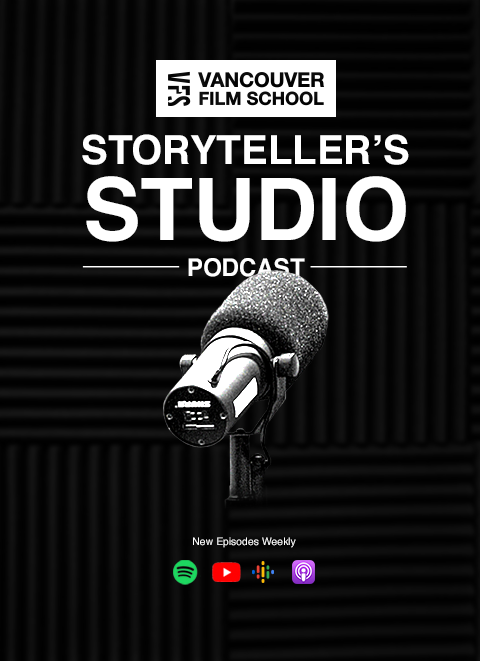 Introducing the VFS Storyteller's Studio Podcast
Every week, notable figures from entertainment, media, and the arts join us in the studio to discuss how they perfected their craft and became leaders in their field. Whether you're an aspiring creative or simply want to be inspired, this podcast is for you.
Listen to all episodes and subscribe
Featured episode
Gabrielle Carteris: 90210 to SAG-AFTRA President
Gabrielle sits down with host and soap opera super-fan Christopher Ian Bennett in the Storyteller's Studio to discuss Deepfakes, equality in Hollywood, and running the most important union in entertainment.
Listen to the podcast audio
Highlights
Graham Qually: Changing the Game in Motion Capture
Graham talks us through the mindset needed to succeed in an industry defined by ever-evolving technology, how to break into the performance capture industry as a performer, and his plans to finally rig up a kangaroo in Beyond Capture Studios in 2020.
Listen to the podcast audio
Omari Newton: From Black Panther to Dragon Prince
Omari is currently a City of Vancouver funded Artist-in-Residence with Urban Ink Productions. In this episode, Omari joins us in the studio to share how he found success as an actor, voice actor, and playwright.
Listen to the podcast audio
Lino DiSalvo: From VFS to Disney, Frozen & Oscars
Lino tells the story of growing up in his family's pizzeria in Long Island, moving to Vancouver to study animation at VFS, and graduating with a job at Disney at age 23. A must for animation lovers, Disney fans, and aspiring artists everywhere.
Listen to the podcast audio
Frank Palmer: Finding Truth in Advertising
Frank offers insights from his 50-year career building and leading the advertising industry in Canada. He discusses what it was like in the "Mad Men" days and how today's over-saturated market has dramatically altered consumer trust and the media landscape.
Listen to the podcast audio
Susan Fox: How Casting Directors Find You
Susan discusses the evolution of the casting process and how talent gets matched to projects. An invaluable resource for all working actors and aspiring performers.
Listen to the podcast audio
Tim Holloway: Why Esports is Here to Stay
Tim offers unique insights into the fascinating lives of professional players, the importance of storytelling to the evolution of the industry, and why Esports isn't the sport of the future - it's the sport of right now.
Listen to the podcast audio
Graham Clark: How to Write Comedy
Graham shares deep insight into the craft of being funny. A must for comedy fans and anyone who's aspired to write or perform stand-up.
Listen to the podcast audio
P. Lynn Johnson: How to Direct a Great Sex Scene
P. Lynn is focused on ensuring the safety and security of actors and production crew during scenes involving nudity and simulated sex.
Listen to the podcast audio