Creative Economy
VFS's signature programs and facilities are at the heart of a creative economy worth $3.4 billion in B.C. alone. From film production and 3D animation to game, digital, and VR/AR design, VFS is helping shape the entertainment and media industries' transformation. In 2020, VFS alumni were credited on 5 of the top 10 best-selling video games worldwide, in a global industry estimated to be worth more than US$300 billion by 2025.
Alumni Success
Vancouver Film School graduates are some of the most successful and sought-after professionals in the entire gaming industry. You will find our alumni working all over the globe, pushing boundaries, discovering new frontiers, winning all kinds of awards and honours, and leading today's creative economy.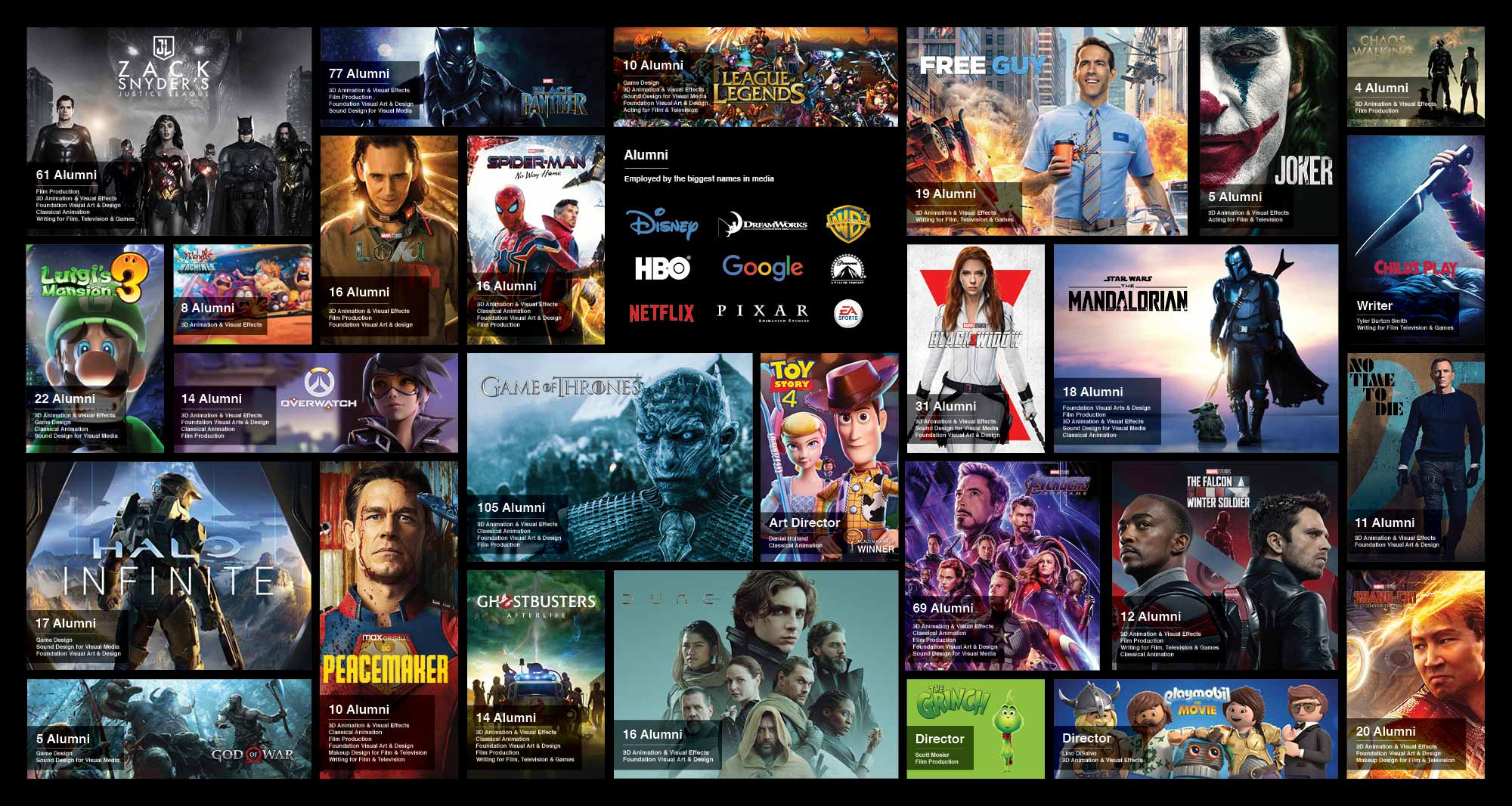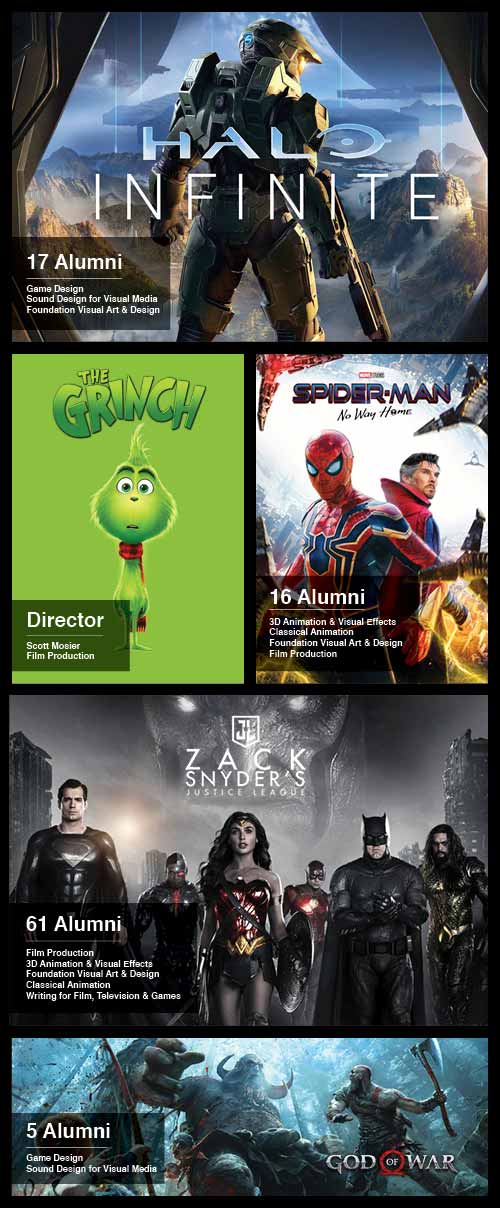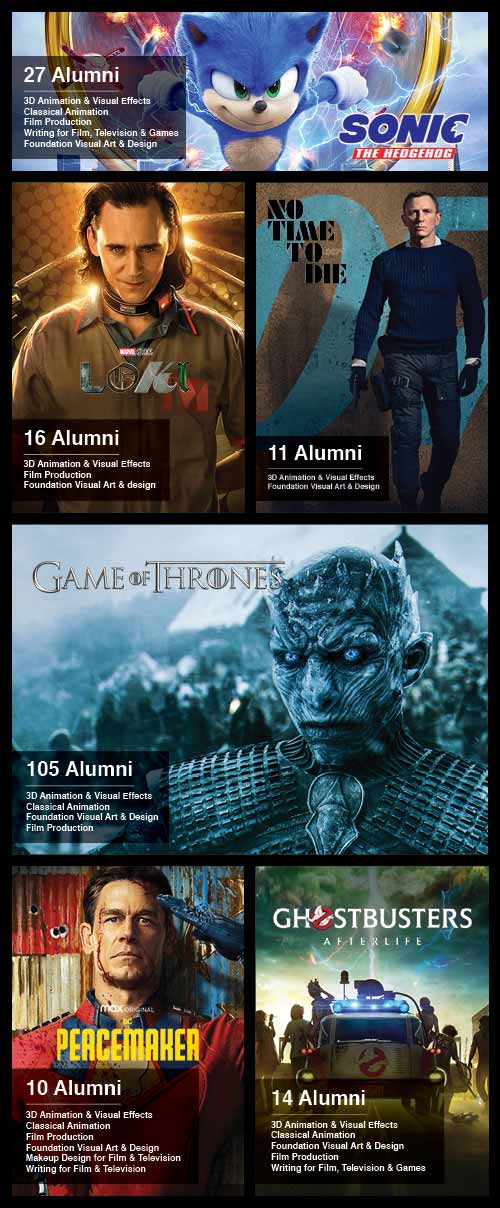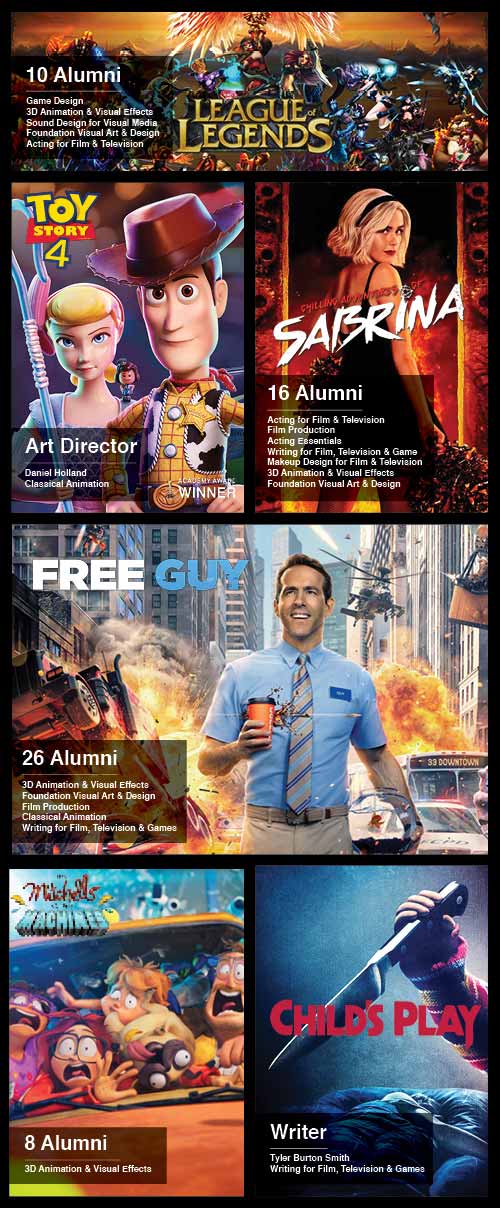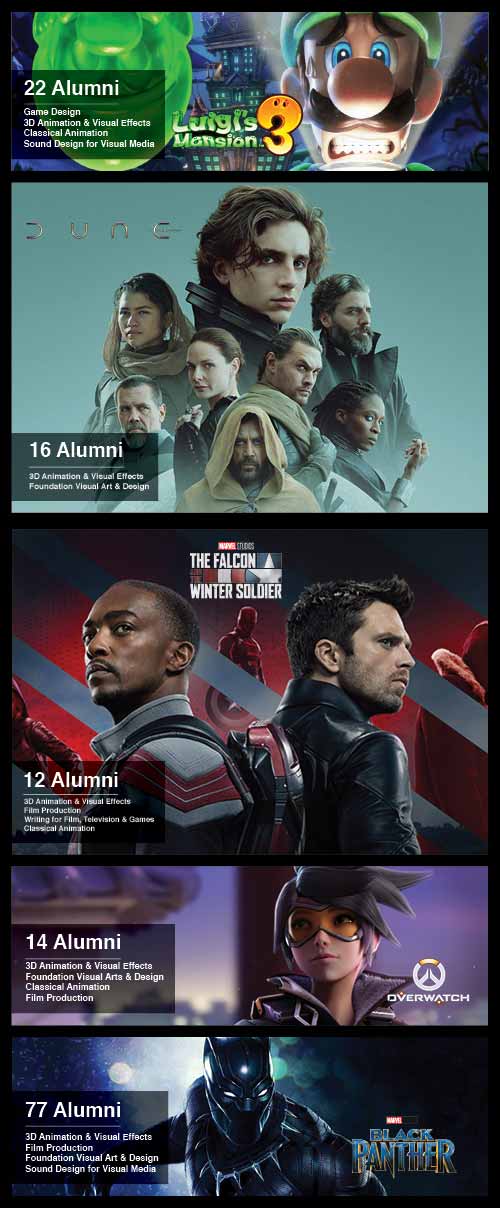 I cannot recommend the Game Design program enough! I came into GD with zero experience: Term 1 me would be unable to understand how I got to where I am now. The course builds your foundations from the ground up, giving you not only skills, but a new network of passionate and hard working people who share your love. If you want to enter the industry but don't know how, this is the place to learn what you need. It completely changed my life for the better.
Rhys Hughes
Game Design Graduate
Game Designer at Matrix Labs
This isn't just a school, it's an experience of a lifetime. It's one of the most challenging things that you may accomplish, but also the most rewarding. It required a lot of work, but this school will set you on the right path to do amazing things with your career, meet amazing new friends, and learn about your passion. I highly recommend this school to anyone looking to get their foot in the door to the creative industry.
Nic Seymour
Game Design Graduate
Level Designer at Pearl Abyss
Going to the game design program at this school was probably the best decision I've made up to this point in my life. Every instructor, TA, and mentor you get to work with genuinely cares about the students and goes above and beyond to help the students. Thanks to the incredible education and connections given to me by the school, I was able to go from here straight to working professionally in the games industry.
Matt Garnett
Game Design Graduate
Game Designer at Unity
I highly recommend VFS for anyone who is passionate about the arts! The instructors are extremely helpful and their passion shows in how they teach the material. The course curriculum is structured in a way that very closely matches the industry, making a huge difference when preparing you for the real world!
Nick Mandic
Game Design Graduate
Associate Producer QA at Navigator Games Ltd
Avatar Generations
If you are looking to get into the video game industry, then this program will help you! I studied there and I found the best qualified instructors. Whether you are interested in programming, art or design, you will receive the knowledge and the connections that you need.
Aranzazu Medina
Game Design Graduate
Junior Animator at GMI Studios
A VFS Game Design Education
In 12 months you will graduate with:
A diploma in Game Design
A professional quality online portfolio
Access to the VFS Alumni Directory & Job Board
Industry connections that will help guide your career
A lifetime network
Establish fundamental skills in game theory, pre-production techniques, and storytelling.
Build on your game design foundation and start to work effectively in teams. Create your own playable 2D game in Unity.
Shift from theoretical to practical with hands-on work on detailed design documentation and front-end interfaces, and begin specializing in coding, game art or level design.
The core part of this term is dedicated to designing and planning a major team-based final project.
Conceive, plan, and execute a final project that delivers a rewarding interactive experience.
Engage with ongoing play-testing and complete your final project before unveiling your work to the industry.
See Full Course Description
View Faculty
Specializations
Students combine the programs focus on production with two of three specializations below, to develop a professional-quality online portfolio that demonstrates a thorough understanding of game design.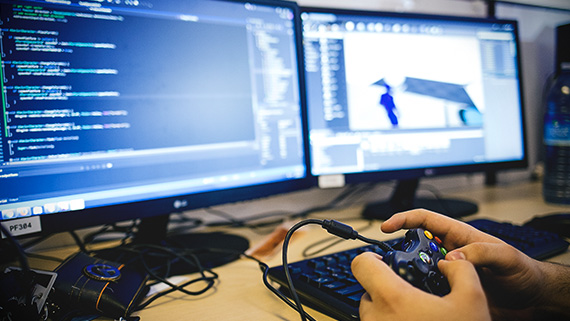 Coding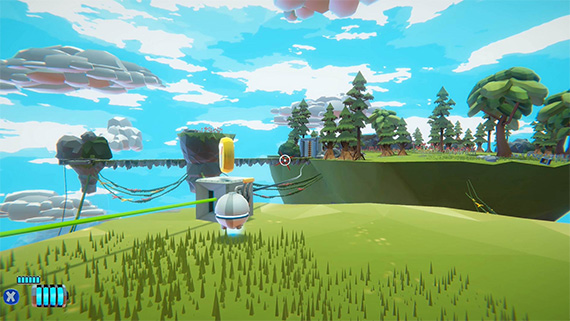 Game Art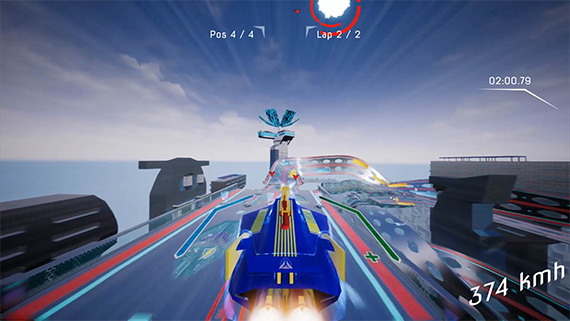 Level Design
To make sure you have accurate admissions information please select your region based on country of citizenship.
Tuition
Select Your Region
Start Dates
Select Your Region
How to Apply
Request Info
Requirements
You will be asked to submit one of the following along with your application. Your advisor can help with selecting the best option.
Explain the concept, vision, or idea. Include the genre of game you would utilize. Make references to other games to explain how you would make your game (one page maximum).
In addition, provide an outline detailing your story, possible levels, and characters (one page maximum).
Provide diagrams explaining any features or game mechanics (one to two pages maximum) and a simplified map of the game world described in your synopsis.
You'll find information on how to send your synopsis in the application form, or you can ask your Advisor.
*Intermediate computer skills are a requirement, including the ability to use Microsoft Word and Excel.
When you talk to your Advisor, let them know that you've completed the Foundation program and they will put a copy of your diploma in your file for you.*
*Intermediate computer skills are a requirement, including the ability to use Microsoft Word and Excel.
For more about
language requirements
and other information for international students, visit the
International Students page.
Student Work
While training at VFS, students are immersed in the game design industry, and spend a lot of hands-on time creating professional-quality work. And, nothing is a greater testament to the incomparable industry resources and career preparation that define VFS's education model, than the top quality work our students produce. Here, a portfolio of outstanding work is just the beginning. Just take a look.
Get in the game!
Visit the VFS Indie Arcade to download and play more than 200 games produced by VFS students over the past decade — for free.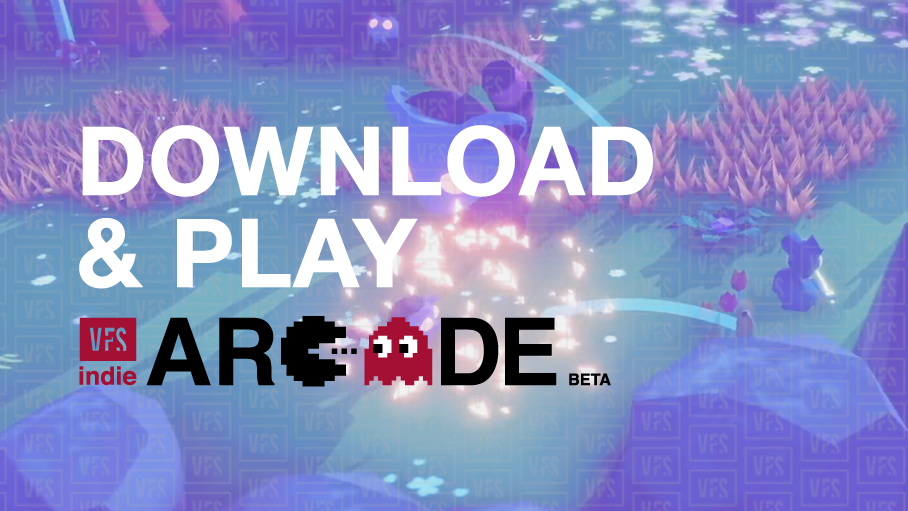 Industry Partners
VFS doesn't just teach you about the industry, it IS the industry. With veteran instructors, mentors and an education Advisory Board recruited straight from the professional world, we are able to constantly update our award-winning curriculum to keep up with an ever-evolving industry. Plus, students also have lots of opportunities to connect and network with industry leaders during special workshop sessions, training presentations, and industry social events hosted by VFS
Campus Life
The VFS Game Design campus looks and feels just like the professional game developer studios you'll find throughout downtown Vancouver. Surrounded by some of the city's best cafes, restaurants, and cultural attractions, you'll have all the resources you need at your fingertips: a massive game library, arcades, screening theatres, and your own dedicated workspace.
FAQ
We're here to help you submit an application that best reflects your abilities, and gives you the best chance of being accepted. We've helped thousands of people complete a single year at VFS by answering questions like these:
Application Tips
What does VFS look for in an application?
Can I apply if I haven't met all the requirements yet?
What does this part of the application form mean?
Expenses
How much does my program cost?
Can I pay in installments?
How much will I need for living expenses in Vancouver?
Logistics
How do I get to Vancouver?
Where will I live in Vancouver?
Do I need a visa?
Sign up to VFS Premiere and be the first to receive the latest exclusive content, news, and special offers from Vancouver Film School — straight to your inbox.