Creative Economy
VFS's signature programs and facilities are at the heart of a creative economy worth $3.4 billion in B.C. alone. From film production and 3D animation to game, digital, and VR/AR design, VFS is helping shape the entertainment and media industries' transformation. In 2021, VFS alumni were credited on 8 of the 15 highest grossing films and on 5 of the 10 best-selling video games worldwide, in a global industry set to generate US$2.1 trillion in revenues in 2021.
Alumni Success
Vancouver Film School grads are some of the most successful and sought-after professionals in the entire Acting industry. You will find our alumni working all over the globe, pushing boundaries, discovering new frontiers, winning all kinds of awards and honours, and leading today's creative economy.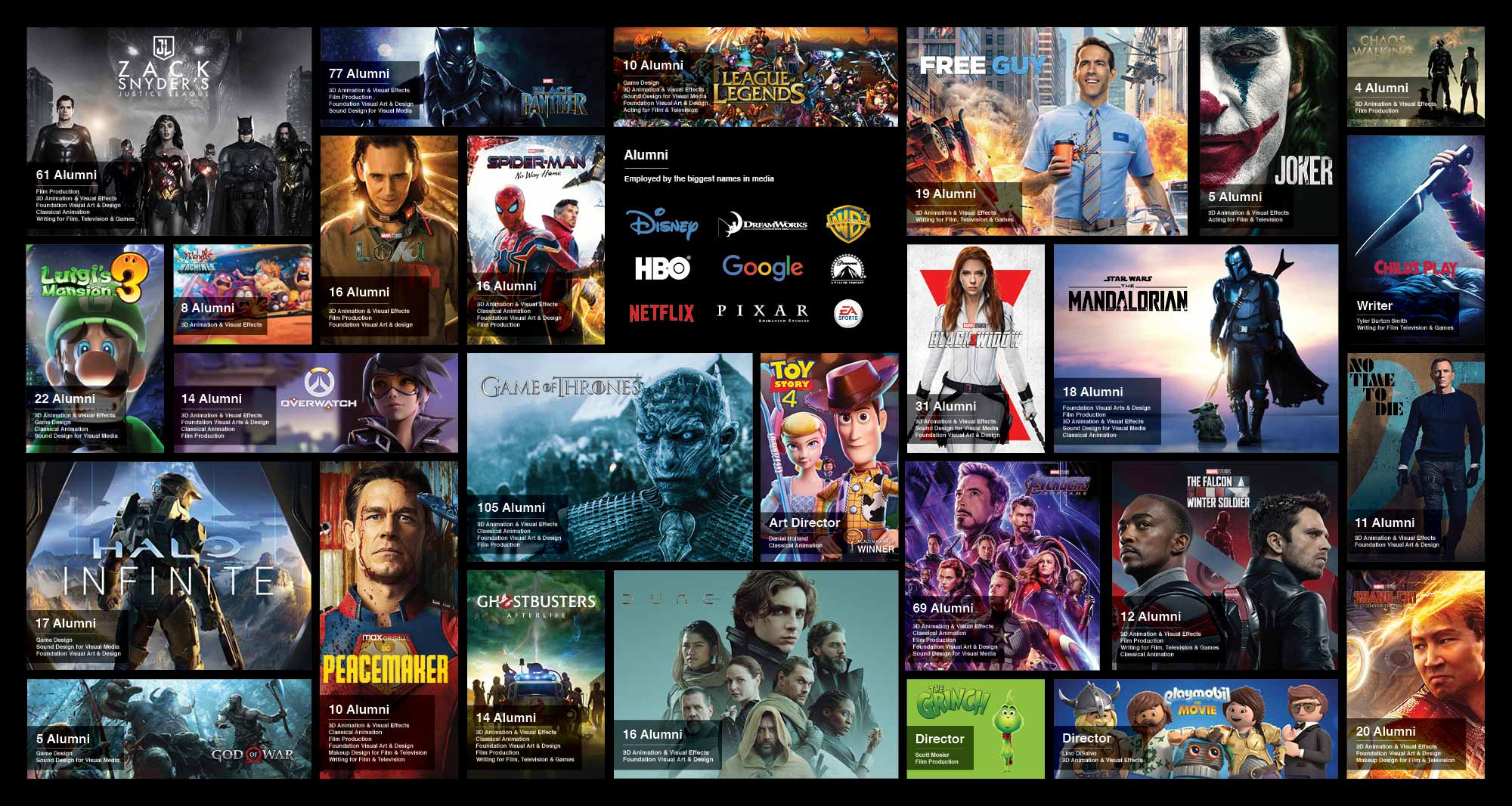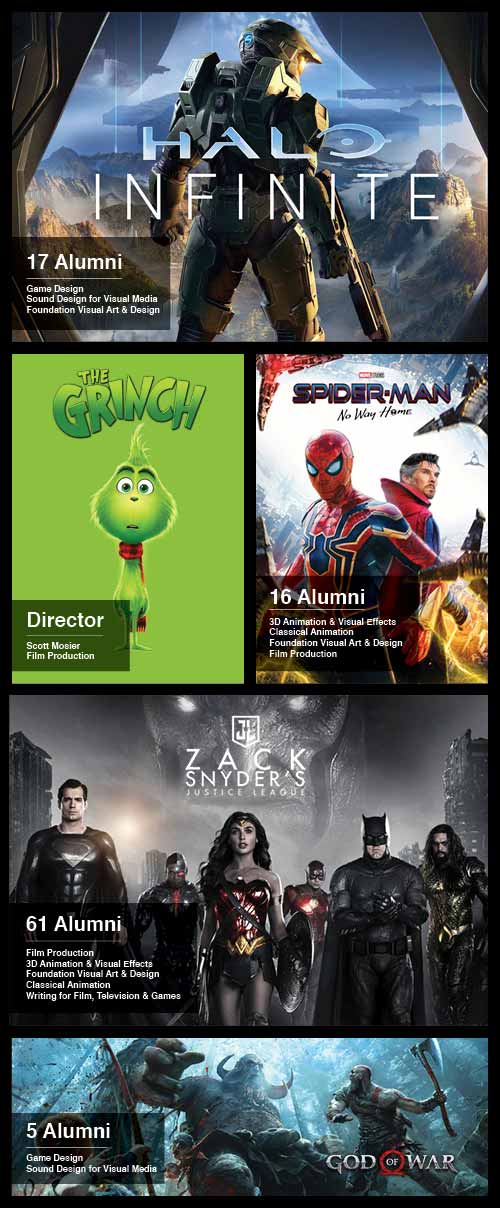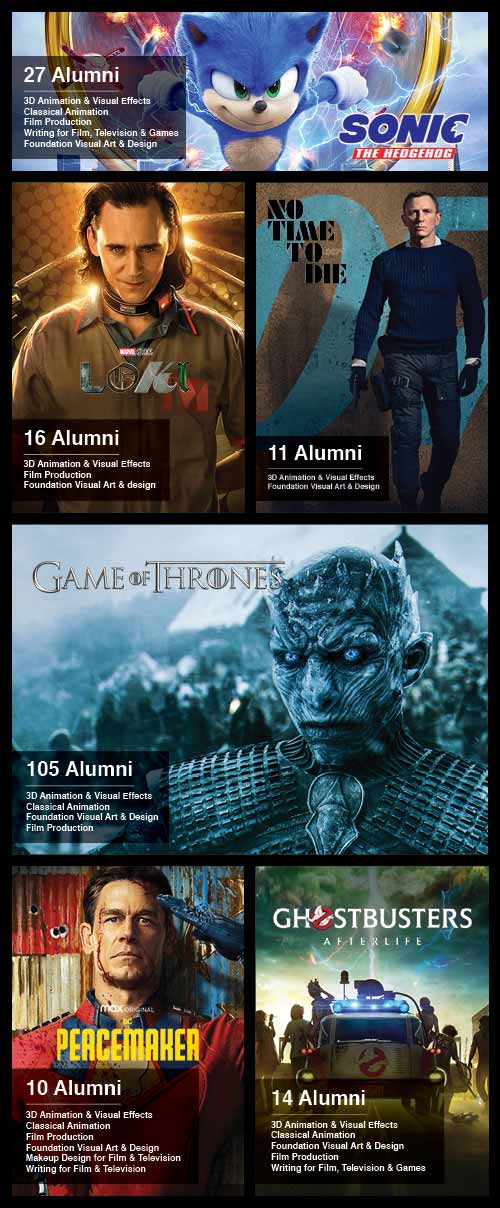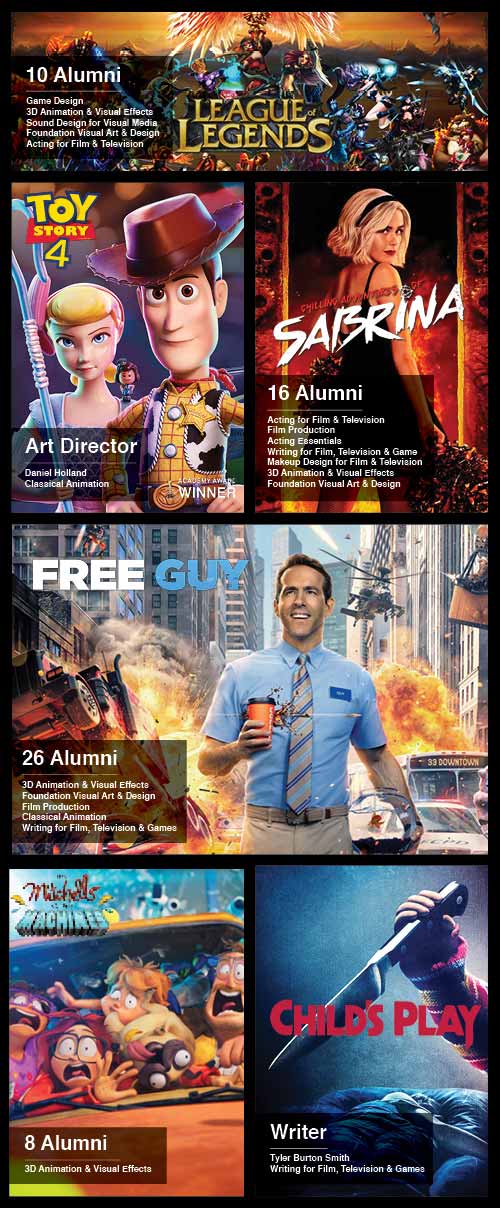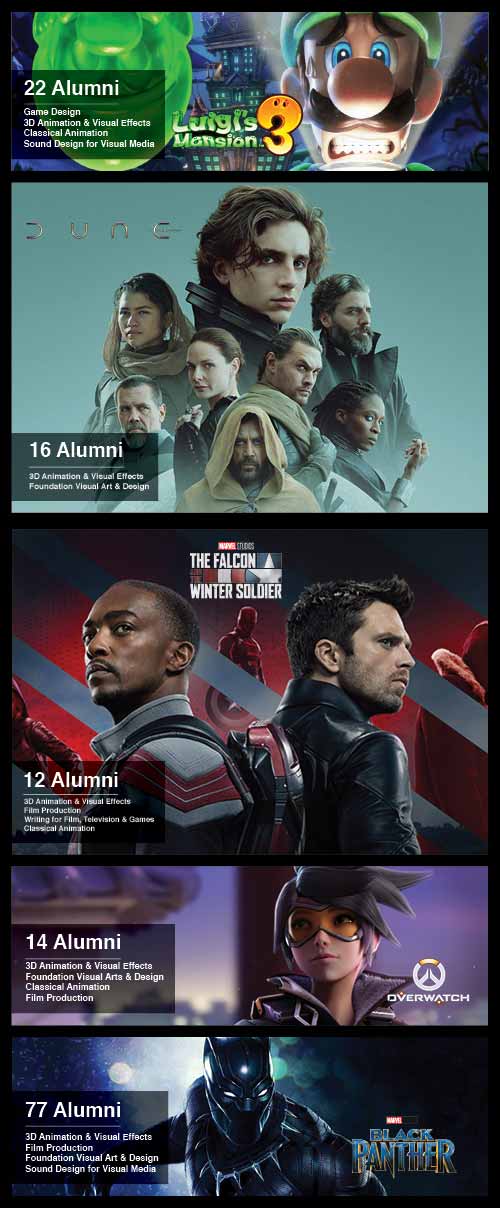 I'm so happy I decided to follow my dreams and go to VFS. The instructors push you to your best potential and treat you like professionals. My cohort became my family and I learned to be confident, make bold decisions, trust my scene partner, and most importantly to not be afraid of failure! I was working on set right after graduation; it was so easy because I knew exactly what to do. If I could do the year all over again, I would! Thank you VFS!
Aliyah Marc
Acting for Film & Television Graduate
"The AI and the Burglar," Therapeutic Fibbing, and Big People Tingz
VFS gave me a taste of all the different things you might find yourself exploring in an acting career. You get to dabble in so many areas of our art. Classes are practical and allow you to meet a plethora of passionate teachers and mentors. The program helps build a network of artists around you through collaboration with students from other programs. My year at VFS was full one, but gave me the confidence to say acting is what I want to do with my life.
Charles Brien
Acting for Film & Television Graduate
"P'tit Tremblay,"Menteur , and "Reverie"
VFS helped me grow and develop more than just my craft but my confidence, social skills, and empathy. I learned how to connect with my emotions and live every moment. I'm so grateful for my mentors and peers I can now call my friends and family. The school always pushed me out of my comfort zone, but maintained a safe space. One paragraph isn't enough to describe how wonderful my time was. I'm proud to be among the artists who've trained at VFS.
Joaquin Salinas
Acting for Film & Television Graduate
I loved everything about Vancouver Film School. Every single teacher brought their authentic self, and their truthfulness, care, and support helped me grow as a person and also as an actor. Their curriculum is very up to date; they cover all aspects of acting and being creative. I am very grateful for everyone at school and the experience they gave me.
Sana Abbasnezhadmakoei
Acting for Film & Television Graduate
If you're an aspiring actor and are wanting to attend a school that gives you day-after-day hands-on experience with real industry professionals, then VFS is the place for you! As an alumni of the Acting for Film & TV program I can't recommend this school enough, with staff and instructors who genuinely prioritize your needs as a student and want to help you grow into the artist you want to be. I wouldn't trade my time at VFS for anything in the world.
Trevor Hamer
Acting for Film & Television Graduate
An Acting for Film & Television VFS Education
In 12 months you will graduate with:
A diploma in Acting for Film & Television
Video of your class's projects, professional headshots, and a promotional package highlighting your acting work
Access to the VFS Alumni Directory and Job Board
A graduation launch on CastingWorkbook.com, including a one-year membership
Acting core principles. Begin the mental, physical, and emotional preparation necessary to enter into the craft of acting.
On camera. Experience the technical and creative demands of television auditions.
TV audition techniques. Expand your range and presence through improv and advanced skills to master any audition.
Special skills & special FX. Discover the demands of sitcom acting, and the special skills necessary for motion capture, green screen, and heightened dramas.
We develop your Voice Acting skills with on-the-mic training. Exploring Animation, ADR Voice Coaching sessions will further encourage ease and range in your voice to prepare you for the demands of feature film auditions.
Final project shoot. Shoot your film project and promo reel in studio to showcase your talents, and learn how to find an agent and drive your own career.
See Full Course Description
View Faculty
To make sure you have accurate admissions information please select your region based on country of citizenship.
Tuition
Select Your Region
Start Dates
Select Your Region
How to Apply
Request Info
Requirements
You will be asked to submit one of the following along with your application. Your advisor can help with selecting the best option.
Department Standards
Upload your audition to a video hosting site (YouTube, Vimeo, a personal website, etc) and send a link to the school.
Please note that the audition must be specifically created for VFS according to the Content Requirements provided below and must be clearly identified as such. 
Content Requirements
The tape must be a maximum six minutes in length and must be in the following format:
State your name on camera
Demonstrate a contemporary monologue in less than one minute
Demonstrate a short contemporary scene (applicant should be on camera and the reader off camera) in less than one minute
If desired, provide a maximum one-minute demo of a special skill (e.g. singing, dance, physical action, etc.)
Provide answers to the following questions in a maximum of two minutes:
Why did you choose your audition pieces?
How long have you wanted to act?
Who inspired you to want to pursue an acting career?
What are your strengths & weaknesses as an actor?
If you can't be an actor, what would you choose to be?
See this video on How to Submit a Self Tape
When you talk to your Advisor, let them know that you've completed the Essentials program and they will put a copy of your diploma in your file for you.
For more about
language requirements
and other information for international students, visit the
International Students page.
Student Work
While training at VFS, students are immersed in the Acting industry, and spend a lot of hands-on time creating professional-quality work. And, nothing is a greater testament to the incomparable industry resources and career preparation that define VFS's education model, than the top quality work our students produce. Here, a portfolio of outstanding work is just the beginning. Just take a look.
Industry Partners
VFS doesn't just teach you about the industry, it IS the industry. With veteran instructors, mentors and an education Advisory Board recruited straight from the professional world, we are able to constantly update our award-winning curriculum to keep up with an ever-evolving industry. Plus, students also have lots of opportunities to connect and network with industry leaders during special workshop sessions, training presentations, and industry social events hosted by VFS.
Campus Life
Your year in Acting for Film & Television puts you in close contact with students in a host of other VFS programs, from writers and filmmakers to makeup artists and sound designers. This downtown training facility features near round-the-clock access to rehearsal space, computers, and everything you need to perform at your best. You'll also be surrounded by the city's best cafes, restaurants, and cultural attractions – not to mention some of the leading film and television production studios.
FAQ
We're here to help you submit an application that best reflects your abilities, and gives you the best chance of being accepted. We've helped thousands of people complete a single year at VFS by answering questions like these:
Application Tips
What does VFS look for in an application?
Can I apply if I haven't met all the requirements yet?
What does this part of the application form mean?
Expenses
How much does my program cost?
Can I pay in installments?
How much will I need for living expenses in Vancouver?
Logistics
How do I get to Vancouver?
Where will I live in Vancouver?
Do I need a visa?
Sign up to VFS Premiere and be the first to receive the latest exclusive content, news, and special offers from Vancouver Film School — straight to your inbox.