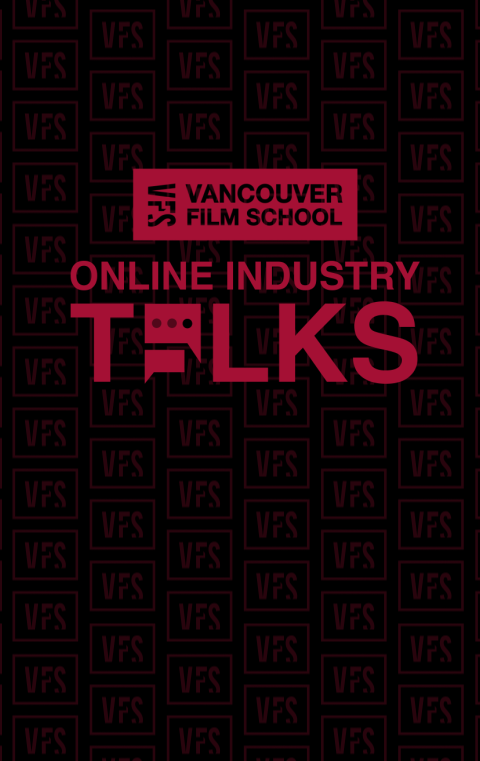 VFS Online Industry Talks
What does it take to succeed in the creative industry? Get invaluable advice and insight with VFS Industry Talks, our exclusive Q&As with some of the top creative minds working in film, television, design, animation, and video games today. Watch our past events below.
Featured Video
Kevin Smith: Filmmaker & VFS Creative Ambassador
From VFS to Indie Stardom and Beyond: Filmmaker Kevin Smith talks about getting his start at VFS and going on to become a celebrated writer, director, and producer. Find out what it takes to build a creative career and how industry professionals such as Smith are adapting in an era of digital delivery.
Past Talks
Shakun Batra: Director, Writer, and Producer
From Business School to Headlining the Hindi Film Industry: Shakun discusses following your passion for film, the process of writing & directing your own stories, and breaking into the industry as an Indian Filmmaker.
Kraig Wenman: Screenwriter
From VFS to Screenwriting in Hollywood: Screenwriter Kraig Wenman discusses the "how to's" of being a Screenwriter in Hollywood, his horror stories about getting fired & rehired, and how struggling artists can survive without a "day job."
Sonali Dutta: Look Development Artist | Image Engine
Artist on Emmy-Winning The Book of Boba Fett: Sonali discusses how to break into the 3D & VFX industry, being a mentor for Women in Animation, and working on unforgettable titles like 'Hawkeye', 'Obi-Wan Kenobi', and 'The Book of Boba Fett'.
Catherine Winder: CEO & Executive Producer | Wind Sun Sky Entertainment Inc.
Creative Storytelling for Canada's Entertainment Industry: Catherine discusses working with iconic brands, creating unforgettable work for top-tier studios such as LucasFilm Animation, Fox, & HBO, and building a successful career in the creative media arts.
Claire Hummel: Concept Artist at Valve
The Importance of Versatility as an Artist in Video Games: Claire discusses the future of the video game industry, how to successfully wear many hats, and working for the studio behind the 'Half Life', 'Left 4 Dead', and 'Portal' franchises.
Prem Gill: CEO of Creative BC
Deepening Your Understanding of BC's Creative Ecosystem: Prem discusses BC's brand-new Creative Pathways program, the massive cultural shift in Canada, and the importance of understanding BC's creative ecosystem.
Alwyn Hunt: Co-Founder of The Rookies
How the Rookies Helps Curate your Professional Career: Alwyn discusses the importance of preparing for your career while in school, finding platforms for your work to be seen, and how The Rookies can ultimately serve as a launchpad for your creative career.
Robyn Haddow: FUI Motion Graphics Designer | Spider-Man: Homecoming, Guardians of the Galaxy Vol.2, The Flash
How to Design the Interface of the Future for Major Motion Pictures: Robyn discusses the future of interactive design in feature films, creating unique cinematic experiences through the use of screen graphics, HUDs, & holograms, and working with some of Hollywood's biggest production companies.
Jermaine Hargrove: CEO, Co-Founder | Small Town Animation Studios
Building An Animation Studio for Change: Jermaine Hargrove, CEO & Co-Founder of Small Town Animation Studios, discusses building an independent animation studio from the ground up and creating IP's focused on diversity, equality & inclusion.
John Musker: Former Animator, Director | Walt Disney Animation Studio
Bringing Animated Dreams to the Big Screen: Disney veteran John Musker discusses his four-decade career with Walt Disney Animation Studio, including making the transition from animator to director, and directing some of the most memorable films in animation history, from 'The Little Mermaid' to 'Moana'.
The Shipment: Award-Winning Short Film (2018)
The Genesis of a Sci-Fi Hit: Director Bobby Bala, actors Aleks Paunovic & Omari Newton, and producer Ana Carrizales gather for a roundtable discussion on the collaborative nature of film and the trials & tribulations of making the modern sci-fi hit "The Shipment".
Giorgio Vezzini & Dani Kogan: Lead Audio & Technical Sound Designer | Larian Studios
The Foundation of Sound in Games: Larian Studios' Lead Audio and Technical Sound Designer discuss the intersection of sound design & games, and how sound is a fundamental feature of modern video games.
James Baxter: Director of Character Animation | Netflix
Learn What I Teach Animation Professionals: Legendary animator James Baxter (Beauty and the Beast, The Lion King) talks about teaching professional animators, staying true to one's passion, and drawing some of cinema's most-beloved characters, from 'Belle' to 'Rafiki'.
Briana Buckmaster: Actor | Supernatural
How Acting Reveals Who You Really Are: Actor, singer, and voiceover performer Briana Buckmaster, better known for her recurring role on CW's Supernatural, discusses getting her start in VFS student films, bridging acting for stage & screen, and building resiliency as an actor.
Kahing Chan: Animator & Designer | Sony Pictures Television Japan
Understanding VFX's Role Within a Film Production: MORE VFX founder and award-winning animator Kahing Chan discusses how up-and-coming animators and VFX artists can hit the ground running to deliver work that stands out.
Jason Mackay: Executive Producer | Collective Bunch
Building a More Inclusive Creative Industry: Collective Bunch founder Jason Mackay discusses how now is the time to confront stereotypes in the industry and to foster equity in hiring practices for film, television, and creative media.
Luca Cresciullo: Producer & Co-Founder | Cyberspline Games
Designing the Gameplay Experience: Cyberspline founder and producer Luca Cresciullo discusses starting a company and the challenges posed by the COVID-19 pandemic, building engaging player experiences, and the importance of collaboration, especially in a remote work setting.
Jennifer Twiner-McCaron: CEO | Atomic Cartoons & Thunderbird Entertainment
How to Build a Creative Team in the COVID-19 Era: Jennifer discusses how COVID-19 pushed the remote model to work, how the explosion of content streams has created new opportunities for creative professionals, and how she wants to ensure new hires have diverse voices and thrive at being storytellers.
Zabrina Matiru: Key Makeup Artist
How to Diversify Your Makeup Skills in a Pandemic: Born and raised in Kenya, Zabrina takes pride in her multicultural upbringing. Her artistic perspective draws from a global aesthetic and her personal objective is the pursuit of inclusivity and diversity within the film industry and beyond.
Jordan Lyle: Multidisciplinary Designer & Creative Director | For The Culture
Designing For The Culture: Jordan Lyle discusses how purpose-driven design and storytelling have the ability to foster community and promote change to propel culture forward.
Ryan Honey: Co-Founder | Buck
Understanding the New Design Landscape: Ryan Honey discusses his approach to design thinking and how different creative disciplines, from animation to game design and VR/AR, can join forces to tackle new challenges and create powerful new experiences.
Subscribe Now
Get exclusive access to VFS Originals content by subscribing to our YouTube channel.