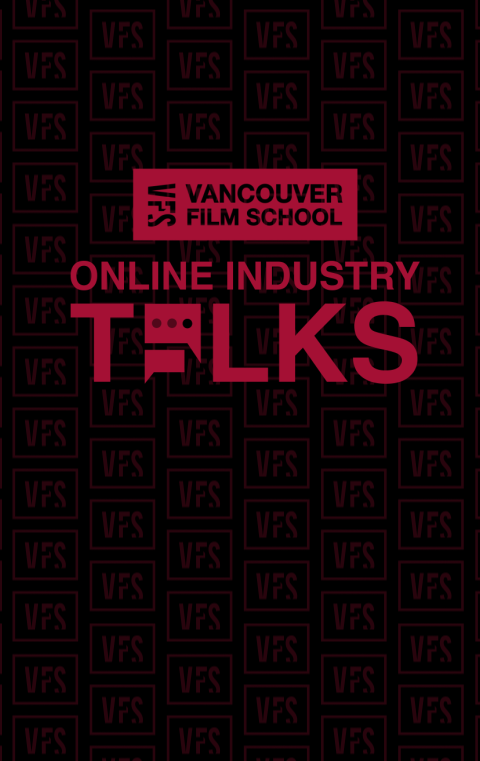 VFS Online Industry Talks
What does it take to succeed in the creative industry? Get invaluable advice and insight with VFS Industry Talks, our exclusive Q&As with some of the top creative minds working in film, television, design, animation, and video games today. Watch our past events below.
Featured Video
Kevin Smith: Filmmaker & VFS Creative Ambassador
From VFS to Indie Stardom and Beyond: Filmmaker Kevin Smith talks about getting his start at VFS and going on to become a celebrated writer, director, and producer. Find out what it takes to build a creative career and how industry professionals such as Smith are adapting in an era of digital delivery.
Upcoming Talks
Tian Yuan Award-Winning Actor, Director, Writer, Musician (Butterfly, August Story, One Day)
James Baxter Director of Character Animation (Netflix), Supervising Animator (The Lion King, The Beauty and the Beast, Shrek 2)
Jeremie Voillot Senior Manager of Sound Design, WWS, SIE (Playstation)
Gado (Godfrey Mwampembwa) Political Cartoonist, Animator, Comics Artist (New African, Sunday Tribune, Washington Times)
Luca Cresciullo Producer & Co-Founder at Cyberspline Games, Game Designer (The Cluckening)
Jennifer Twiner McCarron CEO (Atomic Cartoons & Thunderbird Entertainment)
Past Talks
Jordan Lyle: Multidisciplinary Designer & Creative Director | For The Culture
Designing For The Culture: Jordan Lyle discusses how purpose-driven design and storytelling have the ability to foster community and promote change to propel culture forward.
Ryan Honey: Co-Founder | Buck
Understanding the New Design Landscape: Ryan Honey discusses his approach to design thinking and how different creative disciplines, from animation to game design and VR/AR, can join forces to tackle new challenges and create powerful new experiences.
Gigi Saul Guerrero: Horror Director & Actor
Secrets of Genre Filmmaking: Gigi Saul Guerrero discusses how genre-based cinema differs from traditional filmmaking, how to stay true to tradition while expanding the genre, and how her international perspective has informed her approach to horror.
Lino DiSalvo: Animator, Director, Producer & Writer
A Journey in Animation and the Things I've Learned: Lino DiSalvo discusses what he learned from 20 years of experience in the animation industry, how to stay true to your vision, and how to balance expectations and negative input.
Rob Cowan: Blockbuster Producer
Prepping a Movie Production in 2020 – What Does it Take: Rob Cowan discusses current Hollywood production protocols, what the industry has learned from being remote, what has worked, and what hasn't.
Tian Yuan: Award-Winning Actor, Writer & Director
Bringing a Woman's Perspective to Chinese Moviemaking: Tian Yuan discusses working in different creative streams, how she is bringing her female perspective to Chinese filmmaking, and how Chinese filmmakers, specifically women, can access the tools and resources needed to tell their own stories.
Mark Breakspear: VFX Supervisor | Sony Pictures Imageworks
VFX – The Good, the Bad & the Ugly: Mark Breakspear discusses the ups and downs of working in the VFX industry, from on-set etiquette to creative problem-solving, working with others, work-life balance, virtual sets, and selective grazing techniques at the craft service table.
Scott Mosier: Hollywood Director, Producer & Writer
Pitching the Idea in an Animated World: Scott Mosier Buck discusses how to pitch an idea in the animation world, what real-time learning means, and understanding the power of people, process, and networking.
Matt Toner: CEO | Biba Ventures
Problem Solving Through Design Thinking: Matt Toner discusses getting his start at VFS, how "busted design" can be beautiful, and what it takes to become a problem solver through design thinking.
Subscribe Now
Get exclusive access to VFS Originals content by subscribing to our YouTube channel.