Each year, Unity Technologies recognizes excellence in the video game industry, from desktop/console to mobile games and beyond; there's even a category for social impact. The prestigious Unity Awards celebrate creative and technical excellence in Unity-powered games, highlighting the incredible possibilities of the software development company's game engine. This writer is predicting that Cult of the Lamb will win big!
When the 2022 nominees for the 15th Unity Awards were announced on October 25, we were delighted (but certainly not surprised) to see that Vancouver Film School alumni were nominated not once but TWICE for Best Student Project! Meowmentum Mori and Curtain Call were each developed by a core team of 5 Game Design students, with support from multiple Sound Design for Visual Media students. The best part about the Unity Awards is that you can vote for these games right now! Voting closes November 1, so be sure to cast your votes here.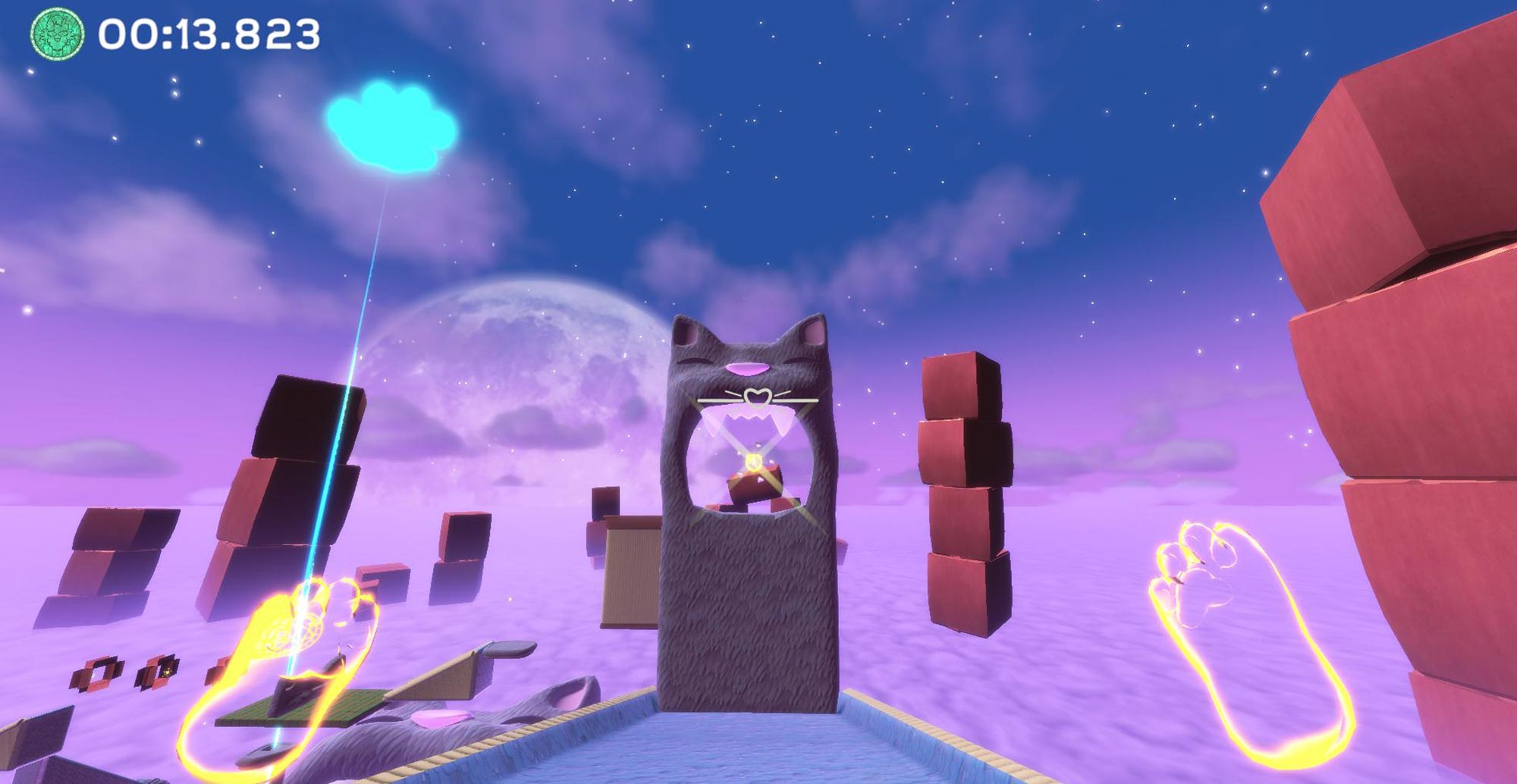 Become a full-fledged catmage and inherit your family's magic in
Mewomentum Mori
.
Meowmentum Mori is described as a first-person single player speedrunning platformer where Mori, a novice catmage, faces a series of magical trials in a pocket universe to become a full-fledged catmage. Curtain Call is described as a single-player 3D isometric Boss Battle Hack and Slash where Little Red Riding Hood, on her journey to avenge her grandmother, must defeat evil minions and epic fairy tale bosses.
These nominations mark the 6th and 7th for VFS students. We did the math (an impressive feat for this right-brainer), and this means VFS is not only the most-nominated school by Unity, but has the most consecutive wins/nominations, and is the only school to receive two nominations in a single year. Previously, VFS students were nominated for Mask of Qi, Not Raised by Wolves, Afloat, The Cluckening, and Pulse – with the latter three taking home the trophy.
If you're experiencing symptoms of major FOMO, you can play both of these games right now on your PC! Meowmentum Mori, Curtain Call, and hundreds of other games created by VFS students are available for play via VFS Arcade.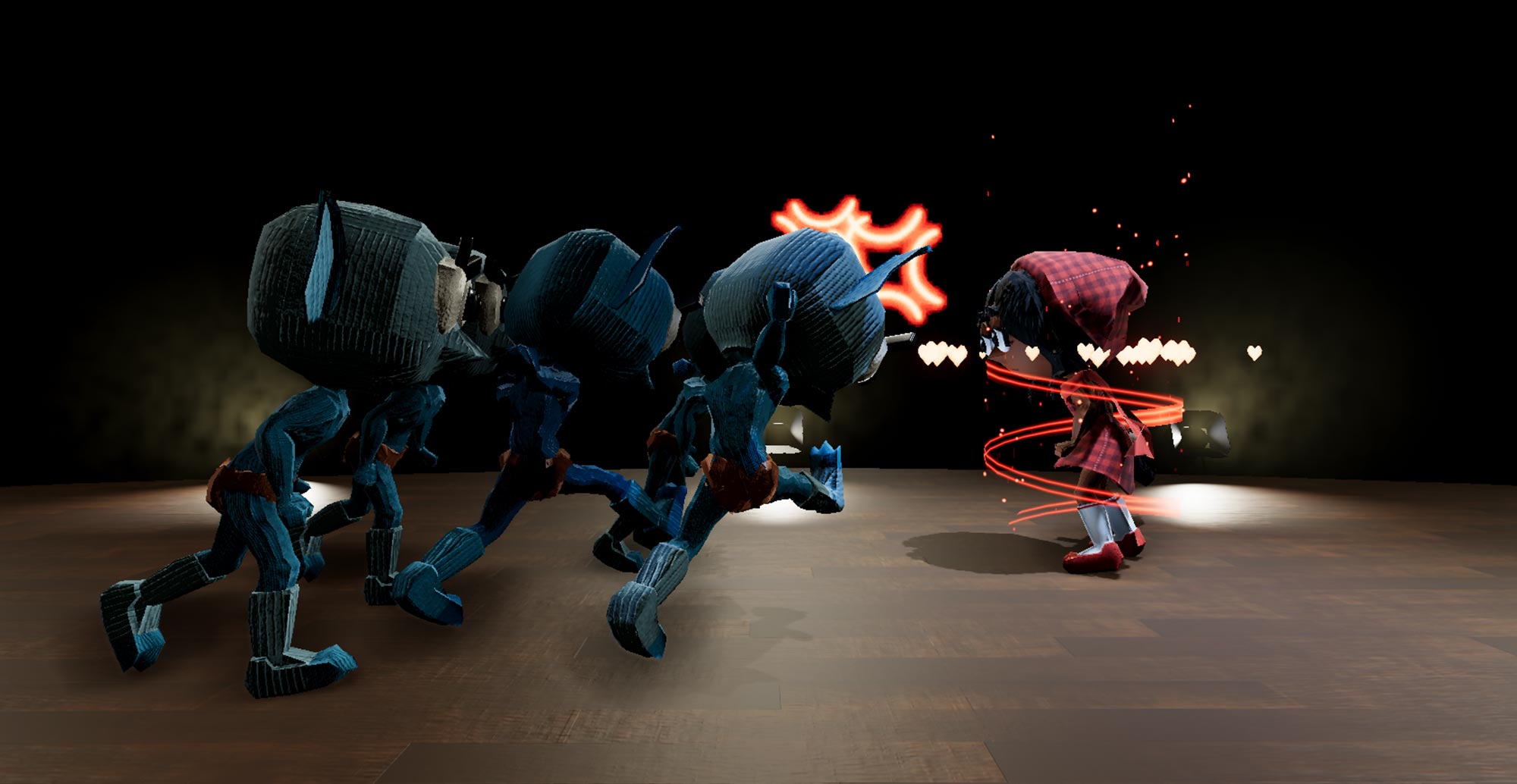 Combine dodging and melee attack combos to put an end to the Wicked Witch in
Curtain Call
.
In response to this year's awards and unprecedented double-nomination, Christopher Mitchell, Head of VFS's Game Design and Programming for Games, Web & Mobile programs commented: "We couldn't be prouder of the alumni involved in the making of Meowmentum Mori and Curtain Call. As the highest student honour in the video game industry, the Unity Awards are truly the benchmark of excellence. When our students succeed on such an extraordinary level, VFS succeeds with them. We look forward to seeing the results and to watching the careers of these talented alumni unfold."
Meowmentum Mori was created by Game Design students Apoorv Taneja (Technical Designer/PM), Ivan Restrepo (Tech Designer/Game Designer), Pablo Moctezuma (Level Designer/Game Designer), Ivonne Medina (3D/2D Artist), and John Santana (3D/UI Artist). External collaborators include Sound Design for Visual Media students Hojune Kwak (Sound Tech/SFX), Pedro Campos (SFX/Ambience), Gordon Smith (SFX/Sound Tech), Jenny Shim (Composition), and Benji Ruiz (Composition).
Curtain Call was created by Game Design students Jack Pearson (Project Manager/Audio Implementation), Quincy Michels (Programmer/Combat Design), Liam Pringle (Level Designer/VFX/Combat Design/Environmental Artist), Damien Jackson (Character Artist/ Concept Artist/Environmental Artist), and Josh Anaya-Paiero (Environmental Artist/Animator/Rigger). External collaborators include Sound Design students May Goddard (Sound Collaborator/Composer/Audio Implementation), Valentina Ferreira Pena (Sound Collaborator), Gwen Hwang (Sound Collaborator), and Alex Marr (Composer), Writing for Film, Television & Games student Alex Clarke (Narrative), Acting for Film & Television student Skye Carter (Voice Actor), Andy Poystila (UI Artist), and Nic Westaway (Mocap Actor).
This year's awards mark a huge milestone for Unity – 15 years since the inaugural ceremony. A video game software development company based in San Francisco, Unity powers artists in creating and growing real-time 3D games, apps, and experiences for entertainment, film, automotive, architecture, and more. Some of the most iconic games have been made with Unity, including Pokémon GO, Fall Guys, Ori and the Will of the Wisps, Super Mario Run, Hearthstone, and Cuphead. In 2018, Unity expanded into the automotive industry and has since been leveraged by Audi, Volkswagen, Cadillac, and Mercedes-Benz, proving that the possibilities with Unity are endless.
Congrats to the talented alumni of our Game Design, Programming for Games, Web & Mobile, and Sound Design for Visual Media programs. We'll be crossing our fingers for you (and voting until the servers crash!).
Back to THE BLOG homepage