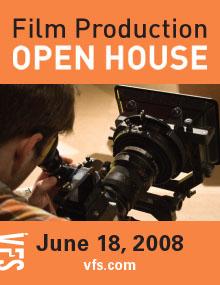 Discover the art of the short film on June 18, 2008!
Film Production at VFS is lifting the cover off its comprehensive one-year filmmaking program with the VFS Film Production Open House on Wednesday, June 18, 2008. It's the perfect way to learn about the program and meet some of the people who make it great.
Film Production Open House
June 18, 2008
6pm - 8pm
VFS Café, 390 West Hastings
(corner of Homer and Hastings)
RSVP at openhouse@vfs.com or 604.631.3591
- See what makes the VFS Film Production program one of the best in the world.
- Meet award-winning Film Production Department Head David Hauka.
- Hear from instructors in Directing, Cinematography, Post Production&Art Design discussing their areas of expertise.
- Get the straight goods from students and alumni.
- Watch award-winning student films made at VFS and find out more about all the projects Film Production students tackle.
Let us know you'll be joining us! To register contact openhouse@vfs.com or call 604.631.3591.