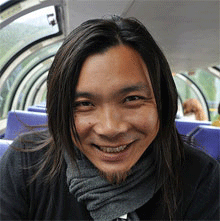 We're pleased to welcome Peter Jin Hong, a Digital Design program Advisory Board Member (and alumnus) currently working as the UX Lead for Google+ Photos.
Peter will be spending a few days with students in Digital Design, reviewing their work and sharing his high-profile experience. (Check out his schedule at VFS, as well as a full background on his career, on Oomph.) His much-anticipated visit begins with an upcoming talk on design, where he'll focus on the role of mentorship and human-powered solutions. If you'll be in Vancouver and you're passionate about design, we encourage you to come!
"Remembering That We're Human - Elusive Perspectives On a Career in UX"
A special talk from Google's Peter Jin Hong
VFS Main Theatre, 420 Homer Street
Tuesday, December 13, 2011
4:30pm-6:00pm
RSVP with your name (and those of any guests) to leslie@vfs.com.
OVERVIEW
Peter will discuss his career in user experience, focusing on his time with Google and also his volunteer work as Creative Director for WellDone.org. Peter has helped the non-profit develop empowering and positive strategies to get people involved with social good (WellDone.org helps developing communities source clean drinking water.) The team recently won the top award at AIGA's and CauseEffect.org's 2011 Do-Gooder Awards for transformative design for social change.
ABOUT PETER JIN HONG
Peter Jin Hong has been a professional innovation catalyst and story collector for over 10 years. Most of his career has been as an award-winning Creative Director and pioneer of User Experience innovation/strategy business units at Blast Radius, Tribal DDB, and for clients such as KAYAK, CarMax, AOL, Nike, EA, Sony, Honda, and BMW. Valuing mentorship, Peter has guided many promising individuals, who themselves have become successful creative directors for other renowned agencies.
Space is limited! RSVP soon to get a seat. Email neesha@vfs.com.
(Please note that current VFS students will be given preference.)