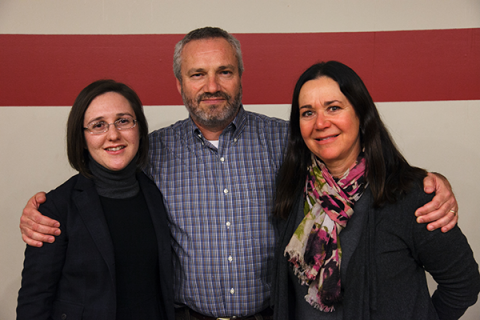 Maria and André Jacquemetton are no strangers to hard work. The Emmy-winning writing team, who are also husband and wife, started their careers with a Party of Five spec script and with long nights, talent, and a thick skin, have become one of the most powerful writing duos in the industry. Maria and André took time out of their busy schedules recently to talk with VFS Writing for Film & Television students and spoke about the business of being a writer, what it takes to succeed, and why writers need to play well with others.
Shelley Stein-Wotten, a Writing for Film & Television student, attended the presentation and was generous enough to share her thoughts with us.  
Guest post by Shelley Stein-Wotten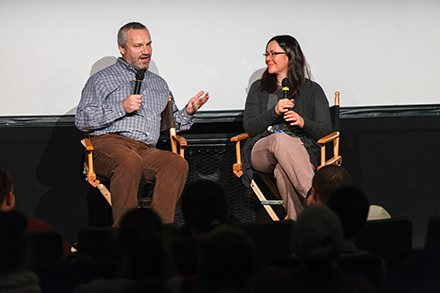 A bevy of VFS Writing for Film and Television students and alumni soaked in the wisdom of veteran television writers Maria and André Jacquemetton, who imparted advice on how to break into the television business, how to stay in the room, and discussed the expanding opportunities available to writers.
The husband and wife writing team spent over two hours fielding questions last Thursday evening, then held round-table discussions for 36 lucky students on Friday.
Best known for their six seasons on Mad Men, Maria and André departed the acclaimed series at the end of the last season for a multimillion-dollar overall deal with Warner Bros. to develop scripted programming.
"It doesn't matter what show you start on," said Maria, "people have humble beginnings." It took both writers over 10 years to get their first staff writer positions, on Baywatch.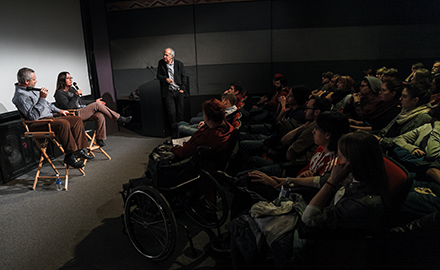 Maria and André also talked about how being a writers' assistant is the current Holy Grail for new writers starting out in L.A. It's an opportunity to build a solid network, and assistants are often assigned a show's one or two freelance scripts per season.
Once you get in the room, be sure to be a "positive force," André said. Showrunners are looking for writers with unique voices and experiences, who also play well with others.
While L.A. is a television mecca, where 90 percent of productions occur, Maria noted that co-productions (film and television productions that are shared between two or more countries) are becoming increasingly popular because the financial burden of developing and producing a show can be spread around. Subsequently, 'co-pros' are "always looking for writers with Canadian passports," she said, so "get your scripts out there…. You need to keep generating material, but make sure whatever you're writing has passion."
Many thanks to Maria and André  Jacquemetton for their words of wisdom, and to Shelley for sharing her experience!