It's an honour just to be nominated… but winning doesn't hurt either. Our great team of many at Vancouver Film School is beyond thrilled to once again be recognized on Variety Magazine's prestigious list of 'Top North American Film Schools'.
These yearly rankings are the ultimate affirmation of all the hard work that goes on behind the scenes by our staff & faculty. If this recognition wasn't enough – VFS is the only film school in Canada to land on Variety's list for the past 6 years.
If you work in the entertainment industry, Variety is a household name. A giant in entertainment news, Variety has been covering everything (literally everything) from film to tech and beyond for over 115 years.
Variety compiles this list every year, noting that "film education is a fast-growing and widely expanding focus" and that the 30 schools on this year's list offer "top-ranked, competitive degrees in all areas of filmmaking."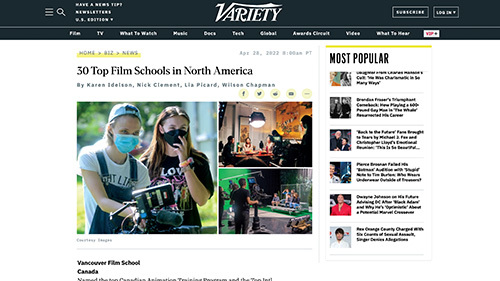 Vancouver Film School can be found on the latest Top Film Schools list from Variety Magazine. Our 6th year in a row, and the only Canadian school in attendance.
But enough about us! The proof is in the artists who make the binge-worthy content we crave, and we reached out to some of our alumni to see what they've been up to.
Oliver Ridge
Producer
Since graduating from VFS's Acting for Film & Television program, Oliver has gone on to lead a successful career as a producer, proving that an entertainment career can take you places you may not have expected!
Most recently, Oliver produced Corner Office – a styled office satire that opened Tribeca 2022 and stars the legendary John Hamm, as well as Joyland – an LGBT feature set to be the first Pakistani made film to be an official selection at Cannes.
Andres Molina
Senior Game Designer
Before attending VFS, Andres had never been to Canada. Since graduating from VFS's Game Design program in 2017, he's now working as a Senior Game Designer at SkyBox Labs on one of 2022's biggest releases: Halo Infinite.
Andres has also worked for Kabam as a Designer on Marvel Realm of Champions, for Electronic Arts as a Designer on Plants vs. Zombies: Battle for Neighborville and Garden Warfare 2 and has even been an instructor at Vancouver Film School!
We also spoke with our Managing Director, Jonathan Bell, about the announcement. He commented:
"We are proud and humbled to be named a top film school by Variety. This is an important recognition for our school because it reflects the truly unique nature of our educational model. At VFS, we launch creative careers in 12 months – faster than other schools. But what is even more significant is that our students join the industry while they're at school. We pull our faculty directly from the creative industries, who impart the most current, relevant information to our students. This is what we call 'industry integration', and it is to this point that we credit our success. VFS looks forward to maintaining our commitment to excellence, both to our students and to the continued growth of the creative industries."
            Finally, we'd like to congratulate the other schools included in this year's list including New York Film Academy, Pratt Institute, Boston University, and Columbia College Chicago – just to name a few. We'll be cheers-ing over some champagne right alongside you.
Back to THE BLOG homepage