And the winner is… our insanely talented graduates! It's safe to say we were speechless on September 12 when our final tally revealed that 375 VFS Alumni were credited on Emmy-nominated projects, with 65 of these alumni working on projects that went on to win.
Where to even begin!?
Held annually, the Emmy Awards recognize artistic and technical merit in the American and international television industries. Every year on Emmy night, we're all on pins & needles waiting to see if our favourite shows win big, but what you might not know is that a second Emmy event happens prior to the Primetime main event.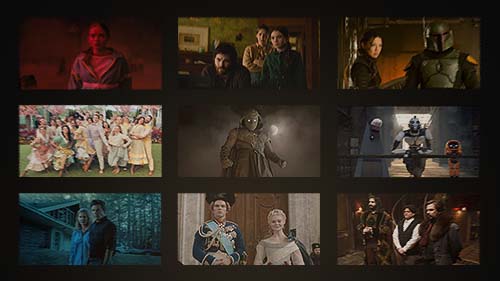 VFS alumni are apart of the Emmy's top nominated and winning productions.
Referred to as the Creative Arts Emmy Awards, this event focuses on everything from TV movies, to animation, to reality & variety programming. And though it may be untelevised, the Creative Arts Emmys are just as important, vital, and worth celebrating.
So, without further ado, we turn the spotlight to our alumni. From both the Primetime and Creative Arts Emmy Awards, 375 VFS alumni worked on nominated projects. 65 of these alumni worked on winning projects which included Stranger Things, The Book of Boba Fett, Love, Death & Robots, Hacks, Ozark, What We Do in the Shadows, What If…?, Home Before Dark, Severance, and more.
A shoutout to just a handful of our incredible VFS alumni who worked on the nominated and/or winning projects:
Andres Soto (Actor | Yellowjackets)
Lon Molnar (Visual Effects Production Executive | Stranger Things)
Katie Annand (Visual Effects Associate Producer | Ozark)
Cory Evans (Head of Story | Love, Death & Robots)
Angela Harvey (Writer | American Horror Story)
Marla Bechtel (Film Editor | American Horror Story)
Shawn Walsh (Visual Effects Executive Producer | The Book of Boba Fett)
David Klein (Director of Photography | The Book of Boba Fett)
Sara Hilmarsdottir (Head of Visual Effects Pipeline | The Book of Boba Fett)
Corrine de Berry (Makeup Effects Artist | What We Do in the Shadows)
Mattero Ceccotti (Animation Director | What If…?)
Magda Apanowicz (Actor | Robot Chicken)
Caitlin Groves (Special Effects Makeup | Midnight Mass)
Some other fun stats (because we're obsessed with numbers!); while these alumni come from a variety of VFS's programs – from Acting for Film & Television to Writing, Makeup Design, and Sound Design for Visual Media – it was our School of Animation that featured the most alumni. With a whopping 210 animation alumni credited on Emmy-nominated/winning projects this year, that's over half of the total and is a testament to the talent that emerges from of our 3D Animation & Visual Effects, Classical Animation, and Animation Concept Art programs.
So, what do all these numbers mean? 1) The creative media arts industry is stronger & more vibrant than ever, AND 2) a VFS education will launch your career. Though it's unlikely every VFS graduate will work on an Emmy-recognized project, you can be sure that you'll graduate in 12 short months, get hired & working right away, and prosper in the career you've always dreamed of.
A big congratulations to all our alumni who now get to brag "I worked on that Emmy-nominated/winning show!" We're celebrating your success in spirit from our cozy office in Vancouver!
Back to THE BLOG homepage