You've heard the saying: "Everybody has to start somewhere." For any number of reasons, artists don't always start their careers in the creative media arts; James Cameron, for example, worked as a janitor before making it big, while Kathryn Bigelow was renovating lofts in New York before she started directing.
The mid-career pivot has happened to many great artists, and it is finally finding that success in the creative media arts that truly makes the rollercoaster journey worthwhile.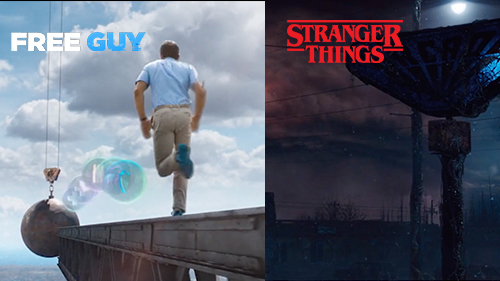 Since graduating from VFS, Julio Corpeno has built an impressive resume, working on both
Free Guy
and Netflix's
Stranger Things
.
Julio Corpeno, a VFS alumnus, is just one of these artists. A graduate of VFS's 3D Animation & Visual Effects program, Julio has worked as a 3D Modeler for Digital Domain, FuseFX, & Imagine Engine and on some incredible projects including Black Adam, Greyhound, Rampage, and Netflix's A Series of Unfortunate Events. But the cherry on top of his 3D & VFX career: working as a Visual Effects Arts on 7 episodes of Stranger Things AND as part of the VFX team on Free Guy.
But how exactly did Julio find his way as an artist in VFX?
Julio started out as a chef, working for 11 years in upscale Vancouver restaurants. Though he enjoyed it, it was tough to get ahead in Vancouver on a chef's wage.
During one late night trip home, after being harshly talked down to by the Head Chef for a minor mistake, Julio said to himself: "I'm going to do something else."
An avid artist, Julio started to teach himself 3D modeling with help from a friendly neighbour. Early mornings and late nights, before and after his day job, he would practice in Blender. And he saw his skills growing.
One day, a friend suggested to him: "why don't you go to school for this, and make this into your career?" A career change to 3D animation at age 27 is a serious decision in so many ways, not least of all financially. As a first step, Julio networked his way into a mock interview at United Front Games and was blown away by the studio environment. He was hooked. After the interview, he asked what program they would recommend for 3D animation. His interviewers suggested VFS.
He researched all the programs available in Vancouver. Julio estimates that around 80% of the people he met in the industry recommendeded VFS as well. He attended a VFS Open House and after seeing VFS's Animation campus & meeting faculty, Julio's decision was cemented in his mind.
Julio grinded as hard as he could to save up for tuition by taking on roofing & plumbing jobs on the side and picked up as many cooking shifts as he could. He also was fortunate to receive a donation from the great folks at the Templeton Foundation - shout out to Jim and Shelly!
Once Julio arrived at VFS, he found the 3D Animation & Visual Effects program very challenging. He had no experience in a studio environment. Though he was fairly confident modeling in Blender, but he struggled to pick up the programs for animation and compositing. At one point, he knew that if he couldn't get his marks up, he would be kicked out. He was stressed out & scared to let himself down by failing to achieve his goal of becoming a professional modeler.
So, what did Julio do? He put his head down, asked for support, and studied twice as hard. He worked through every break, did his best to practice with his peers who could teach him, asked for all the extra help he could get from instructors, and he pushed through it.
Leading up to VFS's Animation Showcase for graduating animation students, Julio was excited to show off his work to professionals and finally get his foot in the industry's door. Some of his classmates were hired on the spot that evening. But Julio wasn't, and he was discouraged once again. But he kept at it, eventually he heard back from the team Hydraulx VFX, and was offered his first job - working on Stranger Things. The rest, as they say, is history.
Since then, Julio has worked on incredible projects at top studios in Vancouver. Recently, his team's contributions to Free Guy earned the film an Academy Award nomination for Best Visual Effects. And while his journey has been by no means an easy ride, Julio is extremely happy with his career so far and is excited for all the new opportunities in the future.
We're so happy that his decision to learn 3D & VFX at VFS ended up being "the best decision ever." Congratulations on your success, Julio!
Back to THE BLOG homepage