At Vancouver Film School, we love to highlight the achievements of our students, alumni, and faculty. Today we shine a spotlight on faculty member Robert (Bob) Woolsey, who was recently appointed as the new Head of Department for VFS's Film Production program.
Bob has built an impressive 15+ year career as an independent filmmaker in the industry. From getting coffee, to holding a boom, to writing & directing, he's done it all. Bob's a master of the web series, to put it mildly. He's worked on Naomi: The Show (alongside Jann co-creator Jennica Harper) and was also a voice in an all-sock-puppet web series parody of Mad Men. Most-notably, Bob's web series Bob & Andrew was not only nominated for a Leo Award for Best Web Series in 2011 but won numerous awards at LA Web Fest.
One of Bob's favourite career highlights includes a 48-hour horror competition he participated in; his short, Fidelium, was personally picked as the winner by George A. Romero (Night of the Living Dead)!
Woolsey has also traveled the world teaching short-form filmmaking – from India, to Thailand, China, Sweden, United Kingdom, Turkey, Mexico, and Brazil – and has worked with big industry names including Iwan Rheon (Game of Thrones). Currently, Bob has a sci-fi feature that's being packaged for production in early 2023; as much as we'd love to spill the tea on this one, those details are under wraps!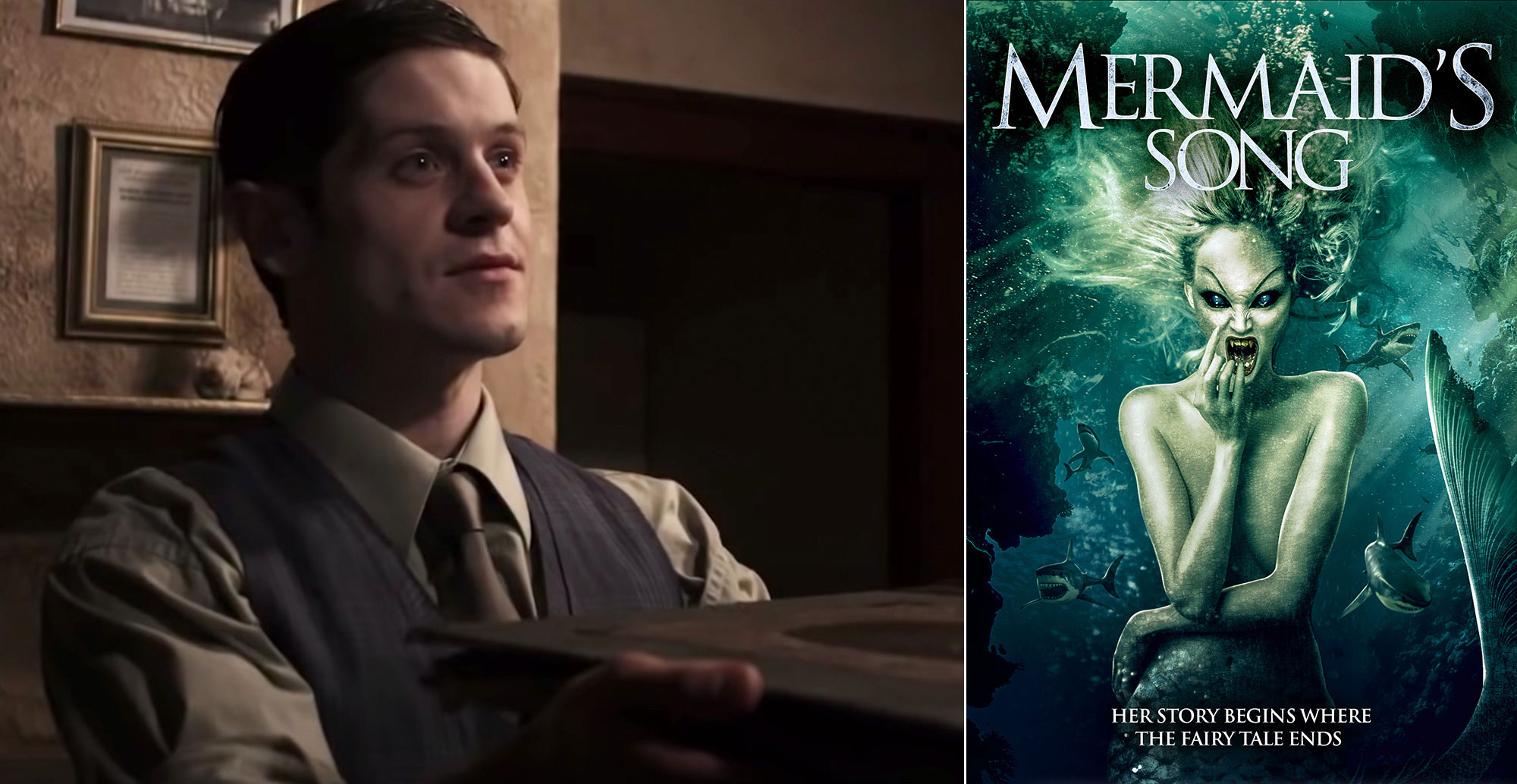 Mermaid's Song
, written and associate produced by VFS's Head of the Film Production program Bob Woolsey. Starring Iwan Rheon (Ramsay Bolton from
Game of Thrones
).
Bob has also been with VFS for 13 incredible years. A VFS grad of the Writing for Film, Television & Games program, Bob started as a Teaching Assistant and worked his way up to becoming our new Head of Department. Bob fondly recalls running a small film crew for VFS's Writing department that would produce a short film for every single writing student that came through the program. "No matter how crazy or ambitious, we produced them all" Bob muses. 
We wanted to get the full scoop on Bob's story – where he comes from, how he discovered VFS, and what led him to becoming our new Head of Film. Here's what he had to say: 
"I grew up in Fraser Lake, a tiny Northern BC town. We had to drive to the next town to go to the movies, but that didn't stop me from gaining a deep appreciation for film and television at an early age. Sometime around the age of 9 or 10, BCTV started airing Star Trek: The Next Generation everyday after school and that cemented my love of storytelling.
Despite all that, growing up in a resource-based town, I never imagined I could ever have a career in the industry. It was just dreamland to me. It was many years later, and after studying history at University of Northern British Columbia, that I decided I needed to pursue a career that really meant something to me. By the next year, I was sitting in class on my first day of the Writing for Film, Television & Games program at Vancouver Film School.
Upon completing my diploma at VFS in screenwriting, I soon learned that I had no patience for the write, pitch, get rejected, pitch again, maybe get optioned, having nothing happen, pattern of being a screenwriter. So, I turned to indie film. First with sketch comedy and short films. The Lonely Island guys had just been cast on Saturday Night Live and it seemed like anyone could get famous by posting silly videos to the internet. Of course, that didn't happen for me, so I continued on in the indie world and produced my first feature film, Do Something with Your Life, directed by Darren Borrowman. Although the film never really found an audience in release, it was a second school for me. Most of what I still teach the students today, I learned on that set.
Following that, I had some success with my web series Bob & Andrew, co-written with my friend from my class at VFS, Andrew Menzies. We were nominated for a Leo Award for Best Web Series and won numerous awards at the LA Web Fest. I also wrote the screenplay and co-produced the dark fantasy feature film Mermaid's Song, starring Iwan Rheon and directed by the current senior instructor for Directing at VFS, Nicholas Humphries. Along the way, I ended up doing just about every role you can do on a film set. From holding a boom to writing and producing, I've been in the trenches on a lot of interesting projects over the years. I still love to shoot passion projects and work with the wonderful people I've collaborated with along the way. My latest short film Once I Dreamed premiered at the Hong Kong Lesbian and Gay Film Festival during the pandemic.
All the while, I've also been working at Vancouver Film School. Almost immediately after graduating from the Writing for Film, Television & Games program I returned as a Teaching Assistant. I eventually moved into the short-lived Entertainment Business Management program which trained producers, managers, and coordinators for the film industry as the Program Manager. After that I returned to the Writing program as an instructor for the Producing for Writers course. In that job, I got to pass on all the tips and tricks I'd learned about low-budget filmmaking to the screenwriting students which was tremendously rewarding.
At the same time, I started doing international workshops with the Head of Writing, Michael Baser. Michael and I travelled all over the world teaching short-form, hands-on, VFS-style workshops where we'd get students to make short films over the course of a couple of days with little to no resources other than what they had on hand. It was also Michael Baser than brought me into the Film Production program when he became the Head of both Film and Writing. For 4 years, I worked for Michael in the Film Production program, until he decided to move back to just being the Head of Writing. At that point, I was given the opportunity to become the head of Film Production.
Through my time at VFS, it's been an absolute privilege to get to know passionate filmmakers from all over the world. The immense change that folks go through during their time at this school is so rewarding to be part of. When you see a new class on day one, looking around at each other as strangers, then you see them at their graduation, a family of tight-knit filmmakers, it's truly moving.
Having been able to be a small part of the year for every student I've met along the way is not something I take for granted. Now that I've been given the responsibility of running the Film Program, that feeling is only more apparent. My job is to deliver on the education we promise, an education that I'm tremendously proud of. I've travelled all over and visited all kinds of schools and it's pretty unique to find a place that delivers as much hands-on work as we do at VFS. The only way to become a filmmaker is to make films. That's the opportunity we give our students throughout their entire year. Setting folks up for success, watching them learn and grow as filmmakers, is one of the best jobs out there." 
There is no one better prepared to be VFS's new Head of Film than Mr. Woolsey. We can't wait to see how he continues to grow our Film Production program alongside the industry, while always enhancing the student experience.
Back to THE BLOG homepage