"Do you like scary movies?"
It's spooky season at VFS and what better way to awaken your ghastly spirit than to watch some frightening films! Whether you're into classic slashers like Scream or Nightmare on Elm Street, or prefer modern spinechillers like Hereditary, the skin-tingling feeling of watching a horror film can't be beat.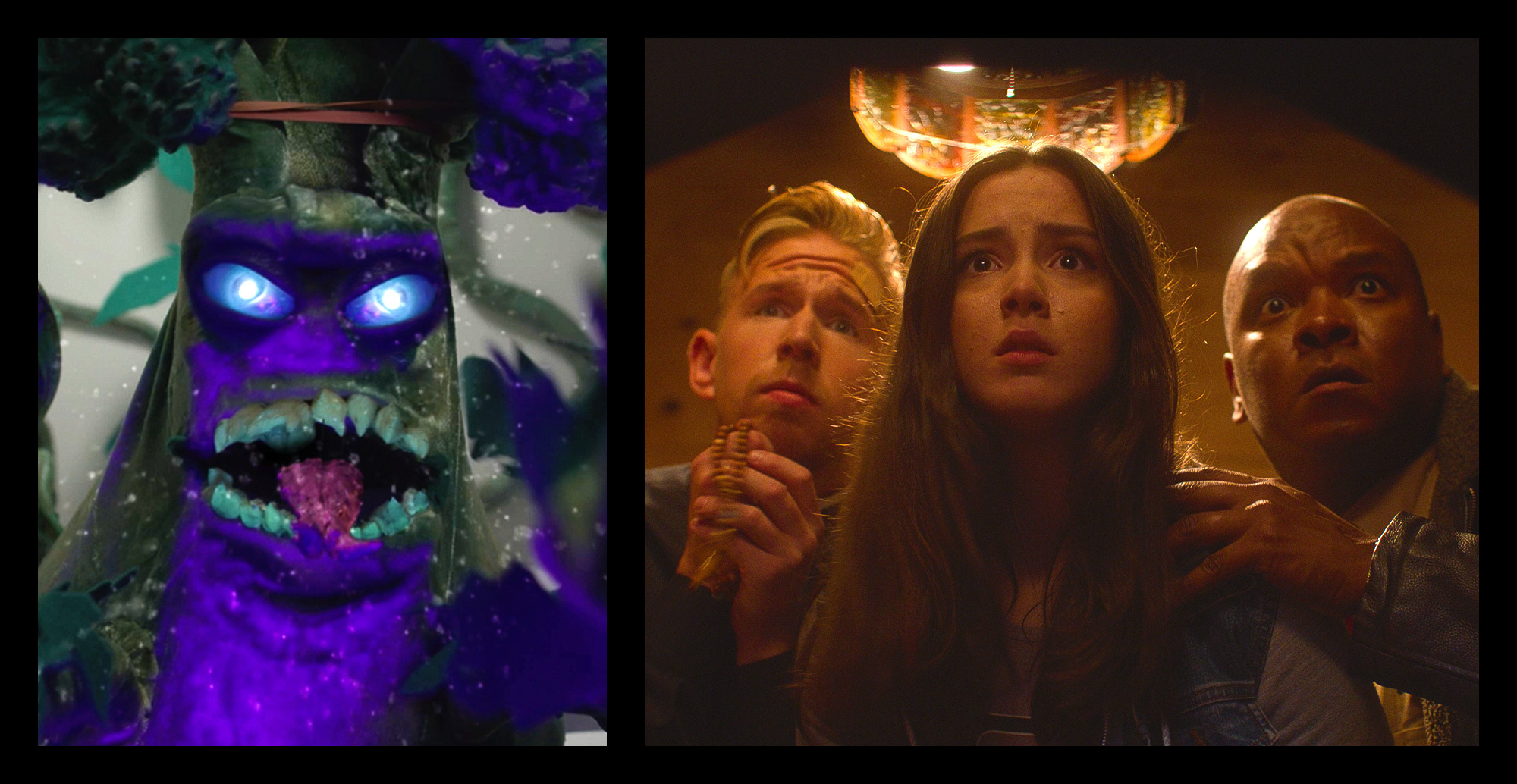 Spooky stills from Chad Costen's feature film
 Mister Sandman
On October 21st, Science World hosted their "Sweet: Fear" night for teens, an event with a haunted theatre, horror VR, creepy carnival games, and live presentations. Naim Sutherland, a Leo-Award winning Cinematographer, presented "Filmmaking Tricks in Horror Movies" to a packed crowd of high school students, where he discussed the effectiveness of subtle and overt techniques in writing, cinematography, sound, and visual effects to induce the feeling of fear. Naim used an episode of a series he worked on called "Two Sentence Horror Stories" to demonstrate the use of these different techniques, proving it takes more than a monster and a few grisly murders to make a good horror (take notes, Jaws 3-D).
Another horror connoisseur is VFS's very own Chad Costen, a Senior Instructor for the Foundation Visual Arts & Design program. Most recently, Chad wrote and directed the feature-length horror Mister Sandman, which has been 6 years in the making. After years of hard work and pandemic struggles, Chad and the rest of his Scream Team are gearing up to bring this indie monster movie to your screen!
Set in an abandoned summer camp, Mister Sandman is a dark fantasy that leads viewers down the eerie path of confronting the meaning of our nightmares while exploring the five stages of grief. According to Chad, the film "is a story about the things we are too fearful to face or most terrified to admit. It's about the masks we place over our fears to make them more manageable." The approach for this film was to pay homage to everyone's favourite 80s and 90s horror classics, sprinkling in a gruesome lineup of creatures.
Chad is no stranger to filmmaking, especially within the horror genre. He began his career with animation, puppetry, and prop-making and worked his way into directing, with notable credits including The Legend of Zelda: A Missing Link, the feature film, The Coming, and his multi-award-winning short film Death Wish.
Alongside Chad, a number of VFS alumni are involved in the production, including Co-Producer Stephanie Joan (graduate of VFS's Film Production program) and Associate Producer Natalie Pelletier (graduate of VFS's Writing for Film, Television & Games program). We're thrilled to see the success of our staff and alumni!
The team started a Seed & Spark campaign to raise money for production costs for the last zombified leg of their journey. There's a variety of spoopy swag available for donors, ranging from bumper stickers, to set costumes, and even Producer credits in the film! Check out the campaign to watch the trailer, support VFS talent, and bring your nightmares to life.
All of us at VFS wish you a monstrous Halloween full of non-sparkling vampires, bone-chilling thrillers, and of course – candy!
Back to THE BLOG homepage