Each year, Unity Technologies hosts the Unity Awards – recognizing the very best in desktop/console, mobile, and AR/VR gaming. In 2019 and 2020, we were thrilled to see students from Vancouver Film School take home the win for 'The Cluckening' and 'Afloat', respectively.
Once again, VFS students were nominated at this year's awards, for their game 'Not Raised by Wolves', a final project made by eight Game Design, Sound Design and 3D Animation students at VFS. The game is described as 'a single-player, third-person shooter, where the player assumes the role of La Coyota – an anthropomorphic gunslinger delving into an ancient AI facility to rescue her colony's pups.'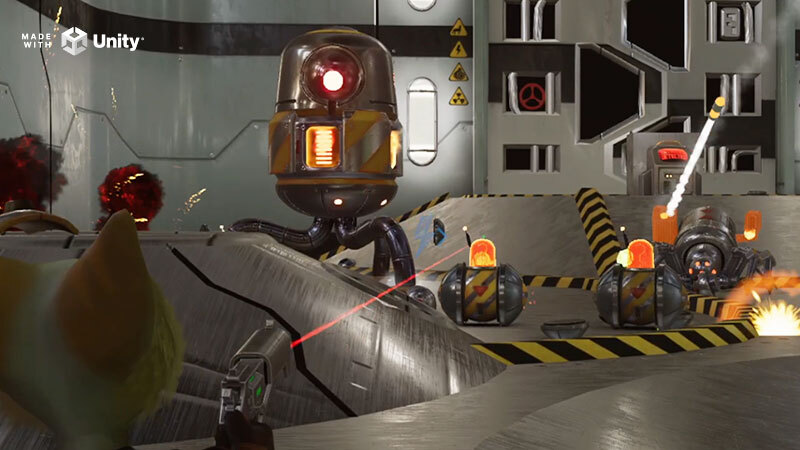 Not Raised by Wolves
is the third video game at VFS to be nominated for Best Student Project at the Unity Awards.
Credited on 'Not Raised by Wolves' are Konrad McLeod (Project Manager), John Newton (AI Programmer/VFX/Concept Artist), Jose Karlo Hurtado Corona (Systems/Player/Audio Programmer), Luis Masiá (Environment Artist), Yurii Lobus (Hard-Surface/Character Artist), Jiaxing Shi (Sound Designer), Josh Erickson (Sound Designer), and Andrei Bardas (Animator). The game was developed in Unity over 5 months using industry-standard software including Adobe Premiere Pro, Autodesk Maya, Protools, and more.
We caught up with a few of the creative geniuses behind 'Not Raised by Wolves' to discuss bringing this incredible game into the world, from the hard work & challenges they faced to the Unity Awards nomination. Project Manager Konrad McLeod, Artist & AI Programmer John Newton, Programmer Jose Karlo Hurtado Corona, and Environment Artist Luis Masiá had a lot to say!
According to the group, the toughest part of making the game was realizing its scope – not only in regards to the game's potential, but more importantly understanding the limitations of just how much they could successfully pull off during their VFS education. Though a few pieces were cut here and there in early stages, the most important elements made it through, and the team was confident that they would deliver not only a playable game, but a memorable one.
Konrad, specifically, commented that he emerged from the experience with a heightened appreciation for project managers in games and highlighted that the team behind 'Not Raised by Wolves' was the first group at VFS to successfully use Unity HDRP (high definition render pipeline) throughout the game's production, which he ultimately credits for the game's visually stunning graphics.
Reflecting on the experience, Konrad also commented: "When we were making the game, we knew we had something special." Jose also noted: "By the end, I was really happy with what we made". On the biggest takeaways from the experience, the group agreed on one crucial point: work with people you like. Perhaps this is the true secret to making a great game.
We know what you're thinking: "But HOW do I play these incredible games?" The answer: VFS Arcade. Curated in 2012, this online, indie arcade feature more than 200 games created by our very own students, all of which you can play right now! All you need is a computer and your gamer cap!
About this year's nomination, we spoke with Christopher Mitchell – our Head of Game Design and Programming for Games, Web & Mobile programs. He commented:
"I couldn't be prouder of our students for earning this incredible nomination for the top student game award in the world. This is our third consecutive nomination, and it truly shines a spotlight on VFS's Game Design, Sound Design and 3D Animation students. The nomination reflects the hard work of everyone involved in the making of this game and shows that our Game Design program sets our students up for immediate success in the industry."
Congrats to all the nominees and to this year's winner 'Metamorphos'. Even though VFS didn't secure the win this year, we're so proud of our students for their hard work and this amazing recognition they've received. For these students, this nomination can only be the start of something incredible.
Back to THE BLOG homepage