One of our favourite things at Vancouver Film School is keeping tabs on our alumni as they find success in their careers after graduation. Recently, we were pleased to discover that three VFS alumni were credited on Gotham Knights: Wilson Mui (Cinematic Director), Lloyd Colaco (Animation Director), and David Daoud (Lead Audio Recordist). While Wilson and Lloyd graduated from VFS's 3D Animation & Visual Effects program, David graduated from the Sound Design for Visual Media program.
If the fact that three of our talented alumni worked on this AAA video game wasn't enough, the credits are the icing on the cake (perhaps almost as sweet as unlocking that final achievement in your favourite game!).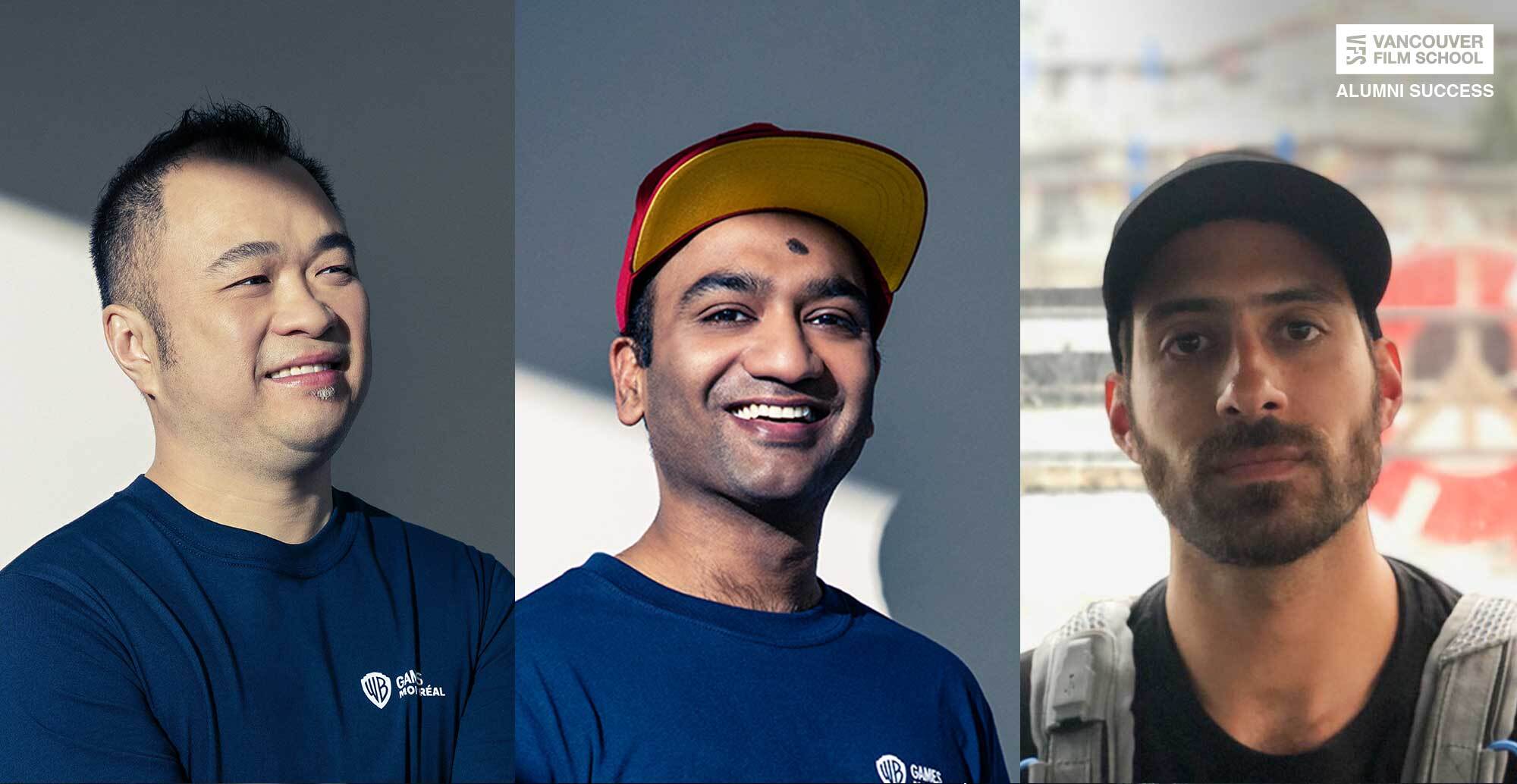 Wilson Mui, Lloyd Colaco, and David Daoud worked on WB Games Montréal's "Gotham Knights".
Gotham Knights is an RPG action game developed by WB Games Montréal (Go Canada!) and published by Warner Bros. Interactive Entertainment. Based in the DC/Batman universe, the game follows a cast of memorable characters, from Batgirl to Robin, as they fight to restore justice to Gotham City. Co-op online multiplayer mode is included, so grab a friend and take to Gotham's streets!
We couldn't resist finding out what it was like working on Gotham Knights, so we reached out to Wilson, Lloyd, and David to pick their brains on their experience studying at VFS, working on the game, and beyond.
What was your process of getting hired on Gotham Knights? What was it like working on a game based on the Batman/DC Universe?
WM: When the opportunity arose to join the WB Games Montréal team as Cinematic Director, I jumped at this once-in-a-lifetime opportunity.  Even though there were familiar faces at WB, I went through several rounds of interviews with different producers & directors, and it was exciting/nerve-racking at the same time. With so many existing stories in the DC Universe, making another Batman game was certainly a challenging undertaking. Since the characters have extensive backstories, we needed to stay true to the source material while creating our own unique story for Gotham Knights. I worked very closely with our writers and our creatives at DC for approvals, and this solid collaboration helped us to push the boundaries as far as we could while making sure the narrative still fit in the overall universe.
LC: When WB Games Montréal opened in 2010, I was their first animator. This eventually led me to become the Animation Director for Cinematics on Batman: Arkham Origins. Eventually, this transitioned into an Animation Director position for Gotham Knights. Growing up, Batman was always my favorite superhero. Therefore, it was an honor for me to be part of this franchise. Even as a Director, I would still find time to animate because that's how much I wanted to be part of 'animating Batman'. Being on the cinematic shoots and helping out with actors' performances was a blast!
DD: The process was interesting as it presented itself through social media. I was contacted on LinkedIn by a Montreal visual media company Game On Studios. My profile had checked some boxes for them and after an interview they decided to give me an opportunity as the Audio Recording Lead for two video games they were being outsourced to handle: Supermassive Games' Little Hope and House of Ashes. After a couple of weeks of recording, the client was very pleased with the quality that our team achieved, and this led them to offer me a position as Lead Audio Recordist for Gotham Knights!
What Makes Gotham Knights different from previous Batman games? What are you most excited for gamers to experience playing the game?
WM: While previous Batman games were single-player experiences centered around Batman, Gotham Knights is a co-op brawler RPG with four interchangeable main heroes. Another key difference (*SPOILER ALERT AHEAD*) – Batman dies early in our game! We explore the aftermath of his death and the impact it has on Batgirl, Nightwing, Robin, and Red Hood. Early on, we knew we needed to think outside the box to make each hero character's experience unique and memorable. From a narrative & cinematic standpoint, we wanted to move away from the clichés of an untouchable superhero by exploring a different story behind the masked hero as we look at themes of family, emotional trauma, and grief.
LC: One of the things that makes Gotham Knights stand out is that it supports untethered co-op which adds another layer of fun to the gameplay when you play with a friend. When it comes to the animation, every frame of animation is new, every line of code is new, and the heroes all have their own fight styles and special abilities specifically crafted for their personality. We hired the best martial artists & stunt performers that range from circus gymnasts, b-boy dancers, Special Forces experts, and weapon experts. The game also has unique villains, mini bosses and their own gang factions, all of which accounted to a monumental amount work and a huge data bank.
DD: With this game, there were numerous improvements in the audio recording workflow such as the use of digital high-end preamps, dual mic recordings with mics attached to the actors (to allow for freedom in their performances), as well as new ways of handling the audio assets related to character locations, reverb mixing, and user interfacing response. Plus, this is the first Batman game to focus on four different characters in the Bat-Family.
Tell us about your experience at VFS.
WM: To say that VFS's 3D Animation & Visual Effects program was a lifechanging experience is an understatement. With a Bachelor's in Commerce in Marketing and my career path already charted, I realized I was missing a creative drive in my life. As an avid gamer and fan of everything animation, a part-time animation class at VFS led me to enrolling in their full-time program. Looking back, the program opened a whole new world to me. It was an exhilarating challenge to take the classes in classical animation, sculpting, modeling, rigging, animation, lighting, VFX, and eventually merging all that experience into the final demo reel project. The teachers were great mentors, and I was fortunate to forge some great friendships with my classmates. To this day, many of us still keep in touch.
LC: VFS was one of the best decisions I made for my career. I graduated from the 3D Animation & Visual Effects program in 2005, with a specialization in 3D Animation. I was blessed to be part of an awesome class; we were a group from 15 different countries, all of us with creative aspirations & dreams. The program was well-structured, and I remember being mentored by some very passionate teachers who were supportive and had immense knowledge in the field.
DD: Attending VFS was a very significant experience in many ways. First, it helped me relocate to a different country where I could expand my career possibilities and strengthen my sound design skills by taking advantage of opportunities that were hard to come by in my home country of Venezuela. Secondly, it allowed me to be in a major creative hub where many big projects were being shot and where technology was consistently growing. The year spent in VFS's Sound Design for Visual Media program was filled with lots of self-discoveries and learning, not only related to my career but also to my personal life, starting with the fact that it was my first time outside of my country, let alone in Canada!
How was the experience finding work after graduating from VFS?
WM: Soon after graduating from VFS, I was fortunate enough to start my career with Mainframe Entertainment as a 3D Animator on various TV/DVD series including Action Man, Max Steel, Heavy Gear and Barbie of Swan Lake.  Even though it was a steep learning curve initially, I soaked up as much knowledge as I could from all the talented people there while learning how the animation pipeline worked in different production environments. In 2005, I decided to pursue my dream of working in video games and moved to Montreal to work for Ubisoft, where I was involved in numerous AAA franchises including Assassin's Creed, Prince of Persia, and Far Cry, among others. Moving to Eidos Montreal in 2010, I led multiple gameplay animation teams on successful titles such as Thief, Rise of the Tomb Raider, and Shadow of the Tomb Raider as Animation Director.
LC: After graduating, I had a lot of initial interest from studios, but things took a while to get rolling. I was on a student visa and not many companies were willing to issue a work permit. When the recession hit in 2007, I ended up going back home to India and continued to apply everywhere. Eventually, EA Montreal gave me that foot-in-the-door opportunity. To have your first gig as a Junior Animator at one of the biggest gaming companies was mind blowing! After a few years at EA, I headed over to WB Games Montréal and was part of their initial crew. Over my career, I've worked on a variety of titles including Army of Two: The 40th Day, Loony Toons, Mortal Kombat 11, Injustice 2, Batman: Arkham Origins, and Mad Max, to name a few.
DD: After graduating, post-production work kept me afloat as a creative individual while I hunted for long-term employment. Being "sound-minded" helped me find interesting opportunities and this included Dialogue Editing for a few MasterClasses (Hillary Clinton and Malala Yousefzai), and on the film Never Steady, Never Still (for which the sound team was nominated for a Canadian Screen Award). Short films are also a great way to hone your skills, and events like Crazy 8's or Run-N-Gun are fantastic networking opportunities. Over my career, I've continued to do Sound Design for a variety of shorts and on CBC Gem's Creatures of Convenience. In the video game world, I've worked on House Of Ashes, Little Hope, The Outer Worlds and, of course, Gotham Knights.
What inspires & drives you as an artist?
WM: Breathing life into characters and telling stories onscreen has always been my passion.  One of my personal goals is to continue bridging the gap between video games and other mediums (film, TV, etc.) through storytelling on a visual and emotional level. Invoking an emotional reaction from audiences, telling fantastic stories, and making characters believable are all part of the magic of video games.  For me, the most inspiring and gratifying moment in creating the cinematics is seeing a person react and be taken aback by the visuals, the acting performance, the emotions, and the music score without realizing that they are in fact watching it in real-time.
LC: Adding fun, personality, and emotions to characters in an artistic form is what gets me excited for work every day. When 'work' is 'art', it's a good feeling. I've always been inspired by Pixar movies, comic books and great visual entertainers like Charlie Chaplin and Michael Jackson.
DD: What motivates me as an artist is sound and its mysterious qualities and ability to control, influence, and guide emotions in living organisms. As far back as I can remember, my brain has been "sound-minded". My memories, feelings, and sensations are most powerfully experienced through sound, whether this be music or simply ordinary sounds in the natural world. Naturally, these types of faculties are perfect vehicles for storytelling, which I thoroughly enjoy. Sound is truly the protagonist in my story.
So, take this blog story as your bat symbol in the sky; you need to play this game. If you're as big a gamer as I am, you can find Gotham Knights on most major consoles and PC. Don't forget to really take in and enjoy the cinematic/animation direction and the sound!
Back to THE BLOG homepage