Mike Mankowski, not to be confused with the green one-eyed Monsters, Inc. protagonist Mike Wazowski, is an award-winning Canadian Filmmaker – and VFS alumnus! We had the amazing opportunity to host an in-person AMA (ask-me-anything) event with Mike on June 21, 2022, where he delved into his filmmaking journey and his not-so-straight A's at VFS.
Hailing from Fort McMurray, Alberta, Mike had a passion for film and wanted to study at VFS – so naturally, he received a Bachelor of Management from University of Lethbridge. His dad convinced him he needed to get a "real" job, which lead Mike to start working for TD Bank. His love affair with film remained, however, and he went to see an industry talk featuring filmmaker and fellow VFS alumnus Kevin Smith (Clerks, Chasing Amy) which inspired him to buy a camera and quit his banking job (sorry, dad).
Mike started a production business in Fort McMurray which garnered some success, but this was mostly corporate work and Mike's true passion was storytelling. Little did he know, the 2016 wildfires in Fort McMurray would be the story to inspire him and kick off his career. But it didn't come without a cost. Mike lost his business from the disaster and was one of the thousands that needed to evacuate their home. After losing everything, he said this was his opportunity to restart and enroll in VFS's 3D Animation & Visual Effects program.
Mike joked he was the worst in his class and wanted to quit on day 1 after poorly drawing a naked man, but his failure gave him motivation: "I was not a strong animator, but my skill is I'm not afraid to suck at something." He explained that just because you aren't good at something now, doesn't mean you'll never become good at it with hard work. Pro tip: don't be afraid to suck.
This proved to be true, as after graduating from VFS Mike completed production on his animated film Back Home Again. The film's story focuses on the Fort McMurray community reuniting and rebuilding after the devastating wildfires – Mike originally wrote the script as a healing process for himself. His aim was for the film to be a conversation starter about mental health – a conversation forever relevant in today's post-pandemic era. While Fort McMurray was recovering from the aftermath of the fires, Mike partnered with Canadian Red Cross to record 200+ testimonials from the citizens in his community – who later became the inspiration for each character in his film. Furthering his mental health research, he formed a partnership with the Canadian Mental Health Association during film production for input on the screenplay and to develop educational resources to support the film.
A similar tragedy to the Fort McMurray fires happened in 2018 with the Woolsey wildfires in L.A, hitting close to home for many celebrities, who were then willing to lend their voices to Back Home Again. Mike was able to connect to many A-listers including: Kim Basinger, Edward Asner, Eugene Levy, Martin Short, Catherine O'Hara, Michael J. Fox, Tom Green, Norm MacDonald, Bill Burr, Howie Mandel and even had Jeremy Renner perform an original song for the movie. Mike described his film as "a local story with a global message."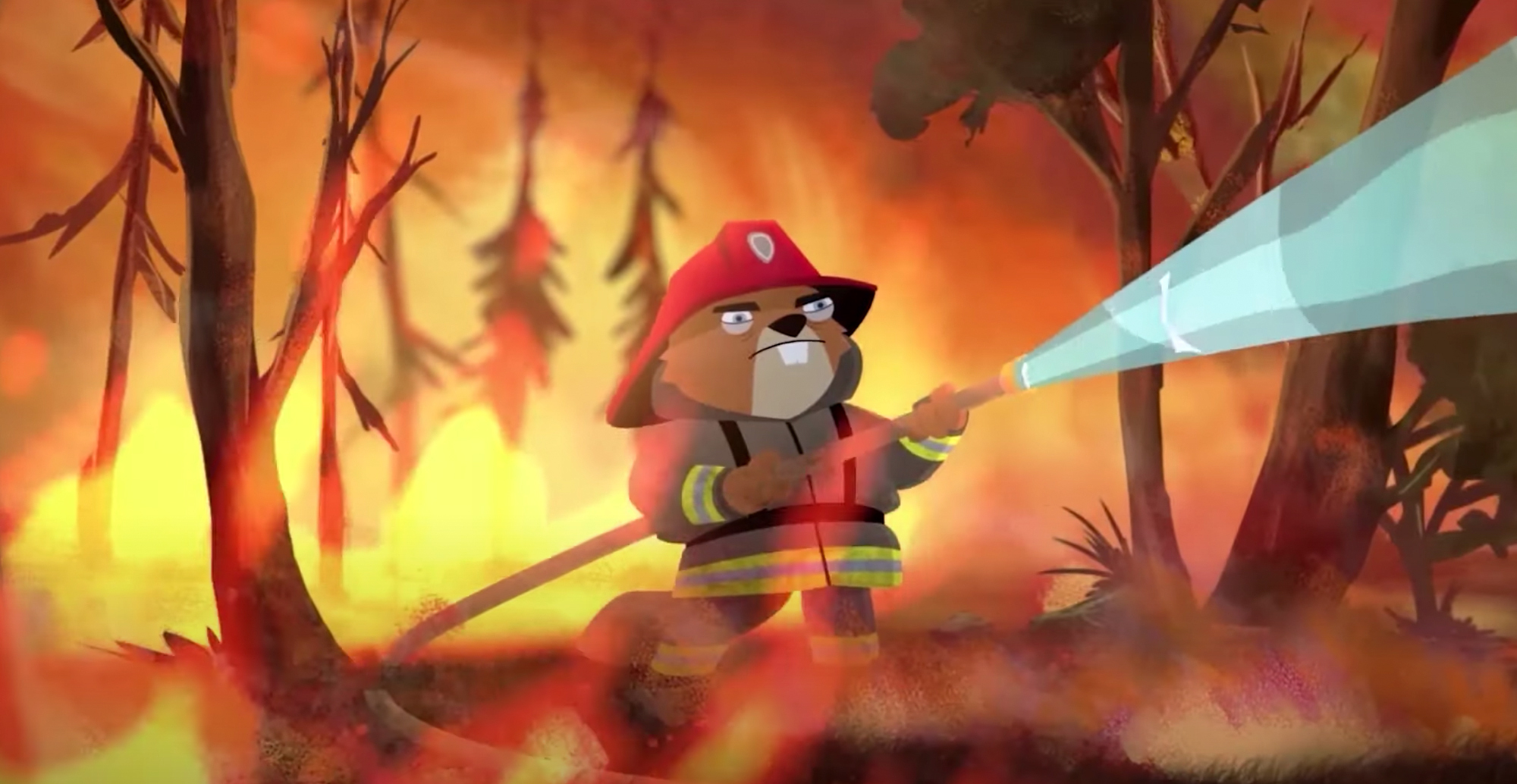 Mike Mankowski created
Back Home Again
, an award-winning animated short based on the Fort McMurray wildfires.
Back Home Again was a success, selling out 5 nights in its premiere at EIFF where it won the Jury Award for Best Animated Short Film and the Audience Choice Award for Best Dramatic Short Film. It was also nominated for 5 Leo Awards and won 2 of them: Best Animation Program and Best Screenwriting Animation Program. Mike further received a personal testimonial from none other than Canadian Prime Minister Justin Trudeau, who congratulated him on the film and expressed the importance of community perseverance. Not bad for the "worst student" in class.
Mike's current project is directing an adult animated feature film featuring Dan Ackroyd called Getting Lost.
So, what's the takeaway for aspiring filmmakers?
Mike's advice for future animators and filmmakers is to tell a personal, authentic story, because people will want to support a film with a story that matters. He also encourages students to network and help each other make valuable industry connections – and lifelong friendships.
We're beyond grateful that Mike took the time to come back to VFS and share his journey to becoming an award-winning filmmaker. From rough nude drawings to Dan Ackroyd, we can't wait to see more of his stories on-screen!
Back to THE BLOG homepage