Crazy8s is a highly esteemed filmmaking challenge that occurs annually in Vancouver. This year, 6 teams were chosen (out of over 100 applicants!) and provided funding to make a short film in just 8 days. The challenge was created by the Crazy8s Film Society to support emerging filmmakers who have little or no access to funding, and many winners of this challenge have proceeded to have successful careers in the film industry. We are delighted that VFS alumni Gabriel Souza Nunes and Carolyn Woolner are one of the winning teams this year for their film "Passiflora"!
Gabriel is a Brazilian Writer and Director, and he works as a Production Coordinator at Vancouver Film School. He also graduated from VFS's Film Production program (humble brag). He has previously directed "The Party", which was screened at the Whistler Film Festival in 2019, and "I Remember Everything", which won Best Latin-Canadian Short Film at the Vancouver Latin American Film Festival in 2022. Gabriel said becoming a director wasn't a conscious choice, but something that he "fell into" when he was taking film production. He is the director of "Passiflora," and co-wrote the script with Carolyn.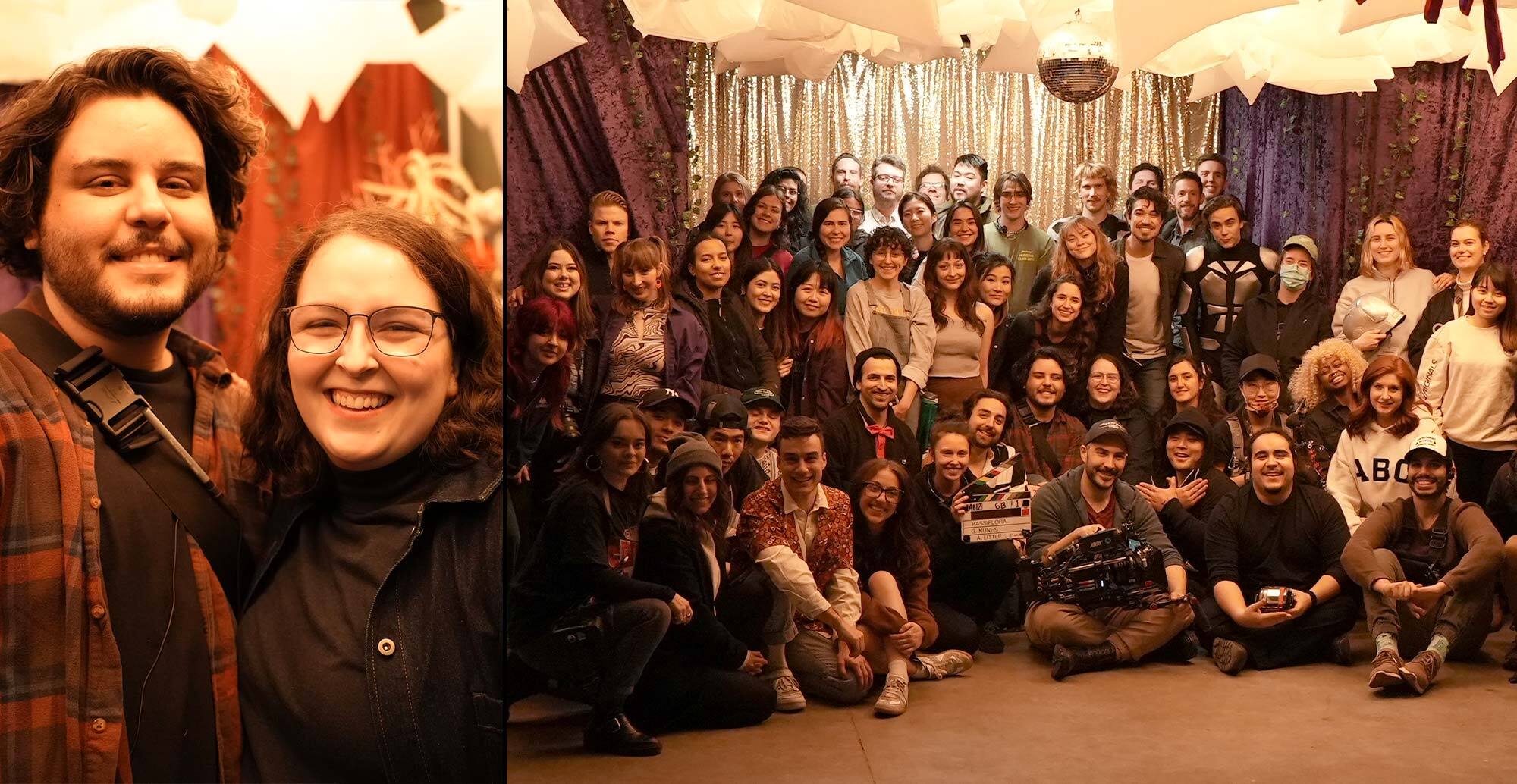 Gabriel Souza Nunes, Carolyn Woolner, and their cast and crew of many VFS alumni on the set of "Passiflora."
Carolyn is a Screenwriter, having graduated from VFS's Writing for Film, Television & Games program (we love to see it) and she works as a Resources Coordinator on VFS's film campus with Gabriel – the two even wrote the script for "Passiflora" on campus! Carolyn says becoming a writer "feels like a callback of what I wanted to do as a kid" as she spent a lot of her youth writing pages for novels and as she got older, started writing stand-up and sketch comedy before getting into screenwriting. Apart from "Passiflora," she has written and produced a pilot called Amara for Telus Storyhive and is writing a BET original film called Game of Deceit.
Alongside the two creators of the film, a number of the production crew are VFS alumni as well! Producers Aries Ceta and Elaine Yan, Location Manager Rikki Facette, and Cinematographer Agustin Little also took VFS's Film Production program. With a crew like that, how could the film not be a success?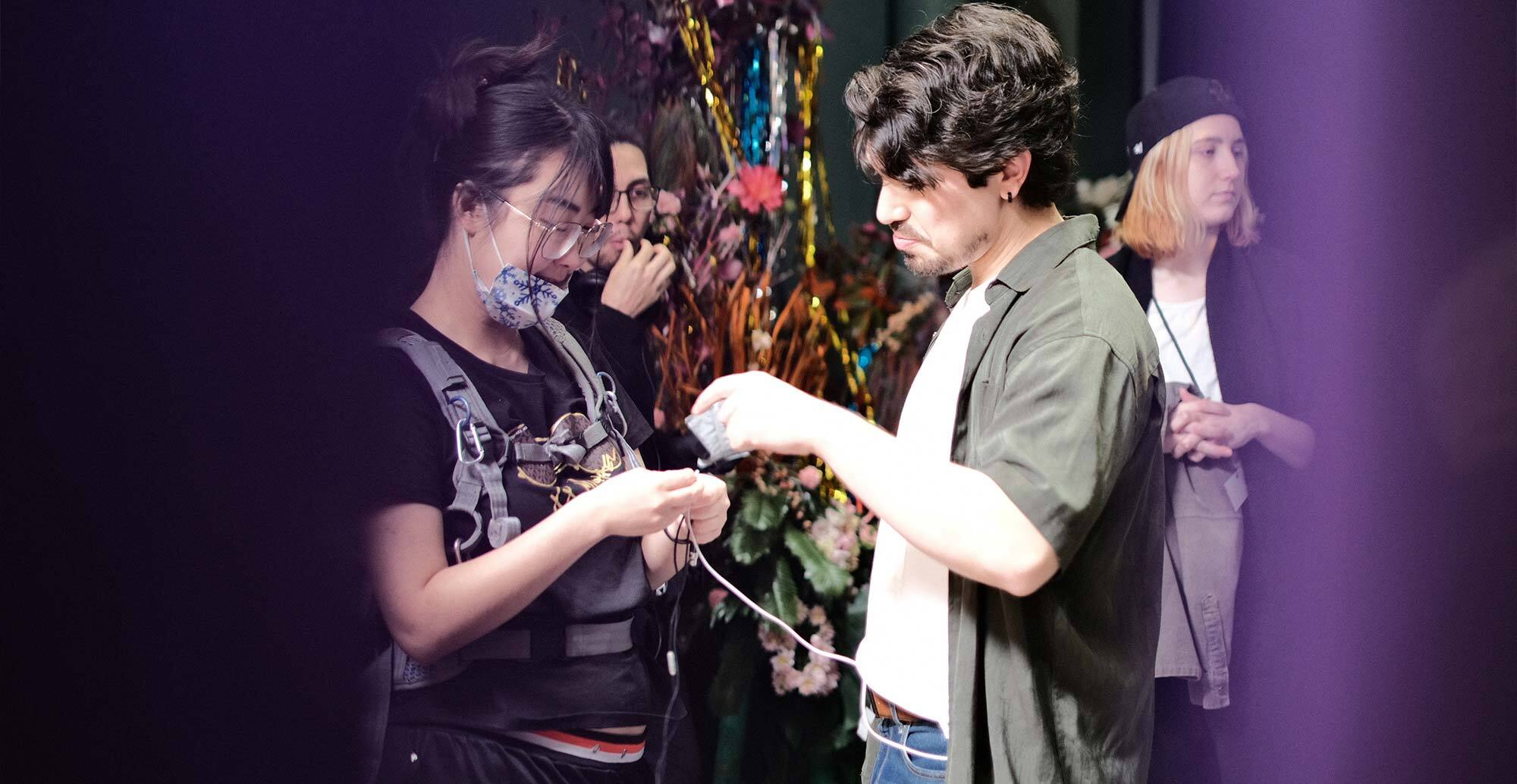 The cast and crew of "Passiflora", a winning short film in the Crazy8s challenge.
"Passiflora" is a modern retelling of the Brazilian folk legend that after eating a passion fruit, you will fall in love with the first person you see. The film centres around the protagonist, Theo, and how he discovers love for the first time at an avant-garde party. The story was inspired by Gabriel's desire to reconnect with his Brazilian culture and create a film that highlighted the Latin stories he grew up with. A common pastime for him was drinking passion fruit juice with his family in Brazil, and as passion fruits are not as common in Canada, the fruit provided both a connection to his home and inspiration for the film.
In addition to emphasizing Brazilian culture, both writers value highlighting underrepresented groups and providing representation for the LGBTQAI+ communities in their projects. The main theme in "Passiflora" is self-love and self-acceptance amidst outside societal pressures. Carolyn and Gabriel wanted to create a "second coming of age" film with queer characters who are young adults, as opposed to being children or teenagers, who discover their second family and fully accept who they are. The writers brought a lot of their teenage experiences and feelings into the script and Gabriel mentioned he "needed a film like this growing up." They use magical realism in the film as a way to convey the emotional process of self-acceptance.
Crazy8s provides a challenging experience for filmmakers due to the 8-day turnaround for shooting, editing, mixing, and completing all the necessary final touches to create a short film. When asked about this process, Gabriel and Carolyn aptly described it as "insane" but an overall rewarding and fun experience. As part of the process, they were required to have a directing and producing mentor on board, so they received mentorship and support from none other than Nick Humphries (VFS's Senior Instructor of Directing) and Jayme Pfahl (VFS's Senior Instructor of Producing). Having these connections with VFS was instrumental in making the film because the instructors provided a resource for questions and assistance.
Part of the franticness of the filmmaking, was working with a large cast as there is a significant dance sequence in "Passiflora." Not only was this Gabriel's first time working with dancers and background performers – but there were nearly 40 performers involved in the scene (flashback to my hometown's community theatre production of Mamma Mia)! Luckily, they had the incredible choreography stylings of Christian Lagasse and Breanna English to make the sequences a cinch. Alongside the background performers, the main cast includes Matheus Severo as Theo and Zac Bellward as Sol, with highlights from local artist jaye simpson performing under the name persephone estradiol.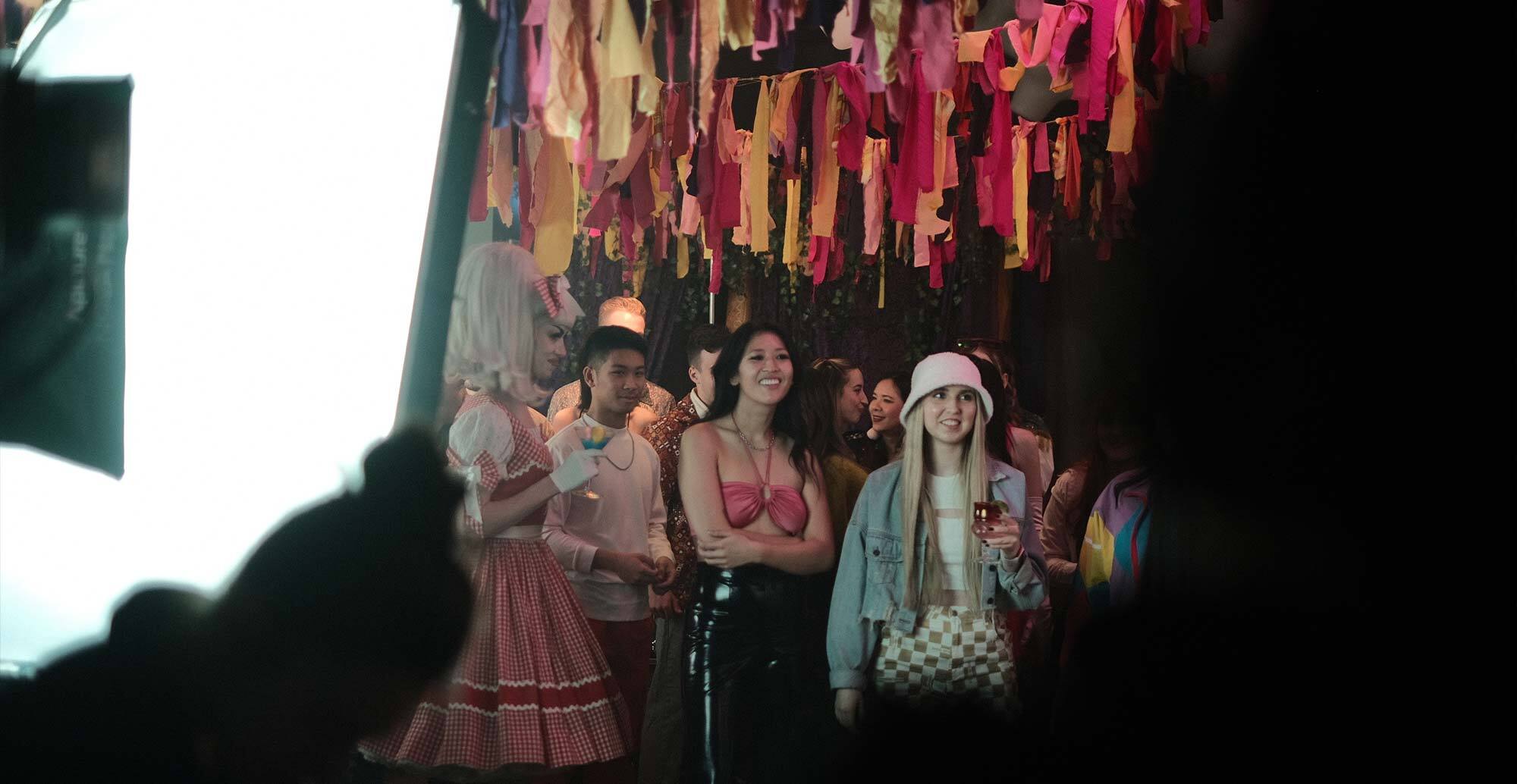 A behind-the-scenes sneak peek of the cast and crew filming for Crazy8s.
A super cool fact we want to share about the film, is that every piece of music was composed by Jordan Andrew, a Vancouver-based Sound Designer, Composer, and (surprise!) graduate of VFS's Sound Design for Visual Media program. Gabriel wanted traditional Brazilian music to be infused into the contemporary magical realism of the story, and Jordan magically created a style that blended this traditional music with contemporary electronic beats, which signifies the characters entering the fantastical universe.
We had a great time catching up with Gabriel and Carolyn to chat about "Passiflora," and you can watch the film, as well as the other 5 winning films, at the Crazy8s Gala on April 15! Grab your tickets here.
"Passiflora" will also be submitted to multiple film festivals, so we're bound to see it on the big screen again soon! Congratulations to the whole team, we're glad you had so much fun on this wild, crazy, magical journey.
Back to THE BLOG homepage