Like Mariah Carey during the Christmas season, Mike Flanagan is officially a Halloween staple. What started with the smash hit The Haunting of Hill House in fall 2018 has grown into the annual spooky franchise we've come to anticipate and crave. With its predecessors The Haunting of Bly Manor (this writer's personal favourite), Midnight Mass, and The Midnight Club, The Fall of the House of Usher is the latest series to enter the "Flanaverse."
Drawing heavily from the works of Edgar Allen Poe, The Fall of the House of Usher is an 8-episode miniseries that reunites a cast of Flanagan's favourites and is helmed by Bruce Greenwood and Carla Gugino. Fortunato Pharmaceuticals, led by CEO Roderick Usher (Greenwood), is on trial after decades of poisoning its customers. When the prosecution reveals there's an informant who will effectively collapse the Usher empire, the family is quick to turn on each other. But when his six children begin dying in gruesome ways, Roderick discovers a lawsuit is the least of his worries.
Flanagan's latest miniseries features a returning cast of Carla Gugino, Henry Thomas, Kate Siegel, Rahul Kohol, and more.
While all but Hill House were filmed right here in beautiful Vancouver, Canada, what's even more exciting – especially for us here at Vancouver Film School – is that 14 VFS alumni worked on House of Usher AND filmed motion capture performances for one of its most horrifying scenes at Beyond Capture!
If you've already binged the series like this writer has, you'll most certainly remember that final scene in 'Murder in the Rue Morgue' where Camille (Kate Siegel) is cornered by Verna (Gugino) in the chimpanzee holding pen and meets her untimely end. But what you may not have realized is that this gruesome scene featured motion capture work performed at Beyond Capture – one of VFS's proud partners!
Beyond Capture is a world class performance capture stage offering a variety of services from motion capture to post processing and much more. At a staggering 32,000 cubic feet, the studio is right on VFS's film campus, where VFS students, including those from our 3D Animation & Visual Effects program can access this space to bring their final projects to life. It's literally mind-blowing to see the Beyond Capture team in action and create the full-blown characters (or chimpanzees, in this case) that we see on screen.
We got in touch with Beyond Capture, who shared all the behind-the-scenes details of this 1-day shoot. Director Michael Fimognari was on set, along with actor/stunt performer Devyn Dalton and Terry Notary – one of the most experienced creature actors in the world; you may have seen Terry (without even realizing it!) in his mocap performances in Avatar, The Planet of the Apes reboot, and The Hobbit trilogy, to name just a few. Terry, as you may have guessed, played the monkey who attacks Camille and a cage was built to scale for Terry to perform in. Many different motions were captured of Terry which ended up in the episode.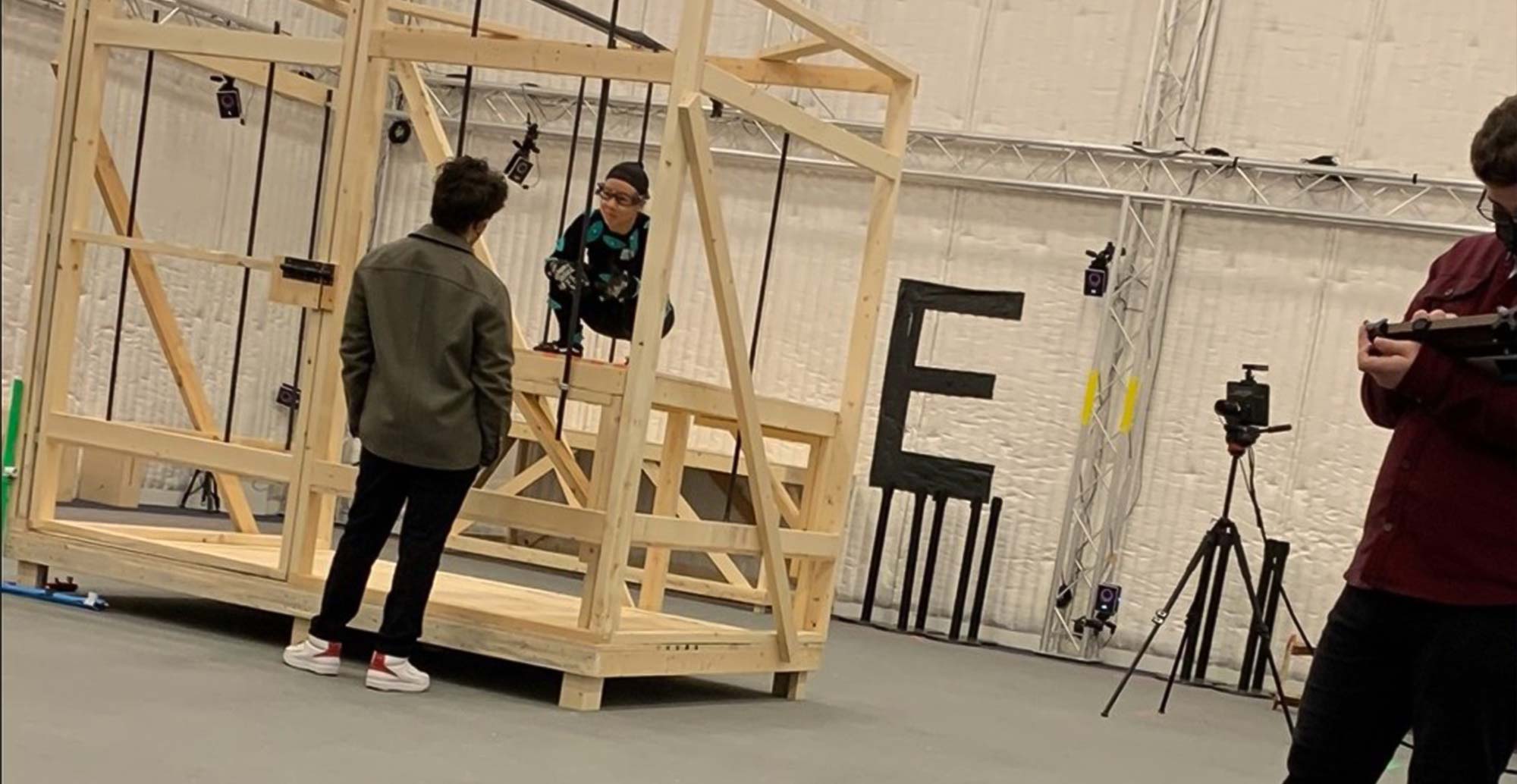 Behind the scenes during the 1-day shoot at Beyond Capture.
The crew at Beyond Capture had nothing but great things to say about their experience shooting the scene. "I think the coolest thing we got to watch was Terry Notary transform into an ape right in front of our eyes. [He was] one of the nicest people to have on set… the crew would watch as he would adapt all the mannerisms of a monkey… and it was truly one of the coolest moments we've had on set in the history of Beyond Capture" said Assistant Director Matt Lautrup.
Russell Ma, Capture Technician/3D Animation & Visual Effects alum also commented "It was great to work with Terry and to pick his brain about how he works and prepares for creature work" while RealTime Operator/3D Animation & Visual Effects alum Andres Ferrat said "You can notice the professionalism of the actors right away as they spent a ton of time making sure the animation rigs moved the way that they needed before shooting. That extra time spent on the tiny details made such a big difference in the final product."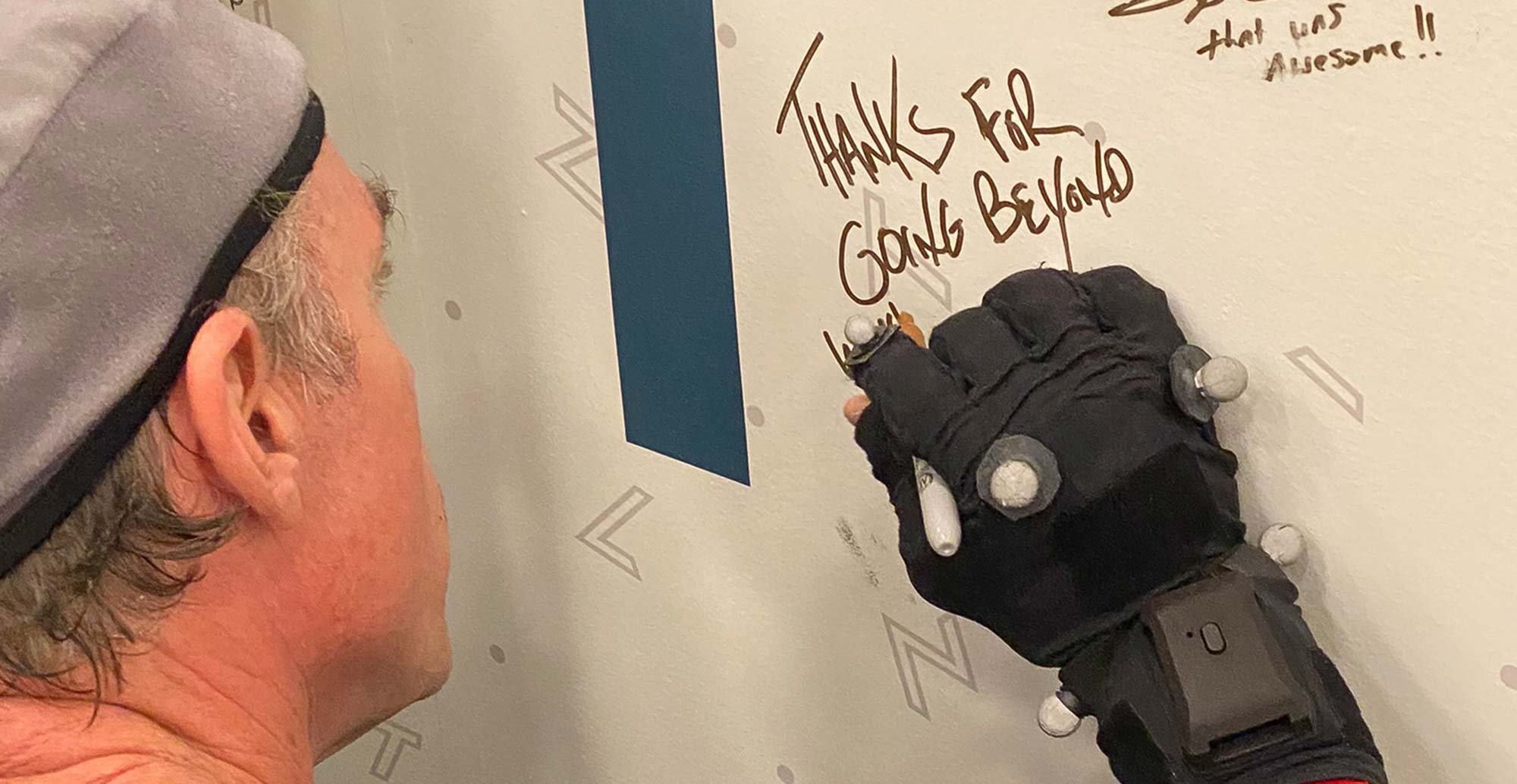 Terry Notary leaving his mark on the famous signature wall at Beyond Capture.
VFS alumni from Beyond Capture who worked on the 1-day shoot were Andres Ferrat, RealTime Operator, Andrea Garcia De Alba, Jr. Mocap Specialist, & Russell Ma, Capture Technician (3D Animation & Visual Effects alumni), Carlos Rodriguez, Audio Technician (Sound Design), and Matt Lautrup, Assistant Director (Writing for Film, Television & Games).
Additional alumni who worked on the miniseries include Brandon Smith, 3rd Assistant Director, Marc Aubin, Set Designer, and Peter Brown, 'Fortunato Employee' (Film Production alumni), Jason Simpson, 'Vinie', Aaron McCallum, 'Officer', and Britney Miller, 'Young Woman at Leo's' (Acting for Film & Television alumni), Marc Herbert, Visual Effects Producer (Entertainment Business Management), Miriam Masso, Dailies Coordinator (Writing for Film, Television & Gamers), and Teh-Wei Yeh, Visual Effects Artist (3D Animation & Visual Effects). Well done, alumni! We're definitely not stewing in jealousy over here…
Congrats to Beyond Capture and our alumni for helping "usher" in another fantastic television series. If you're looking to add some horror to your life this Halloween season (and never sleep again), be sure to binge-watch The Fall of the House of Usher on Netflix and see how many Vancouver hotspots/landmarks you can spot!
Back to THE BLOG homepage