Creative Economy
VFS's signature programs and facilities are at the heart of a creative economy worth $3.4 billion in B.C. alone. From film production and 3D animation to game, digital, and VR/AR design, VFS is helping shape the entertainment and media industries' transformation. In 2020, VFS alumni were credited on 5 of the top 10 highest grossing animated films worldwide, in a global industry set to generate US$2.1 trillion in revenues in 2021. As the industry grows and expands at an exponential rate, there is an increasing demand for creature and VFX animators in the industry.
Alumni Success
Vancouver Film School grads are some of the most successful and sought-after professionals in the entire Animation and VFX industries. You will find our alumni working all over the globe, pushing boundaries, discovering new frontiers, winning all kinds of awards and honours, and leading today's creative economy.
A Creature Animation VFS Education
In 6 months, you will graduate with:
A diploma in Creature Animation
A master demo reel of your final project
Access to the VFS Alumni Directory & Job Board
Industry connections that will help guide your career
Learn the fundamental mechanics of physical creature animation, along with its processes, tools, and applications.
Break down the dynamic physical actions of creature animation, enabling you to perform sophisticated actions with complete creatures.
Career Options
The Creature Animation program offers students the opportunity to expand their knowledge of animation in a highly-specialized field. As creature animators are in high demand, this program is VFS's way of evolving alongside the animation industry. This program prepares graduates to pursue careers as Creature Animators, VFX Animators, and Layout Artists.
Book a 1-on-1 Portfolio Review
Have you ever wondered about your true creative potential? Book a review to get valuable insight into your creative work and find out if you've got what it takes to go to VFS.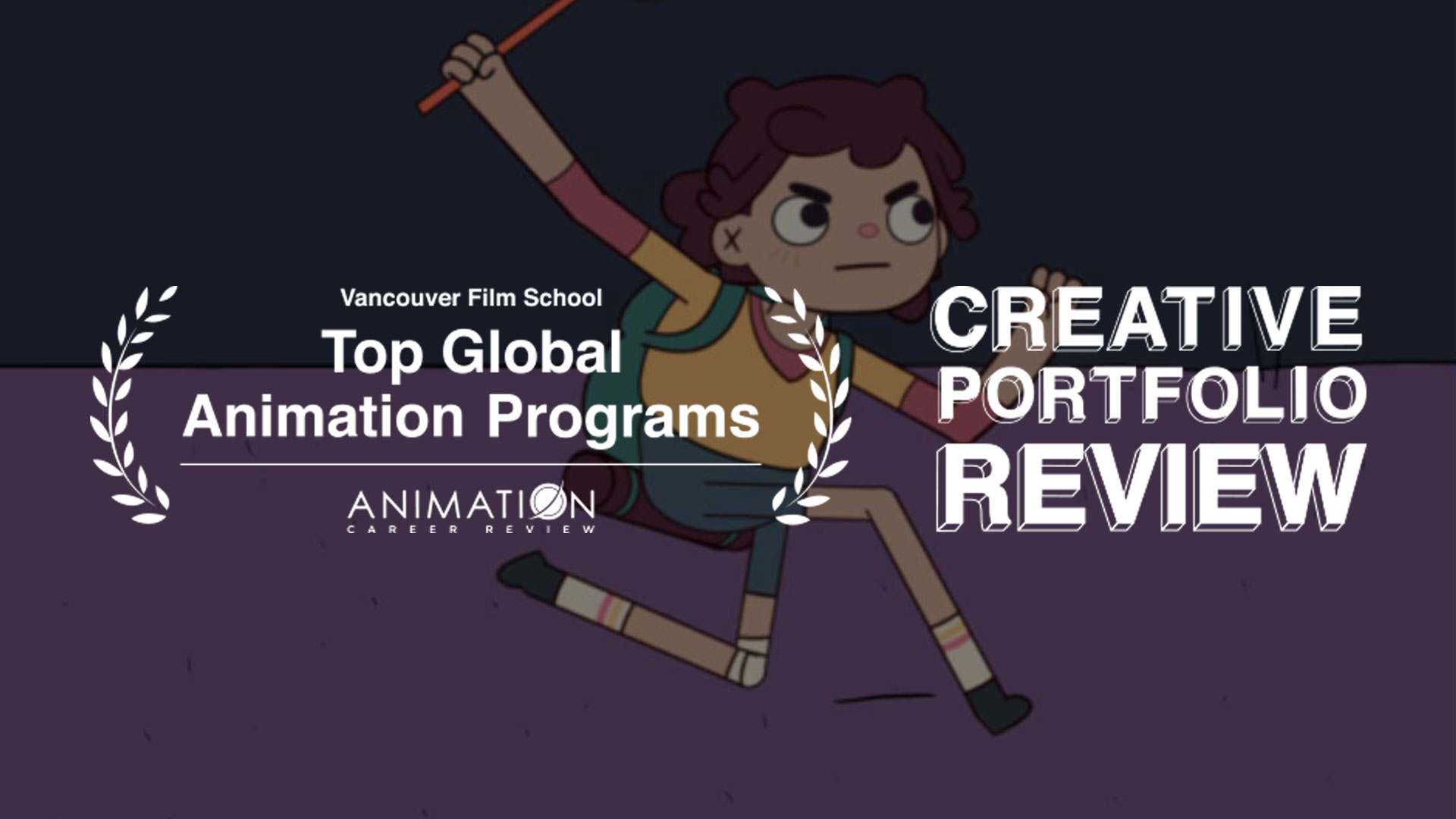 To make sure you have accurate admissions information please select your region based on country of citizenship.
Tuition
Select Your Region
Start Dates
Select Your Region
How to Apply
Request Info
Requirements
You will be asked to submit one of the following along with your application. Your advisor can help with selecting the best option.
Portfolio Requirements
Demo reel of production, student or personal work (5-10 samples) that displays animation experience
Post-secondary degree/diploma/certificate in computer animation and/or 1 year production experience in animation or game pipelines, which includes:
1-2 years of experience working with Maya
Proficiency in Adobe CC Suite
Intermediate knowledge of 3D animation
Basic knowledge of camera and lighting
Basic knowledge of rigging
Portfolio Requirements
Demo reel of production, student or personal work (5-10 samples) that displays animation experience
For more about
language requirements
and other information for international students, visit the
International Students page.
Student Work
While training at VFS, students are immersed in the Animation and Visual Effects industries, and spend a lot of hands-on time creating professional-quality work. And, nothing is a greater testament to the incomparable industry resources and career preparation that define VFS's education model, than the top quality work our students produce. Here, a portfolio of outstanding work is just the beginning. Just take a look.
Industry Partners
VFS doesn't just teach you about the industry, it IS the industry. With veteran instructors, mentors and an education Advisory Board recruited straight from the professional world, we are able to constantly update our award-winning curriculum to keep up with an ever-evolving industry. Plus, students also have lots of opportunities to connect and network with industry leaders during special workshop sessions, training presentations, and industry social events hosted by VFS.
Campus Life
We're designed our new campus to mirror the professional studios that surround us in Gastown, among the coffee shops, restaurants, and beautiful brick buildings. You'll create with our custom-built character rig (built by Long Winter Studios), and render through the Qubel render farm, as you collaborate with artists from other disciplines, such as filmmakers and sound designers.
FAQ
We're here to help you submit an application that best reflects your abilities, and gives you the best chance of being accepted. We've helped thousands of people complete a single year at VFS by answering questions like these:
Application Tips
What does VFS look for in an application?
Can I apply if I haven't met all the requirements yet?
What does this part of the application form mean?
Expenses
How much does my program cost?
Can I pay in installments?
How much will I need for living expenses in Vancouver?
Logistics
How do I get to Vancouver?
Where will I live in Vancouver?
Do I need a visa?
Sign up to VFS Premiere and be the first to receive the latest exclusive content, news, and special offers from Vancouver Film School — straight to your inbox.