If you're been following the blog, you'll know that VFS launches our students into careers working on some of the most successful and critically acclaimed film, TV, and game projects around the world. Our alumni are living out their dreams animating for franchises like Star Wars, crafting aliens through makeup in Guardians of the Galaxy, directing award-winnings films, launching their very own game studios and countless other projects. They work for the biggest studios, tech companies, and brands. 
In celebration of VFS's track record of launching successful creative careers, this weekend we will be hosting The VFS LAUNCH Event: An In-Person Discovery Experience! May 27, from 12:30 p.m. to 5:30 p.m., we'll be throwing open our doors for a look at everything VFS has to offer. This event is coinciding with the Launch Scholarship, which, if you haven't heard of it yet (which planet are you even on?), is offering three full-tuition scholarships to applicants.
So what exactly can future students, parents, and VFS community members expect from this experience?
The Launch Event offers an exclusive glimpse into what it's like to study at VFS. You'll get to tour our industry-level learning spaces such as the Render Farm, a computer lab filled the same tools used by animation industry professionals to create a true studio experience, as well as black box studios, indoor sets such as the Rainforest Room, and Beyond Capture, which is one of the largest performance capture studios in North America, embedded right within VFS's campus.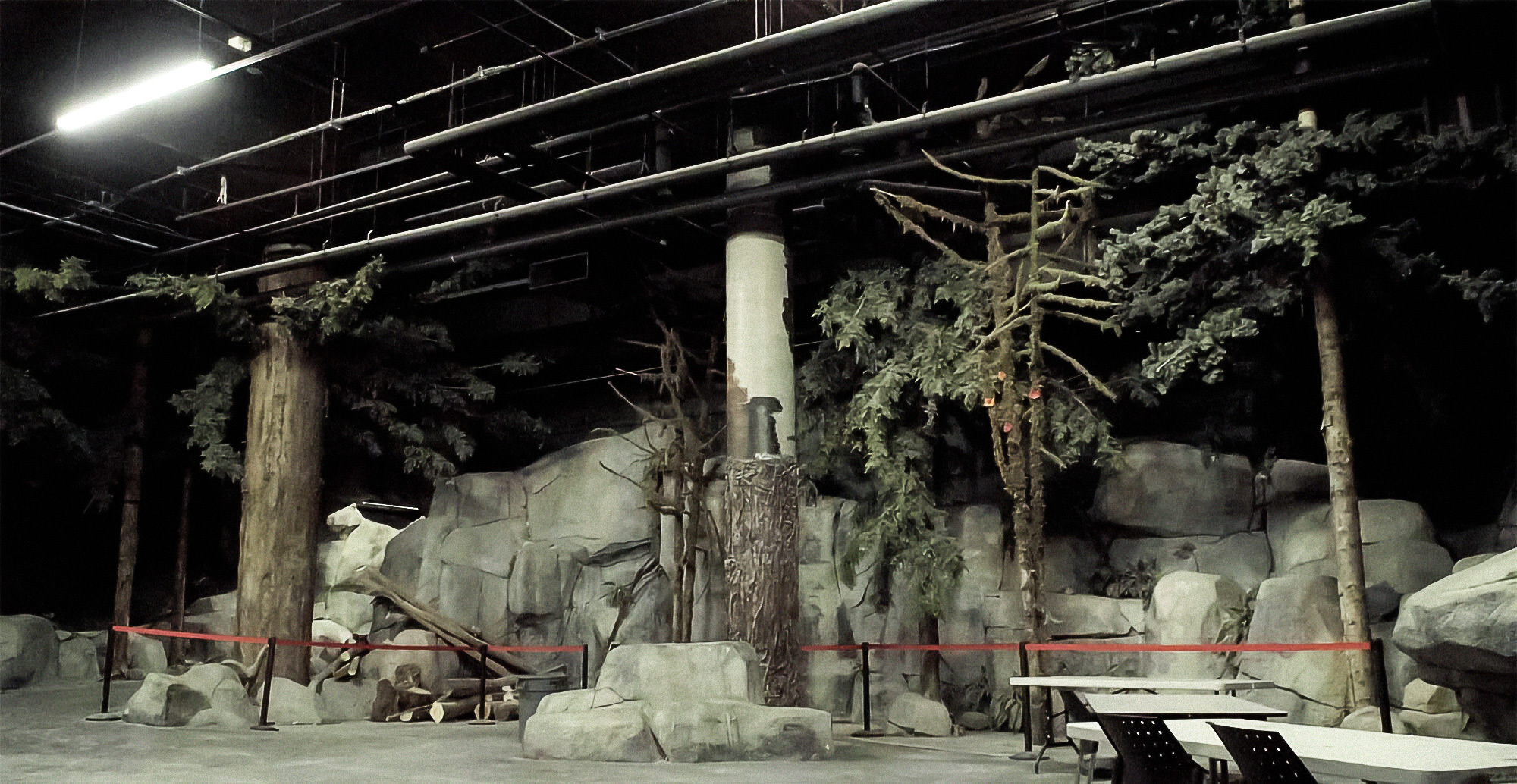 Take a stroll through the Rainforest Room, just one of the production-quality sets you'll be able to explore firsthand at the Launch Event.
Final projects from recent VFS graduates will also be on showcase. We'll be screening films and animations throughout, and opening up access to the ARCADE, a collection of video games and portfolio pieces that helped many of our game design graduates land jobs with massive studios.
The Launch also offers an excellent opportunity to have your portfolio reviewed in-person or to audition live with our academic advisors. These are essential parts of the VFS application process, and receiving feedback on your work, or even getting approved on-the-spot, can be key for your acceptance. Spots are limited, so register for an appointment online make sure you don't miss out. Advisors will also be on hand to discuss the Launch Scholarship—no appointment necessary.
Throughout the day in the Beyond Capture space, VFS faculty members will host roundtable discussions with several notable alumni about breaking into the creative industries and building successful careers. These alumni are using what they learned at VFS to leave their mark in games, animation and visual effects, film, and beyond.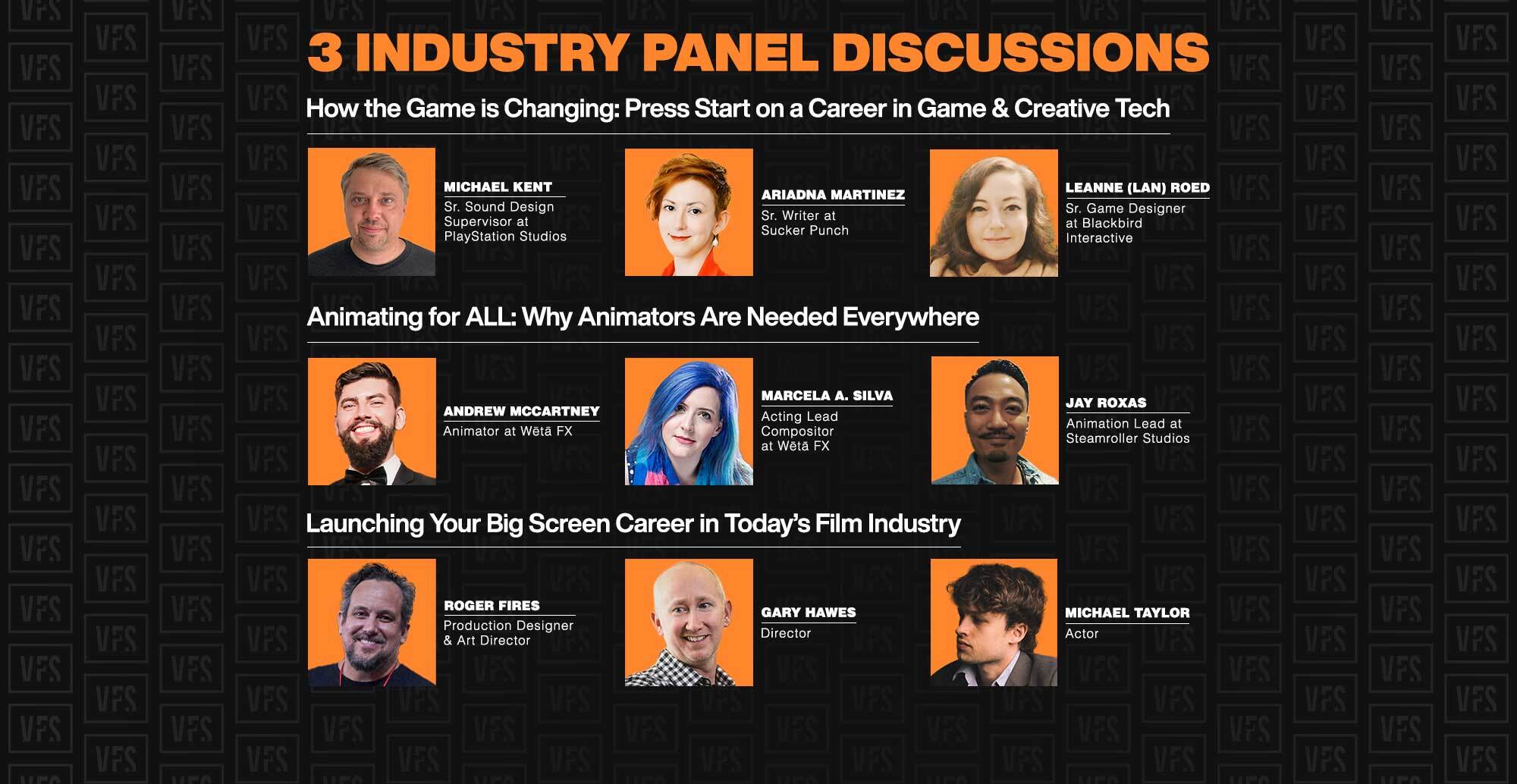 The roundtable discussions are the best opportunity to learn about the creative industries, from VFS alumni.
At 1:30 p.m. our first panel, How the Game is Changing: Press Start on a Career in Game & Creative Tech, will feature exceptional graduates from three different programs who have helped create beloved franchises: sound designer Michael Kent, game writer and narrative designer Ariadna Martinez, and game designer Leanne (Lan) Roed. Whether you aspire to work in this industry, or simply love video games, this is an absolutely can't miss panel talk!
At 3 p.m., three animation alumni will sit down for the panel Animating for ALL: Why Animators Are Needed Everywhere. This roundtable will discuss the impact of animation beyond animated films, and the exciting variety of roles needed to help create films and shows like The Last of Us, The Mandalorian, Guardians of the Galaxy vol. 3, and Avatar: The Way of Water. Hear from award-winning animators and VFX artists Andrew McCartney, Jay Roxas, and Marcela A. Silva about how their education prepared them to step into their careers right away.
And at 4:30 p.m., Omari Newton, Head of Acting for Film & Television, will close out the day by moderating the discussion Launching Your Big Screen Career in Today's Film Industry with alumni working in TV and film. Join Production Designer and Art Director Roger Fires, Director Gary Hawes, and actor Michael Taylor as they discuss getting to work both behind and in front of the camera.
This sort of access to VFS facilities, expertise, and high-achieving alumni doesn't come around very often—especially in one place! Save your space and register now to learn how VFS will launch your career to brand new heights.
Back to THE BLOG homepage