Last week, VFS acting alum Mayumi Yoshida's work was being honoured at not just one, but two notable screenings! Mayumi wrote and directed the music video "Different Than Before" for Vancouver indie-pop phenom Amanda Sum, which was nominated for the Video of the Year at the 2023 Juno Awards and won the Jury Award for Best Music Video at South By Southwest (SXSW).
Mayumi is a graduate of the Acting Essentials and Acting for Film & Television programs. She's featured as the Crown Princess in The Man in the High Castle, a role for which she received the Best Emerging Actor at the UBCP Awards. She's also appeared in The Terror: Infamy and The Good Doctor.
Mayumi's talents extend to both sides of the camera. She wrote, directed, and starred in numerous award-winning short films, including "Tokyo Lovers" and "Akashi." She is presently adapting "Akashi" into a feature film.
We were lucky enough to speak to Mayumi after her big win at South By Southwest! Watch "Different Than Before" below and read on to learn about how Mayumi started writing and directing her own films, her collaborative process with Amanda Sum, and her experience last week at SXSW!
You do a lot of work on both sides of the camera. Have you always been interested in the production side of things as well? If not, what made you interested in directing?
I originally came from theater in Tokyo and then started pursuing acting in Vancouver. Writing and directing for film actually came a lot later, in 2016 for my short film "Akashi." It came from necessity because the story was so specific to my own experience. It was in Japanese and English, and I wanted a Japanese director and a Japanese writer. At the time, I didn't know anyone who was able to do that. It was being funded by Storyhive and the program itself was for female directors, so that was also harder to find a female Japanese director. I thought, "I guess I gotta do it!" and then I did it. That was my first go.
How is directing a music video different from directing a feature or short film?
To me, the process is similar. I always start with visual references. The huge difference between music video and straight up narrative that I'm crafting myself is that I'm creating the music video with the artist. Amanda Sum has been a friend of mine for a while, and I made the first music video with her as well. I respect her voice so much as an artist, and while music videos don't always have to be catered fully to the artist's vibe, Amanda has a very specific, genuine voice and is an emerging artist, I really wanted to do justice to her voice and her music. Each time we work together, we have conversations, we have calls, and start a Pinterest board. We will put images that we kind of feel and like together so we see the vibe and the tone of imageries. From there, we start to source the story: whose POV is this, and talking about how I'm feeling while I'm listening, and how it felt for her when she was creating it. It's a very conversational and collaborative experience with Amanda. I can't speak for other music video directors; that's just been my experience with her.
I feel like with other narratives, I'm very much alone in that process. As I'm writing, I get story editors and folks to read with me to get feedback, but in general, I'm generating it myself. So I love that collaborative nature of music videos. Where I really got inspiration from a lot of music video creators and directors is the sense of fun and magic that you can just sprinkle in. You don't have to be so literal, right? Suddenly you're a dinosaur and it's fine. There's so much more freedom there.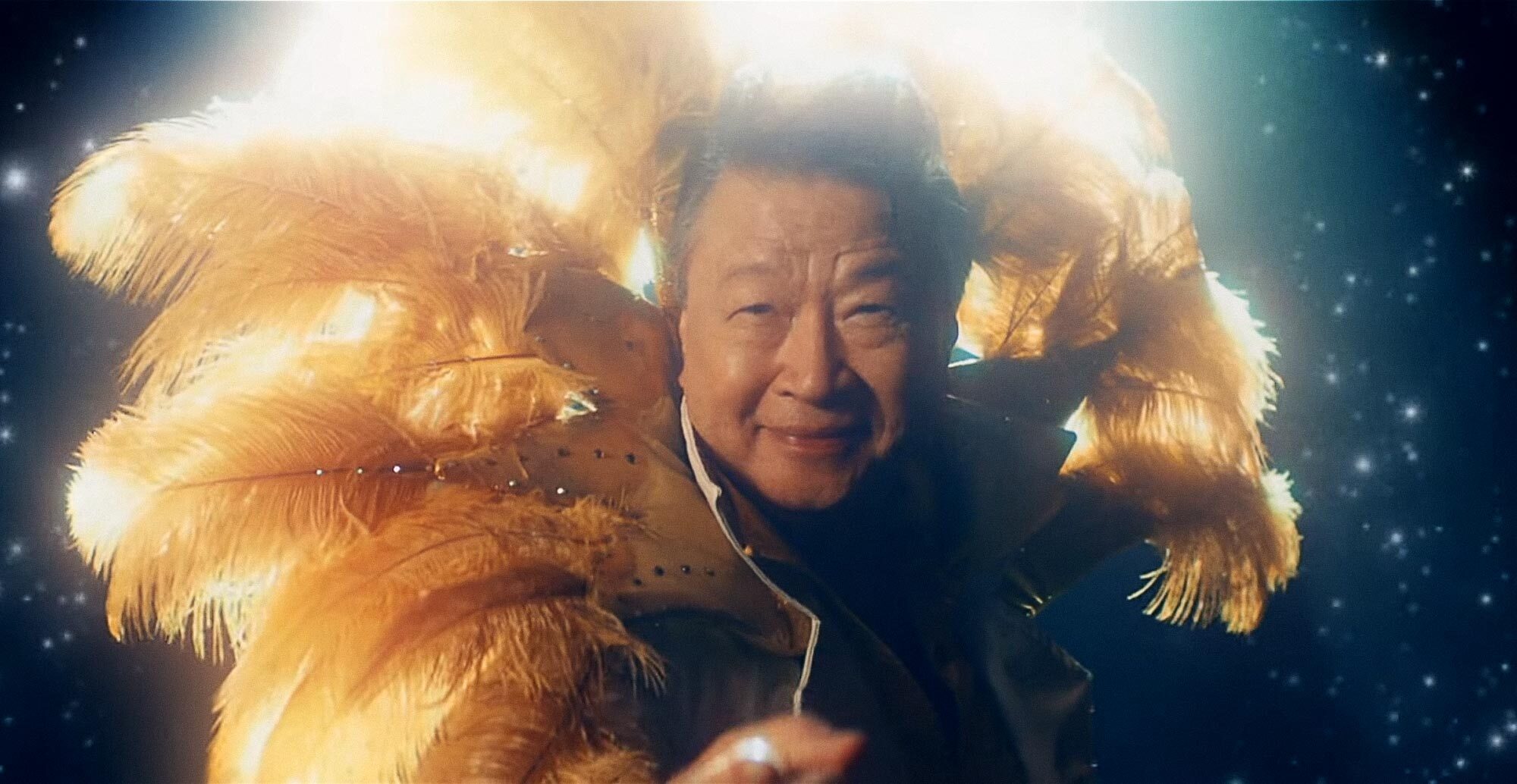 Tzi Ma stars in Mayumi's music video for "Different Than Before.
Speaking of those moments of delight, in the turning point of "Different Than Before" the father, played by Tzi Ma, takes to the stage and we see the emergence of his pop star alter-ego. What inspired this transformation?
Even from the very beginning, we were talking about how we want to put Asian elders in the centre. We want it to be celebrating them, exuding and spreading joy and love, because it was a very challenging time for our community, and it continues to be for many of us. We wanted to see elders just shining, just being superstars. We asked, "Who would be a good person to play that?" I thought of Tzi, who I worked with on The Man in the High Castle, not only because he is obviously a superstar, but he's been such a huge advocate for the Asian community. He always speaks out. He is in the center of the conversation. He's so brave and powerful that way. I always get inspired by him and feel like, "Okay, I need to stand up for myself and for other people." I learn from him and respect him.
I mentioned, "Wouldn't it be crazy if Tzi played your father, Amanda?" and she said, "Yeah, that would be so crazy!" Then we started thinking about how he's played this role of the stern dad. So then what makes it fun? It'd be so cool if he was in this Elton John/Elvis Presley costume with big feathers. Because that's something you don't see him in, and everybody's just so excited to meet the character. He's so charismatic, but you don't see that side of him a lot on film and TV. That's where our wild ideas came from.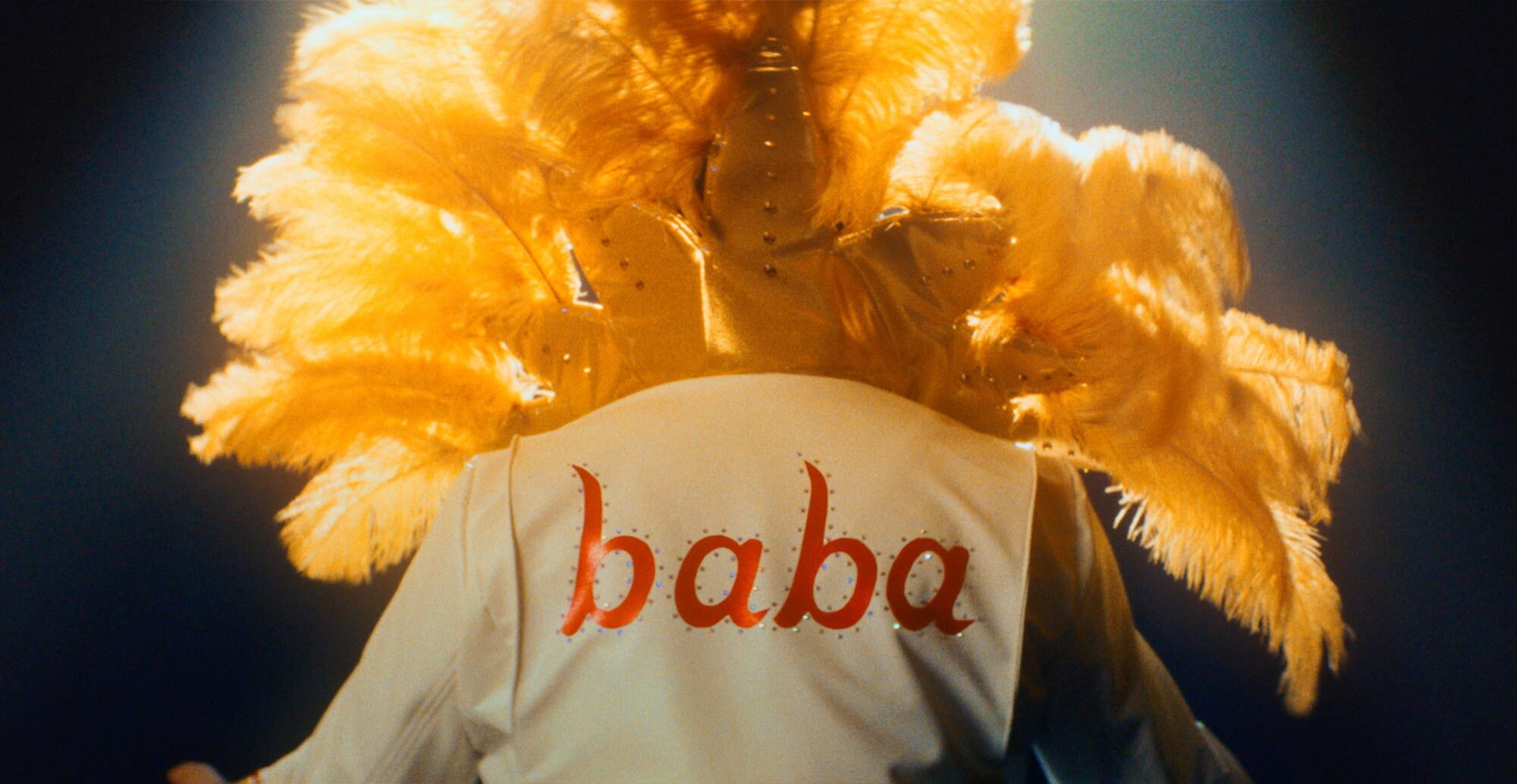 Once he begins performing, Tzi enters a dream sequence in which he assumes the pop star identity of Baba.
Then it turned into the idea that the dream sequence could be a gift to our Asian community: that we too can belong in this Hollywood ballroom, dancing in the stars La La Land backdrop and wearing these beautiful gowns and suits. It feels like old Hollywood. We didn't exist on screen in that kind of environment. So, why don't we? Why don't we put us in there, because we want to celebrate us on screen and all feel empowered.
Hearing Tzi singing in Amanda's voice really speaks to that sense of generations supporting each other.
I got inspiration from a different music video; I thought it was genius how it subverted everybody's expectation. Putting Amanda's gentle voice on the dad who was so stern at the table was great because he too has that energy that Amanda has, that sensitivity and that grace, but we don't see that. But maybe his inner soul has that kind of voice. I wanted to show, yes, these two seem mismatching, but can be in the same body. Why does it need to be so "you must be feminine, you must be masculine?" That's again another thing about music videos. We can say, "why not?"
What was your experience having the music video screened at South by Southwest?
This was my first time at South By. My friends Kashif Pasta, Shyam Valera, and Alex Farah went last year and they won the exact same prize [for Desirée Dawson's "Meet You At the Light".] They're also Vancouver-based, and I actually moderated a panel for them after they won. So it was really kind of surreal when we got in. I instantly messaged them and said, "Yo, it's crazy, but we got in, give us tips." Even seeing their experience, it just felt so fun. So we were thrilled that we got in, and then once we got there it's just a whole party. There's so many people. There was this filmmaker luncheon and Robert Rodriguez Zoomed in to give us an opening speech and he spoke about how "This is class 2023. This is your family, this is your community. You belong here. Welcome and enjoy it."
It was such a great opener to an experience that really matched what he was saying. I felt like we were all supportive of each other's work. Every time we'd see and run into each other across the street, we'd say, "Hey, yours is so great!" The whole city turns into this film town in this festivity. That itself was amazing. Personally, we had very fortunately gotten into many film festivals so far, and we've won awards with these film festivals. But unfortunately, none of them I've been able to attend because I was working. This was actually the first time I actually got to sit in this theater, and feel the audience watch it on the big screen. I think for any filmmaker, being able to see your work on a big screen is so amazing—and at Alamo South Lamar Theater, which is quite historic—and they serve food!—It's such a special movie theater that I was not aware of. I thought, "Oh, wow, this is really, really special." With the amount of talent that was in the same program, I felt so privileged to just be selected amongst those classmates.
And not just selected, but winning!
That part is all kind of a miracle. People say that I earned it, and I truly don't believe that because I think everybody deserves it. But I'm very proud that I get to bring this really good news to all the people who helped make this, because so many organizations, cast and crew, and a lot of our friends helped us make this happen. It's nice to let them know "See, it was worthwhile!" You know it's worthwhile because you're the director and you believe it, and you love the story and everything. You know it, but you want to make sure it's worthwhile for them as well. It would be so indulging if it was just for me, so I'm so glad to say "See, the thing that you did was doing good things and all these other people love it, so thank you!" I'm really glad I get to gift them that information, and hopefully they feel like "Oh, great, next time when there's an indie film, I'll give them a chance." As a director, I think it's kind of our job to get other people excited with what you are most excited about. I'm glad that I can repay that.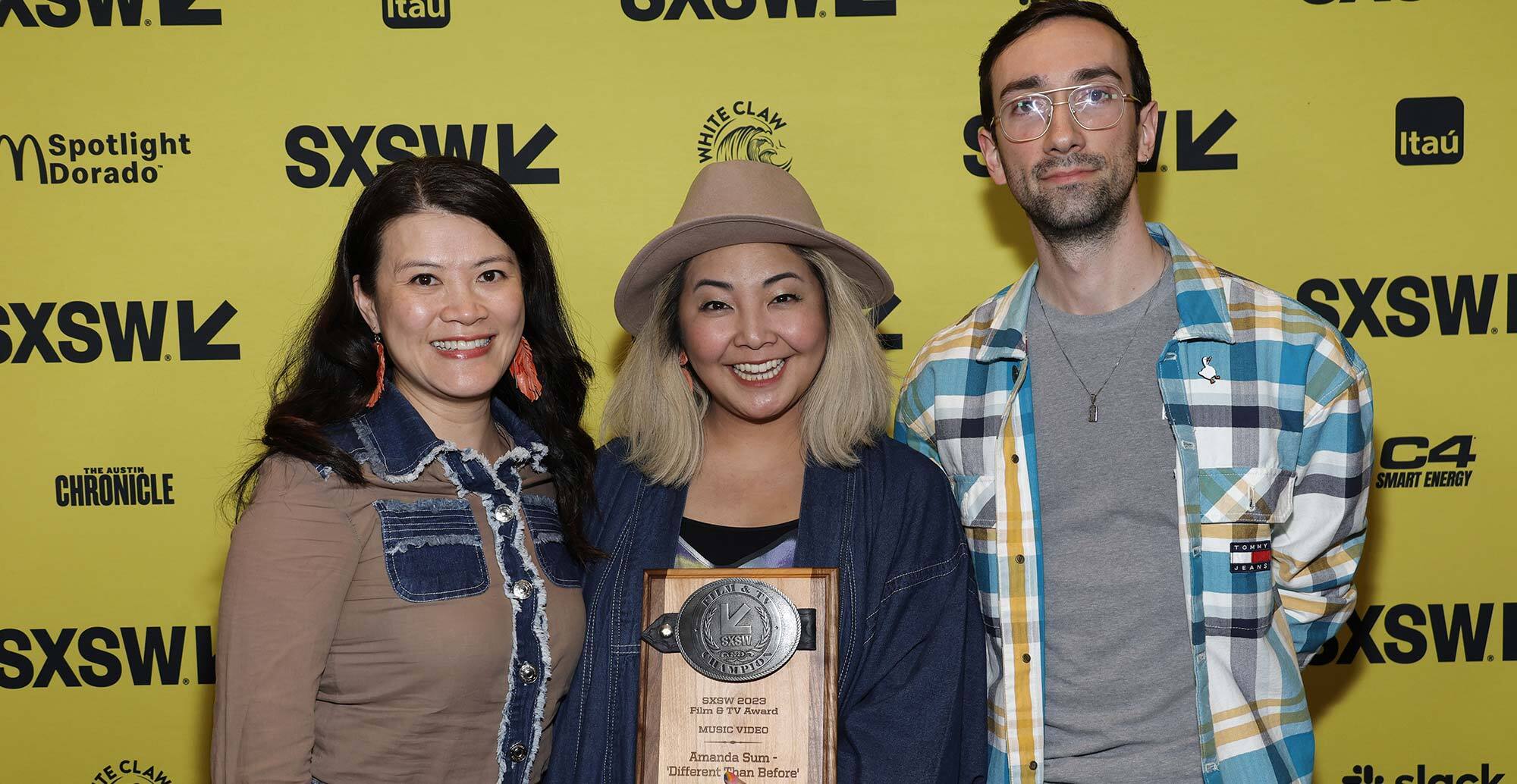 Mayumi (center) with the Jury Award for Best Music Video at SXSW
SXSW wasn't the only event paying attention to "Different Than Before" last week. While you were in Austin, Amanda went to the Juno Awards in Edmonton. How did you decide who was going where?
Amanda's a superstar. She's so busy. She's in Sense and Sensibility playing at the Arts Club right now, so she couldn't come to South By. But there was one day off, which was the same Monday as the Junos. I considered going from SXSW in Austin to Edmonton, then come back to SXSW for the awards on the 14th. It was just such a bad timing for us. We decided that with all the flights getting delayed or the chance of our luggage getting lost, we just didn't want to risk it. I decided that we'll stay here and we'll hold the ground for that. It was great because as Amanda is an emerging artist who everybody should get to know. Showing up on the red carpet was a big deal for her to share.
Her joy is so evident in the red carpet photos!
That's just her being so authentically her, which is hard when you go out to public spaces as an artist and present yourself as yourself. It's hard to be truly you. It's not if you are you, but it's a fine line. You put on a bit of armour by thinking, "alright, this is publicity." But you also want to make sure there's you in there. It's a constant dance. I feel that a lot myself as an actor ,and then as a writer and director going to these events; it's really hard to balance that. Amanda is so great at always, always, always staying true to herself. That's what makes her such a great songwriter. I learn from her.
Thank you Mayumi for taking the time to speak with us, and huge congratulations again for all of the success! Be sure to watch "Different Than Before" and keep an eye out for her feature film Akashi!
This was just the first half of our conversation with Mayumi, however. Check back next week when we will discuss how Mayumi prompted Telefilm Canada to make funding more accessible, when to call a project finished, and the importance of fostering your community.
Back to THE BLOG homepage