The Turtles are back, and they're bringing a whole lotta style with them! Leonardo, Donatello, Michelangelo, and Raphael burst up from the sewers earlier this month in Teenage Mutant Ninja Turtles: Mutant Mayhem, taking the franchise back to basics with pepperoni pizza, skateboards, and of course, a healthy dose of teenage awkwardness.
It's not just the names of the two-toed teens that are bringing the arts with them, however. Ten VFS alumni have been credited on the film, helping create the super stylish visuals that are charming audiences worldwide.
This latest film offering of the Heroes in a Half Shell has received adoration for its fun, expressive, and kinetic style of animation. The film overlays 3D models with uneven line work and marker-like colouration to create a striking hand-drawn effect that feels like it could have come out of a teenage street artist's sketchbook.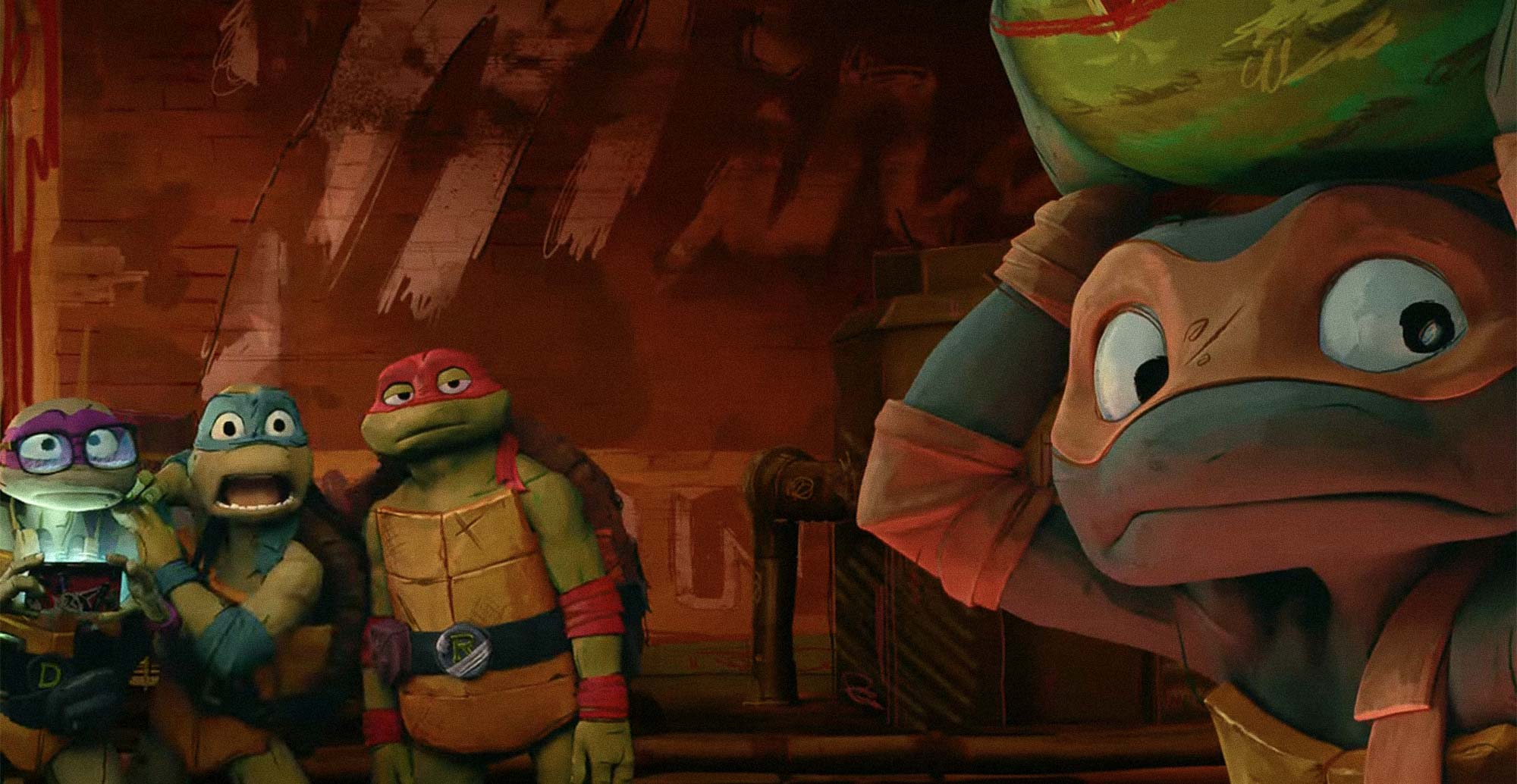 Visual details like sketchy lines and uneven colouring create a unique and jaw-dropping visual style.
TMNT: Mutant Mayhem was spearheaded by Vancouver natives and writer/producer team Seth Rogen and Evan Goldberg through their production company Point Grey Pictures, along with triple-threat director/writer/producer Jeff Rowe. Rowe previously directed The Mitchells vs. the Machines, another production brimming with VFS talent.
With TMNT: Mutant Mayhem's animation mimicking the use of mixed mediums, it's no surprise that the film drew on many different disciplines to achieve its look. The roster of VFS talent includes alumni from the Foundation Visual Art & Design, 3D Animation & Visual Effects, Classical Animation, and Writing programs.
Animation was primarily done by Mikros Animation, based out of Paris and Montreal, and Cinesite Animation, in Vancouver and Montreal—both of which employed VFS alumni on Mutant Mayhem! Cinesite boasts numerous graduates among their animators, who have worked on productions like The Addams Family and its sequel, Iwájú, and the short film "Mila." It's worth mentioning that many of these animators also worked on Rogen and Goldberg's previous outing, Sausage Party.
Writing alum James Powell was also brought on board by Point Grey Pictures as a Punch Up Writer to help put the finishing touches on the film's charming script.
A huge cowabunga! to all of our alumni who worked on bringing our favourite reptilian vigilantes back to screens everywhere.
If you dream of creating striking visual styles and vibrant animation, applications for the October intake of the 3D Animation & Visual Effects and Classical Animation programs are now open. And if you need a break while assembling your portfolio, be sure to check out Teenage Mutant Ninja Turtles: Mutant Mayhem in theatres now!
Back to THE BLOG homepage