Game Design
Online Certificate Courses
Level-up your game design skills and build a powerful creative portfolio.
In these online certificate courses, you will gain direct experience in game design and build the foundation necessary to pursue Vancouver Film School's 12-month Game Design program.
We welcome enthusiasts, high school students, mature students, and anyone looking to make a career change. When you finish an online certificate course at Vancouver Film School, you will receive a digital certificate of completion confirming your experience.
Explore the certificate courses:
**Students must confirm they are at least 16 years old at the beginning of the course in order to register.
**Please note that courses may be cancelled at any time due to low enrolment. Upon cancellation, registrants will receive a full refund.
To meet your industry instructor(s), click here.
If you have any questions, please contact: industryworkshops@vfs.com
Game Design Fundamentals (online)
Jump into the world of game design with this exciting introductory course. Game Design Fundamentals will take you from game design theory and industry "war-stories" to hands-on lessons with simple game design tools, and finish off by outlining and pitching your very own game! Additionally, students with access to a Nintendo Switch will be able to try out their new skillset in Super Mario Maker 2, as a class assignment (*see learning outcomes below).
Learn about the different types of game designers in the industry and what they do day-to-day.
Explore the fundamentals of game design theory and some advanced concepts.
Design a game level on paper and implement it in the 3D software tool Sketch Up.
Demonstrate proficiency in utilizing spreadsheets to design systems and balance a game.
Design characters, content, and narrative for an existing game of your choice.
Create a Super Mario Maker 2 level with level design best practices (alternative Assignment Available for those without a Nintendo Switch).
Collaborate on a game pitch with other students and present it to the class.
Computer with a microphone & camera
Sketchup (free)
Google Sheets (free)
Google Docs (free)
Google Presentation (free)
Nintendo Switch console with Super Mario Maker 2 (recommended) – those who do not have a Nintendo Switch will be able to complete an alternative assignment using Sketchup
Students are not required to have any previous training or experience.
May 31 to July 12, 2023 – **Sorry, this course is now closed.**
Don't miss out when the next workshop becomes available. Save your spot by joining the wait list today!
Lighting in Unreal Engine – Master Class (online)
Now more than ever, Unreal developers are in high demand, both in game development and virtual productions; the role of Unreal Lighting Artist is no exception. Whether you're completely new to lighting or already working as a lighting artist in the entertainment industry, this course will level-up your design skillset in Unreal Engine.
This master class will cover the fundamentals and applications of light theory & CG lighting, as well as how these concepts are translated in Unreal Engine. By the end of this course, you will have created multiple cinematic portfolio pieces that not only fulfill the prerequisite for our full-time Game Design program but will also aid you in future job applications.
July 4 – August 15, 2023 – **Sorry, this course is now closed.**
Don't miss out when the next workshop becomes available. Save your spot by joining the wait list today!
Daniel Langhjelm
Lighting and Virtual Production Artist, BRON Studios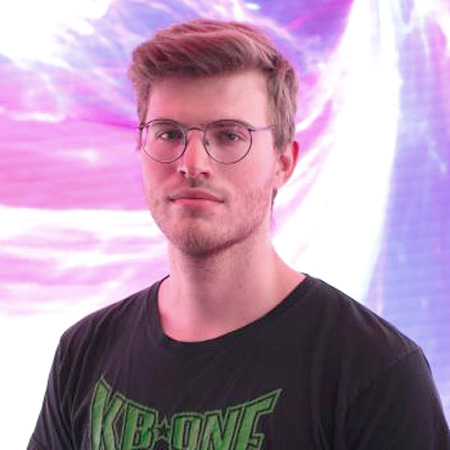 Daniel is a VFS Game Design alum. Since graduating, he has worked in virtual production as an Unreal Technical Artist, working with camera tracking and LED wall technology, before joining Bron Digital as a Lighting Artist. Daniel is currently working on a feature length animated series in Unreal Engine and is also the Lead Unreal Artist on Bucketheads: A Star Wars Story, a virtual production utilizing LED wall technology.