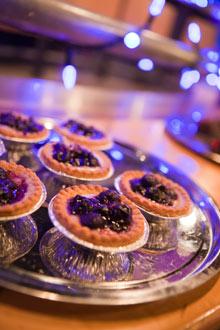 When Entertainment Business Management students Diana Garcia Mendez, Rebeca Ricoy, and Jenny Bourne chose producing a short film called Mora Azul as their final project in the program, they knew what they were in for: six months of hard work.
So last week's premiere of the film at the VFS Café was both a culmination and a celebration - a chance to screen the film and thank everyone who helped. Pitched as an "intimate" evening, the premiere turns out to be standing room only, a party packed with cast and crew, friends, classmates, and faculty.
When we sit down with Rebeca and Diana, Jenny's off making last-minute preparations for the screening. The vibe is good. Oh, and there are blueberry tarts.
"It's a double big day, because today we submitted our actual final project - the production bible and the short film," Rebeca tells us. "And it's the premiere, so after this."
"We're done," Diana finishes the sentence with a laugh.
The 12-minute Mora Azul is a simple, gently romantic story - following the tribulations of a young man working in a café and trying to win a girl's heart with her favourite blueberry pie - but no production is simple. But the end result, which was filmed at Vancouver's Aphrodite Café, feels polished and, well, professional. (The team, dubbed Holy Guacamole, was also guided along in part by Film Production Head Jonathan Wacks.)
There's an overwhelming feeling of pride at the premiere. "It's a multicultural short film," Rebeca explains. "Not only the actors, but also the production. So it's a pretty broad and multicultural short film, and we're really proud about that."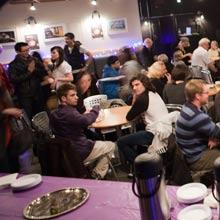 Although Diana came to VFS with some professional experience in Mexico, she's quick to point out that distributing a feature film and producing and distributing a short are very different ballgames. It's a new challenge, but a rewarding one. "The short film is ourshort film, so it's different. It's more exciting. You have more responsibility."
The three served as producers, overseeing the many aspects of getting the film made - developing the story, finding crew who could deliver on their vision, securing locations, developing a distribution strategy, and keeping everything moving along.
"It's a really, really tough job, but it's worth it," Rebeca tells us. "At the end of the day, the results are your baby, your creation. Even though it's the business side, it's the glue that sticks everything together. It also involves a lot of creativity. There's a lot of creativity involved."
The trio graduates in February, but the plans for Mora Azul don't end there. "Our objective from day one was to be screened at at least three international festivals," says Rebeca. "Hopefully that will happen," she laughs.
"That's our main objective - to be really proud of it, and to use it as a marketing tool for ourselves, for our future."
"This industry's really rewarding," says Diana. "So if young filmmakers want to be part of this industry, they just have to follow their dreams and do it."
To find out more about Mora Azul and its producers, visit Mora-Azul.com.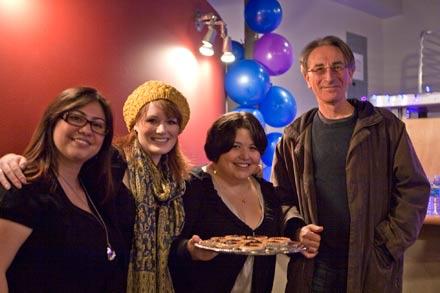 Left to right: Diana Garcia Mendez, Jenny Bourne, Rebeca Ricoy, and project mentor Jonathan Wacks.