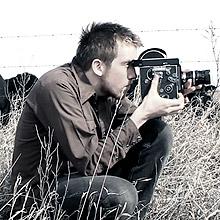 "After [VFS], I moved to Edmonton and basically shot whatever I could," says Film Production grad Mike McLaughlin.
"Edmonton doesn't really have the biggest film industry, so most projects at the start had to be created from the ground up. A lot of these projects just happened to be low-budget music videos for local bands."
Mike continued to build up his directing and cinematography skills during this time, shooting two short films in collaboration with Writing for Film & Television grad Adam Zang, along with a number of music videos.
Now living in Toronto, Mike will be making a much shorter trip to the 2010 MuchMusic Video Awards, where he's nominated for Cinematography of the Year for his work in Alexisonfire's video for their song, "The Northern".
Why do you think this video stuck out for the judges?
Mike: I think it sticks out amongst most videos because it's edgy. We wanted it to be as gritty as possible and I think we achieved that.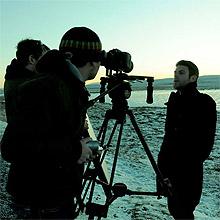 You also recently went to Iceland to shoot Jay Malinowski's video for "There's a Light". How did that come together?
Mike: I have shot in Iceland a couple times with a friend Guðni Páll Sæmundsson who was a classmate at VFS. At the time I was working with a director named Michael Maxxis. He mentioned that he wanted to do a video for Jay Malinowski in Iceland and that was pretty much it.
Can you talk about your approach to making short films like Sleepless and Maia and Jonah? What's the value of projects like these to an emerging filmmaker?
Mike: For me, I like short films because of the steep learning curve that goes along with low budgets. Every decision you make has to be calculated because you just don't have many resources. I think there is great value in doing short films because there are so many festivals that you can show your stuff at and get noticed.
Both of those shorts were written by VFS Writing grad Adam Zang. How did you meet him and what was your working relationship like?

Mike: I ended up reading Adam's short script, "Sleepless", while we were both studying at VFS. It took me about a year, but I ended up shooting it after school. I then convinced him to adapt his feature script, "Maia and Jonah", into a short for me to direct. Besides being a great writer, Adam's best asset is that he's very adaptable with his writing.
What's next? Do you have any projects on the go that you're excited about?
Mike: I just finished directing my latest short film, so I'm excited to edit that this summer.
What advice would you offer to current students and recent grads of Film Production who are heading out on the same path?
Mike: I would suggest you go to your local film co-op, rent some gear and shoot something. Edit it and send it to every film festival you can track down.
Thanks, Mike. We'll be sure totune in to MuchMusic on Sunday, June 20 at 6pm PT to catch the MMVAs and cheer Mike on!
For now, here's a look at the video that garnered Mike his Cinematography of the Year nomination.