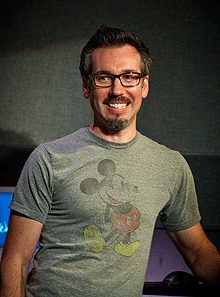 The buzz of yesterday's activity continued into the evening with a VFS-hosted, student-only presentation from Lino DiSalvo -- a 3D Animation & Visual Effects grad who now works as a Supervising Animator at Walt Disney Animation Studios on such features as Tangled and Bolt.
Lino began by having a little fun and played a clip from Bolt, where his New Yorker accent is on display as "Vinnie" the pigeon. He then jumped into a presentation heavily focused on how solid acting instincts help animators create better work.
The Workflow
For a studio animator, it all starts with the storyboards: "To me, storyboards are the soul of the film."
At Walt Disney Animation Studios, animators are issued a chunk of work and have a tight time frame to turn everything around. But Lino still gives himself a day to explore his creative choices and consider the best approach to animating his assigned scene.
Whenever he animates a character, he always tries to act it out first - relying heavily on the advice from his wife (a professional actor). He screened some clips of these "home recordings" he makes in his office, mouthing out the dialogue and flailing his arms. It may sound funny - and it is - but when Lino takes this footage to the film's director, everyone has a much clearer idea of what will be on the screen, and Lino's first passes at blocking his character's actions will be even closer to what he's being asked for.
Play it Cool
From there, he'll get a ton of critical notes and keep plugging away at his scene. Understanding how to take notes and not get too defensive is key to being successful, he explained to the audience: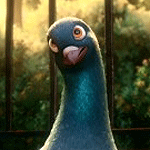 "When you guys get gigs at studios, you're going to get your stuff ripped apart... Do not fall in love with anything you do."
Instead, he suggests you find unique ways to surprise others with fresh choices while staying close to the intent of the original storyboards. Subtext, he says, is everything: What is a character thinking? Where are they going? How might their body language complement or contradict what they're saying? Lino loves seeing this quality in student reels.
Sneak Peek
Lino wrapped up by giving students a very special look at his newest work on ABC's Prep & Landing, which you won't be able to see until Christmas. He mentioned that it was likely the first time this footage was screened anywhere in the world outside of Disney. All we can say is that it was awesome!
Many thanks to Lino for his time -- and to all the Animation & Visual Effects students for their great questions!