Prolific television writer Larry Kaplow recently visited the VFS Main Theatre to share his experiences in the industry with our Writing for Film & Television students. Current writing student Lynn Sternberger recapped the lecture for our blog.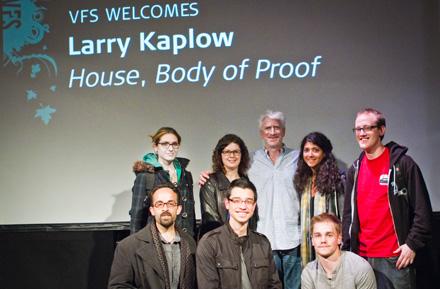 Guest Post By Lynn Sternberger
This past Monday, Emmy nominee and Writer's Guild of America award winner, Larry Kaplow welcomed an audience of VFS students from the Writing for Film & Television program. For two hours, he entertained and enlightened us, charting his hard-won ascent from poetry student to production assistant on the TV series Clueless to a much sought-after break into the writers' room with Family Law, doing research for Oscar-winning writer/producer Paul Haggis. To land his position on the long-running TV series House, Mr. Kaplow spent a month researching obscure medical cases before meeting with showrunner David Shore, a friend and mentor.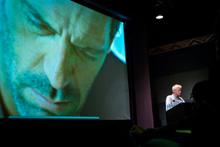 From there, Mr. Kaplow segued into a candid (and often darkly comic) exploration of how he incorporates his deeply personal life experiences into his writing. He calls his work "revelation," mining the darker sides of his self, and illustrated the emotional heart of his storylines with clips from several episodes of House.Always emphasizing that the success of dramatic writing hinges on its life or death emotional stakes, Larry shared several of his tools for "breaking" a story from conception to writing pages, and tying each episode's storylines to an overarching theme.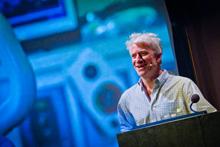 Now writing for the new TV series Body of Proof,Mr. Kaplow encouraged all in attendance to revel in the work they have chosen, despite its difficulties. He shared that TV is written by a "community of people who truly, truly care about what they do." After answering audience questions about his own writing process (it involves wearing construction boots!) and what it's like inside a writers' room, it was clear Mr. Kaplow had made a strong impression.
Speaking with my fellow writers after the event, we appreciated Larry's multi-pronged presentation - part personal journey, part business advice, and part inspiration to continue doing what we love (and to do it better and better). While we each have our own version of wearing construction boots to get down to the mental labour of writing, we can all use the insight that Mr. Kaplow offered. Plus, he's a pretty funny guy.
Visit our Flickr site to see more photos from the event.
Thanks, Lynn and thanks to Larry Kaplow for offering his time and inspiring our students!