"I wanted to get into action-hero stuff."
That was Niall Matter to The Province newspaper recently, talking Primeval: New World. The series premieres in Canada tonight on Space at 10pm Eastern/7 Pacific - don't worry, American fans. It's coming your way on Syfy in 2013 - and it stars two VFS Acting for Film & Television grads in Niall and Sara Canning. The two join forces to chase temporal "anomalies" and do battle with dinosaurs and other prehistoric creatures.
Welcome to Vancouver
Primeval: New World is a spinoff of a British sci-fi series, Primeval, which ran five seasons beginning in 2007.
The new show is remarkable for being both shot and set in Vancouver. We get to stand in as our own hapless urban victim for a change (VFS students' cataclysmic visual effects reels being a notable exception.) It means we'll get to watch prehistoric fauna run amok in Granville Island, for instance - a little bit of wish fulfillment for those who've ever tried to find parking there.
"It'll be really recognizable for people who live in Vancouver, and I love that - films that place an extraordinary sighting or event, and ground it in the reality of a city," Sara told The Province.
Niall Matter
Niall graduated from the Acting program at VFS in 2001. Today, he's best known to fans as Zane Donovan on the Vancouver-shot Syfy series Eureka, which ended this summer. As Primeval's Evan Cross, he plays a software billionaire with a major personal grudge against prehistoric monsters.
"There's no fans like sci-fi fans, and everyone in the world knows that," he told Collider last year, talking about his Eureka experiences. "So, to have the support of sci-fi fans is one of the most incredible feelings that an actor can actually ever experience in his career." Now a bonafide sci-fi leading man, Niall can expect more fan attention than ever.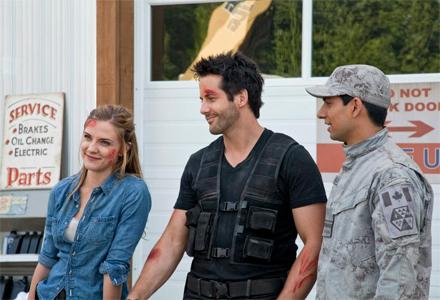 Sara Canning
Sara graduated from VFS six years after Niall. We first wrote about her around the time she played Nicky Hilton in Paparazzi Princess: The Paris Hilton Story, but her breakout role was as Jenna Sommers in the first two seasons of The Vampire Diaries, which meant a temporary move to Atlanta and a growing fan base. On Primeval, Sara's Dylan Weir is a conservation officer whose animal knowledge is about to be put to the test in a big way.
"There's definite chemistry between the characters," Sara tells Space. And no wonder - this isn't the first time the leads' paths have crossed. No, that happened in 2007, when Niall was starring on The Best Years, and was welcomed back to VFS to speak with students, including Sara.
Since then, she's returned the favour, joining us in 2011 to judge a monologue competition: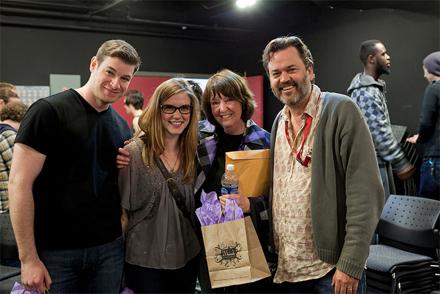 Primeval: New Worlddebuts tonight on Space. We'll be watching - you should too!