In 1971, Canadian playwright David Freeman wrote Creeps — a play that put four disabled men at the centre of its story. David suffered from Cerebral Palsy, and he drew from his experiences living life with a disability to make space for a POV that was, and still is, underrepresented in theatre. The result was a nuanced and authentic experience, one that resonated with audiences across Canada and abroad. The play went on to receive the Chalmers Award and the New York Drama Desk Award.
While Creeps was considered ahead of its time, the play — now over forty years old — still operates on a profound level. A recent production by Realwheels Theatre in Vancouver enforced that we still have a long way to go in the discussion about disabilities and how they are represented in theatre, film, and television. It was a stark reminder of the importance of seeing disabled characters portrayed with agency on stage (and on screen) — parts that go beyond stereotypical cameos.
Aside from the obvious appeal of Creeps, we had another reason to go and see the local production. Acting Essentials and Acting for Film + Television grad Aaron Roderick was cast in the play, turning in a tempered and raw performance as Tom March — a man with ambitions to soar above his station at a mundane workshop in order to pursue a life as an artist. It's a familiar story, but it's told here by an unexpected voice. The result is a blindingly beautiful journey. Through rage and humour, David Freeman brings audiences into a conversation about life, dreams, and sticking it to the institution. The end will leave a crater-sized hole in your chest.
Like his character in Creeps, Aaron came to Vancouver Film School in pursuit of a dream and did not let the physical demands of the program slow him down. He graduated only two years ago and hasn't stopped since.
We had an opportunity to ask Aaron about his time at VFS, his journey pursuing a professional career as an actor, and what his thoughts are on the subject of able-bodied actors playing disabled characters. For more, please read on.
When did you know you wanted to be an actor?
Aaron: I've always had an interest in performing. This goes back to my early childhood. I can't remember a specific event that sparked it. I've just always been magnetized to the big screen (and small screen). I'd be swept away to Neverland watching Hook, or planning up blueprints (mentally) to build a time machine after watching Back to the Future. As I grew older, I started to recognize that actors like Robin Williams (Jumanji), Matthew Modine (Fluke), and a plethora of Disney classics had shaped my childhood. These performances gave me the ambition to do what I admired and respected so deeply.
I didn't have a clue where to start. It wasn't like I could just jump onto Google, but I learned of a place called Spotlight Academy, which was initially under Jacqui Kaese but later moved on to Adrian Hough. I spent a good handful of years there. It's also where I met Bart Anderson. Later, I moved to the Red Room Studio and trained through some of the instructors alongside Andrew McIlroy, whom I later trained with at Vancouver Film School.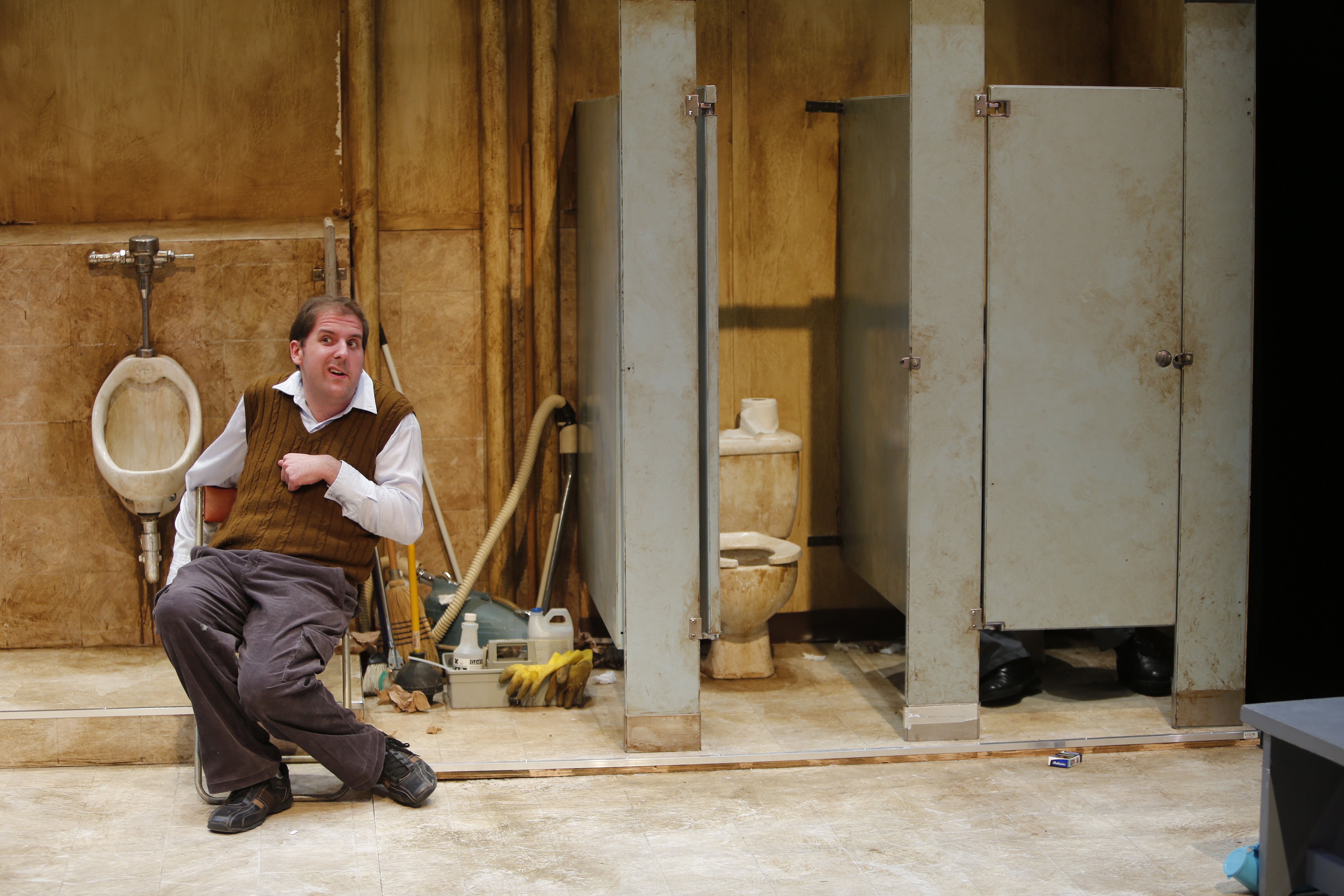 What made you want to come to VFS?
Aaron: I had a transitional period where I swapped from acting to voice acting. I was teetering on the brink of becoming a professional voice actor, but I came to realize that I'd never reach that potential as long as I was living in Nanaimo. So, I packed my bags and moved to the Lower Mainland and everything opened up. I'd abandoned the thought that I'd never amount to anything more than YouTube and community theatre. It reopened the curtain to pursue acting and I began to attend auditions, primarily through Vancouver Film School and Capilano University.  
At the time, I thought I was a good actor. I thought I knew the ropes, but I wasn't getting anywhere past the audition process. I recognized that I needed to reassess the actor I thought I was to be the actor I wanted to be.
Describe what your time was like in the Acting for Film & TV program.
Aaron: When I initially came to Vancouver Film School, I had a meeting with Jennifer and Mattie. They had strong reservations that I wouldn't be able to keep pace with the course load. I had (internal) reservations that I wouldn't be able to either, based on my physical capabilities at the time, but I was too stubborn to give up on my progress.
So, I joined the program. I set myself a goal to participate in the course load to the best of my abilities and I wouldn't allow myself to ever believe that I wasn't capable of doing the things I wanted to do because of my disability.
As I progressed through the program, I began to identify certain interpretations of what I thought acting was, which helped me recognize my own faults. I began identifying the strengths and weaknesses of my peers, which helped me make better choices as an actor. We began networking, not only with professionals within the industry, but with students in Film Production, Sound Design, and Game Design. I had emerged from isolation and befriended those I had spent 16 months alongside.
Jennifer Clement gave a beautifully passionate segment in her speech at our graduation in which she recalled the moment before I joined the program, and how I fought so hard to be there. It's the passion to succeed and define oneself that has molded me into the individual I am today.
What was the biggest lesson you took away from Vancouver Film School?
Aaron: It's easy to pick out actors who are passionate and have an ambition to succeed. Your training doesn't stop at Vancouver Film School. You're not going to just graduate and immediately land a spot on Arrow or Supernatural. You're not going to have instructors chasing after alumni. You're on your own.
Casting directors have their pool of reliable, dependable actors. You could have the best agent in the Lower Mainland, but getting an audition ultimately depends on your ability to prove that you stand out in the crowd and deserve a place in the room.  There are a plethora of local resources to help guide you on the right path.
You were recently in Realwheels Theatre's production of David E. Freeman's Creeps. Who did you play and how did you prepare for the role?
Aaron: In this production, I played Tom March -- a man with Cerebral Palsy who has great ambitions to leave his sheltered workshop and become a professional artist.
Vancouver Film School is a program that teaches actors the core principles of acting for film and television. When I approached Creeps, I was going into a production without any prior training in theatre. When I researched the role and began analyzing the script, I was translating every process used in film and television. I began identifying the individual layers that brought realism to my character and authenticity which served the story.
What were some of the most memorable responses from the audience?
Aaron: There were a lot of people that were asking about the challenges of coming up with a character who had Cerebral Palsy. When I initially took on the role, I didn't know anything about it. I didn't understand the cognitive and neurological issues for people with the disorder. It was challenging because the only information I had was, "Imagine you aren't getting the signals from your brain." Well, how do I experience that? I can't just stop the signals from my brain. I can't just pretend to turn off my brain because then I'm performing without justification. 
So, I asked a friend for his input on the matter because he actually has Cerebral Palsy. He didn't just try to explain it to me. He stood up from his wheelchair and thoroughly addressed what was happening. It was as though he was trying to lift 200 lbs when he could only lift 100. The idea that I should try to turn off my brain was finally making sense.
For more, check out this webpage where you can see plenty of responses from audience members and critics.
How do you feel about able bodied actors portraying disabled characters in the production and in general?
Aaron: An actor should never be denied a potential role suited to their capabilities because of a physical or mental barrier. Society is better than that. We're finally breaking free of this idea that actors need perfect bodies and a medical history that is impeccably sound. You don't. If this had any relevance, we wouldn't have RJ Mitte from Breaking Bad, Micah Fowler from Speechless, or Emmy Award-Winner Peter Dinklage from Game of Thrones. If the notion of an able-bodied actor playing a disabled character offended anyone, Daniel Day Lewis certainly wouldn't have won an Academy Award for his portrayal of Christy Brown in My Left Foot. You just need to be you.
Has being a self-identified disabled artist impacted your acting career?
Aaron: There are times when I will begin to doubt myself, question my physical stamina, wonder if my lack of progress is due to my physical barriers, but then I'm offered another opportunity to prove my place. Looking back on my accomplishments in Creeps, I was never hindered by my physical barriers, nor was I impeded by a lack of progress. I proved to myself and the community that an actor isn't defined by their disability. 
In terms of film & television, what would you like to see done differently?
Aaron: One of the biggest recurring themes I see in the local talent pool is when one (or two) actors move without a reason. It's an issue I've struggled with in blocking when I don't recognize the impulse that prompts me to move, or I'm just moving to a position on set (or on stage) because it's in my light or at the request of the director. If it's ignored, it just looks like the actor is crossing without a reason. It's not something an actor is going to get criticized for. For example, a reviewer isn't going to look back at my performance and say, "I loved that cross from the bench to the counter top, and he landed perfectly in his key light." What it will do is give you an intention that propels you from one moment to the next. It brings the character to life and separates good acting from great acting.
What's next?
Aaron: I've been on a major roll throughout the month of January. In terms of live theatre, I've had two auditions and one callback, with three more auditions coming later this month. I've also received a call back for a video game and I'm getting my headshots redone.
Anything else you'd like to say?
Aaron: You can't be like Matt Damon. You can't be like Meryl Streep. You can only be you. You don't need to be as handsome as Leonardo DiCaprio or as beautiful as Emma Watson to be an actor. Don't ever believe for a moment that your physical or mental barriers will prevent you from pursuing your ambitions.
Thanks, Aaron!