The Storyteller in Residence program at the DOUGLAS Hotel has a new artist to showcase for November, who is none other than Vancouver Film School's 3D Animation & Visual Effects alum Tianna Willis!
Tianna created "Steam Clock"; a short film based on one of Vancouver's most-recognizable landmarks in Gastown. The film opens inside the steam clock and proceeds to show the viewer the inner mechanics of the clock, before transitioning to an outside view in the square as time passes rapidly. Tianna takes great care in finessing the details of the clock and the lamp post, which can be seen near the end of the film.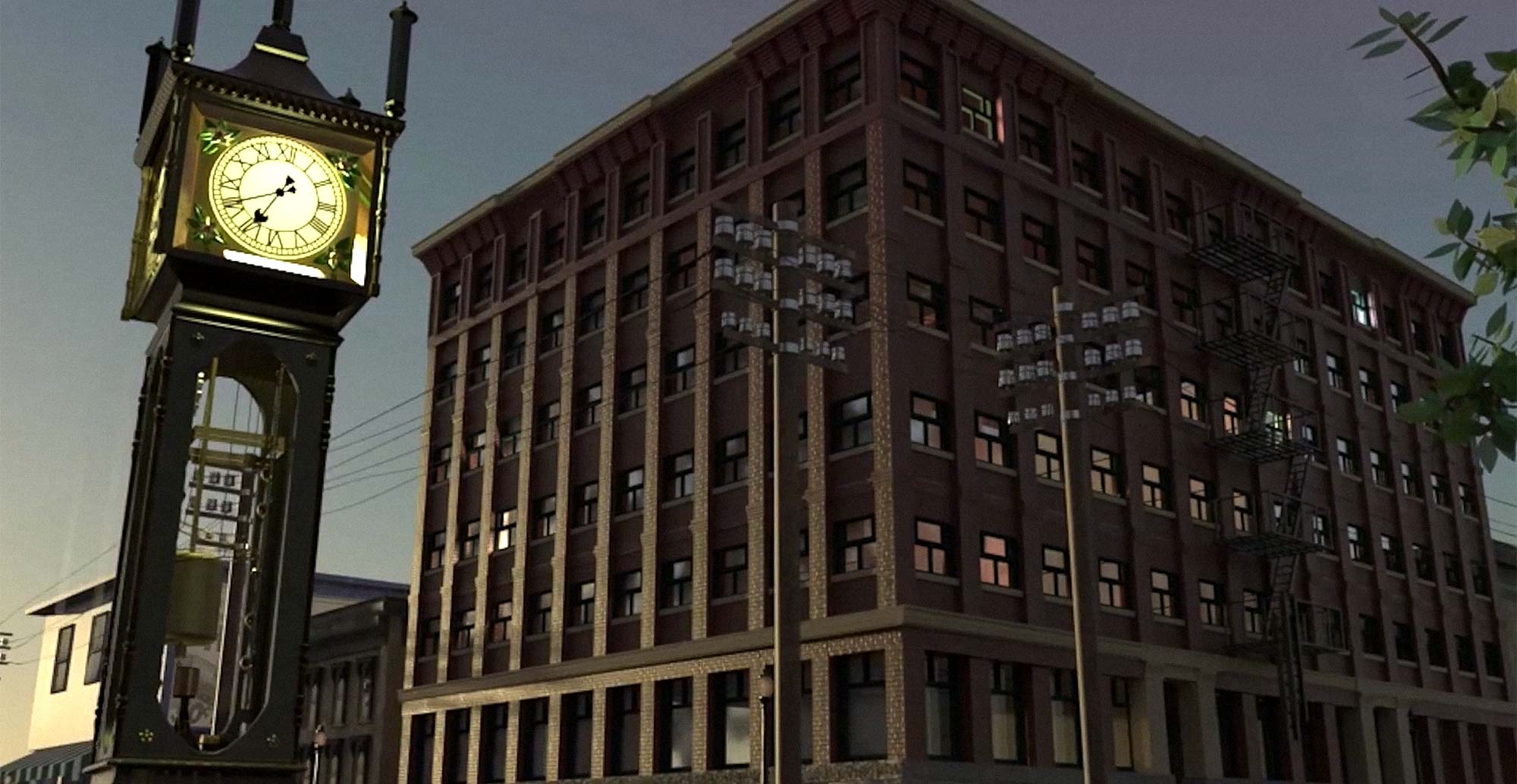 Tianna's short film "Steam Clock" uses this historic landmark to highlight the connection between time and memory.
Time passing is a prominent theme in the film, as Tianna created the project to commemorate one of her first memories in Vancouver – sitting at the Starbucks in Gastown (may it rest in peace) with her friends as "time ticked away on the steam clock." Tianna aimed to capture the beauty of everyday life and emphasize the importance of appreciating every moment as nothing lasts forever. She says, "this short film represents how easily and quickly time passes from days to years, sometimes in which we forget to look around and admire the beauty in all of it." She views the clock as a reminder that although time is fleeting, memories last a lifetime.
Alongside the meaning, Tianna encourages viewers to pay attention to the intricate details of her film, such as the moisture build-up on the steam clock or the accumulated dirt on the base of the clock during the credit scene. Recreating these details is a pivotal part of bringing the steam clock to life and evoking emotion in the audience.
Since graduating from VFS, Tianna has been working as a freelance artist and 3D modeler. She has experience with pencil and life drawings, digital artwork, and 3D textures. She started working as a 3D artist because she has the ability to create worlds and bring ideas to life, saying "it's the magic that intrigued 9-year-old Tianna and the desire to bring her art to life all in the hope to make someone smile."
"Steam Clock" will be on display at the DOUGLAS Hotel until the end of November, and we encourage you to stop by and create your own memories along the way!
Back to THE BLOG homepage