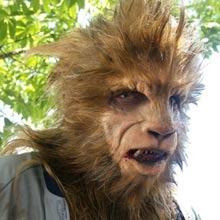 Recent Makeup Design for Film & Television graduate Crissy Renaud placed 2nd in the 2008 Make-Up Artist Magazine International Student Make-Up Competition, taking place at IMATS in Pasadena on June 21st and 22nd.
The competition was open to makeup students and recent graduates from around the world, with only 8 competitors accepted for participation. The theme in the character makeup category? A Werewolf in London.
The contest was hosted and judged by renowned makeup artist Michael Key, who is also the Editor-in-Chief of Makeup Artist Magazine and the founder of IMATS.
We had to ask Crissy more about her werewolf...
What was the process like on the day of the competition?
Hard! Michael Key selected 2-5 foam pieces varying in size, edge, quality, and air bubbles that fit our model. When we had our pieces, they started the clock and we had three hours to complete the look we were going for. In the Werewolf category, they added that they'd be judging the hair laying.
How did you decide what styleof werewolf you wanted to create?
I watched almost all the movies I could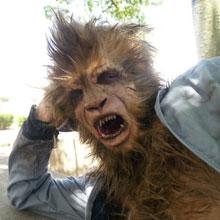 get my hands on that had Werewolfs in them and picked things that I liked about them -- like hair color, the ones that were more wolf than human, teeth, eyes, hands, and skin color. I spent hours on the internet looking at pictures of dog hair to see the direction of hair growth, as well as different variations of wolf men. We worked on a werewolf at work [WCT] for the show Reaper, and I always loved that it had a mohawk, so I knew I wanted to have that. But it all came down to a clean, simple look on the day, which meant a lot of prep work.
Tell us about your preparation process.
I did two solid weeks of prepping after work. I had already made a hair cowl and hands for the werewolf that I did at London's IMATS [the London IMATS competition in January had the same theme; Crissy's werewolf in that competition was a female model]. The hair cowl just needed a hair cut and I put work gloves over the werewolf gloves I made. I did a teeth casting of Sean, my model, and sculpted upper and lower full dentures.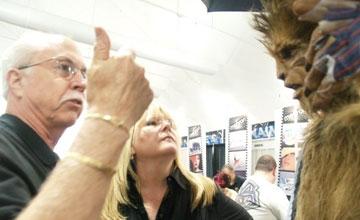 I ended up making a latex chest that I ran from a mold at work that was from Smallville, then painted it up and laid hair on it. Finally, Bill Terazakis from WCT lent me a pair of contacts from Wrong Turn 2that had just finished a werewolf look.
I learned from the last two IMATS shows that I did that the more prep you do, the faster you'll be, and the better your final character will look.
Any particular challenges and/or aspects of the werewolf makeup you're really proud of?
I like the hair work I did. I had Michael Key and Leonard Engelman both come up to me to tell me I did a good job on my hair work. That was a great moment for me!
And we can see why -- incredible work, Crissy!
Here's a final shot of the full werewolf group. If you see this gang headed toward you, you might want to cross the street...