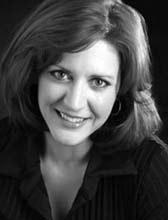 Karen J. Lloyd knows a thing or two about being a Storyboard Artist - but best of all, she wants you to know, too.
The Classical Animation grad - and former VFS instructor - has been storyboarding animation for 11 years, a specialization that, as she emphasizes, is as much about communication as anything else. And that ability to communicate - and the drive to give back to "the younglings" - led her to create storyboardblog.com, which she maintains along with "live-action guy" Adrien Van Viersen.
It's a practical, honest, and often hilarious look inside the animation industry and how it works, whether it's the must-read breakdown of the importance of professionalism in animation or handy storyboard templates or the value of training for an aspiring Storyboard Artist. It's not to be missed for anyone even thinking of joining the industry.
We wanted to go directly to the source and find out from Karen - who's worked on everything from Rugrats to Studio B's Kid vs Kat - what's behind the 'boards.
As someone who's trained in Classical Animation, what do you like about being a storyboard artist?
Nothing. Next question. Alright, alright, I'm kidding - I do that... It keeps me sane.
Oddly enough for me, it's not the drawing part. I like telling stories visually and the drawings are just a means to that end. I love the challenge of working through a script that may not be the strongest and finding ways to 'fix' it. To make something that may read awkward work in the visual medium. I really enjoy making the characters come alive and act. I've done acting myself so that's probably why it comes naturally to me.
I enjoy 'playing director' and being in control - for the most part - of how the cartoon will turn out. And I love freelancing and pretty much being my own boss. I do my thing, hand it in on time, and everyone leaves me alone. You have to earn that, but it's great.
How did you end up doing this for a living?
Before going back to school, I had a background in Graphic Design. Since the one-year program at VFS is so intense, I was ahead in certain areas like composition, perspective, and general design. I could really just concentrate on learning animation. Those other skills are very important for a storyboard artist to have and it turned out I had a natural 'film sense'.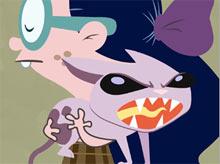 At the time I was in school, there was no Flash and most animation was sent overseas. Your only job options were really just character/prop design (I suck at that), background design (I hate that), layout (an option), or storyboards (hmm, pays more than layout and I'm good at it... Yeah, I'll take that one). So in the end it was really just a smart career move. I had the ability for it and it was a job that would always be needed. I aimed for that. Then it was good timing, a good recommendation and proving myself. And it worked out for me.
What are the kinds of challenges a person in your field has to tackle? (I suppose aside from the feast-or-famine struggle that comes with being a freelancer...) What's the most challenging job you ever took on?
Yes, the feast or famine thing is always there. And freelancer's anxiety: "Where's the next job coming from? Where's the next paycheque coming from?" (Deep breath, pant, pant.)
Getting that first job is always a toughie. After you get your foot in the door, you just keep working on your craft and your reputation and hopefully the work will follow. When there is work. Another challenge is storyboarding takes up a lot of your time. When I'm on a contract, the rest of my life basically stops. There's not much free time left. That could be very difficult if you have a family - as in married and kids. And pressures from others outside the industry that 'don't get it' can be hard.
Otherwise, just 'getting the thing done' is the biggest challenge. I guess the most challenging job I ever took on was one that lasted 13 months straight. That may sound great - as in "Yeah, steady work!" - but it almost killed me. It was way too long to keep up that pace. I won't take on a contract that goes longer than 6 months now. That's my limit.
What kind of person and skills add up to a great storyboard artist?
Organized. Mature. Reliable. Strong artist. Fast enough. Good at composition. Knows perspective. Good film sense. Good storyteller. Good actor. Good editor. Sense of humour. Gives a crap.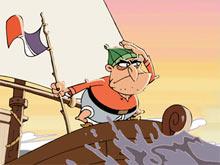 Your blog is an incredible resource - what drives you to share your knowledge and experiences like that?
I taught at VFS for 4 years and really enjoyed it. I almost like teaching it more than doing it at this point. I have enough experience in the industry now - 11 years - that I feel I have something of value to say about it (I hope so, anyway). There also wasn't much out there in the way of resources for just storyboard artists. It seems like the industry is keeping its arm covered around its work so no one will 'copy' them.
I think that's ridiculous. I could give away all my 'secrets' and it won't automatically make someone better than me. It takes so much more than that. They have to do it on their own after they step away from my little blog. Mentoring people is a good thing and is in no way a 'threat' to someone's career. So I gave it a shot not knowing if anyone would come. But folks are coming and I'm pleased. I've got bigger plans for the blog - and my career - so that's fun too. And I just like writing the damn thing.
Just how niceis it to be unemployed right now?
Right now, it's sweet. I have given up 'the fear' and I just believe the work will come as needed. Because it always has for me and I'm very lucky and grateful - and I worked my butt off! But don't get me wrong... I planned for this. I'm good with the money I make and save it just so I can take a break and get through the 'slumps'. You really need that discipline with money if you want to freelance. No one else is going to take care of you. If you can't take care of your finances, you'll be hurting when the work dries up. And it will. But then it comes trickling in again, so I just go with the flow now. I'm in the mindset to work so I don't always have to. Good plan... at least for me.
Thanks, Karen! And readers, what are you waiting for? Check outstoryboardblog.com!