Digital Design
Entry-Level Online Workshops
Learn new skills for your portfolio and career development.
Whether you have prior training in a related field or no experience at all, our entry-level workshops have everything you need to take meaningful steps towards portfolio development for post-secondary study and your dream career. We welcome enthusiasts, high school students, mature students, and anyone looking to make a career change. Developed by VFS's team of industry professionals, these workshops will give you insight into what the Digital Design program at VFS can help you achieve.
Cost:
$150
Workshop Duration:
Four-day course, 10 a.m. – 1 p.m. PST
**Students must confirm they are at least 16 years old at the beginning of the workshop in order to register.
**Please note that courses may be cancelled at any time due to low enrolment. Upon cancellation, registrants will receive a full refund.
If you have any questions, please contact: industryworkshops@vfs.com
Intro to Digital Design: Create and Animate Your Personal Logo
Learn about logo design and animation using Adobe Photoshop, Illustrator, and After Effects. Explore each step of the design process, from conceptual stages to final product, and create an animated logo for business or portfolio use that highlights your personal brand.
Learning Outcomes - Participants will:
Build a foundational skillset to take into further digital design training.
Bring your logo idea to life in Adobe Photoshop and Illustrator.
Understand the basics of animation and motion graphics using Adobe After Effects.
Create a polished logo to enhance your design portfolio or business.
Schedule:
Day 1
Storyboarding and ideation
Day 2
Assets creation in Adobe Illustrator & Adobe Photoshop
Day 3
Importing assets into Adobe After Effects
Animating layers and creating depth in the animations
Day 4
Basic compositing and colour correction
Final export and render
Requirements:
Adobe Creative Cloud (Illustrator, Photoshop, After Effects)
Computer with dual monitors (recommended), microphone, and camera (optional)
Stable Internet connection
April 2-3 & 9-10, 2022 – **ONLINE workshop**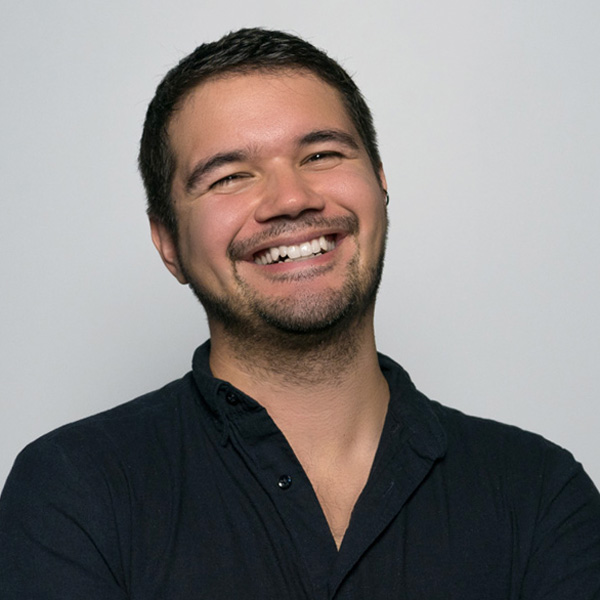 Ignacio Florez
Motion Designer
Ignacio Florez is an award-winning motion designer with experience in advertising and television. Having worked on a number of different projects, Ignacio now finds himself leading TapSnap's marketing team. For the last few years, he has been developing marketing campaigns from scratch, organizing numerous deliverable assets, and maintaining a cohesive vision for every different campaign. He has also worked on several freelance projects, mostly with non-profit organizations, which help him grow as an animator and apply new techniques in his day-to-day work.