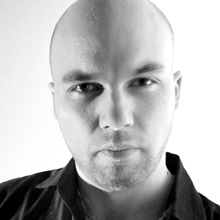 It's good to be Royden Lepp. The Classical Animation grad has spent the past decade honing his skills in the games industry, and exploring his story-telling chops in comics and graphic novels. Because that simply wasn't enough to do, he also worked at the same time as an illustrator for Zondervan, bringing the stories of the Bible to life.
His most recent work has been in the games industry on Marvel Super Hero Squad, but this month Royden is making a triumphant return to comics with Rust, a story set in a prairie town after a rather different type of world war. We caught up with Royden to discuss his career so far, the time he spent at VFS, and the big news from San Diego Comic Con about Rust.
Hi, Royden. You've had quite the varied career since graduating from Classical Animation. Let's start with your time in video games. Tell us how you got started in that industry. What makes it a good fit for classically-trained animators?
Royden: Basically I chose Classical Animation at a poor time in the industry. Feature length 2D films were literally halting production the year I graduated from VFS. The games industry in Seattle was hot and at the time there were still plenty of simple 2D games that required classically-trained animators. Once those projects also dried up, and 3D became affordable for most studios, I chose to move into 3D. Video games is a great way to earn a living at a steady job with benefits and long term goals, instead of working film to film, or show to show. And hell it's fun! Video games!
You've also worked for Zondervan. What were your responsibilities there?
Royden: I essentially contracted for Zondervan creating children's books and comics for their market. I did it alongside my day job in games. I was essentially writing and drawing stories.
Do you find it difficult switching between your various roles?
Royden: Absolutely. I was working 40 to 50 hours a week in games and then going home to work on my books. I've experimented with several schedules but I'm usually getting up early before work and doing some drawing. Games is really rewarding in that I'm working with other amazing artists all day long, collaborating and growing. Writing and drawing from my office at home is more solitary. Both experiences are rewarding.
As if that wasn't enough, you're also a comic book writer and illustrator. We'll get to Rust shortly, but tell us about your other titles. Have you always drawn comics? Is it common to find animators who do both?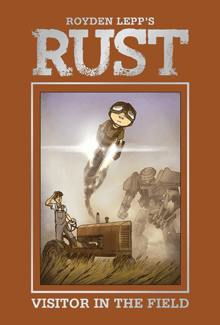 Royden: I have always been interested in both comics and children's books, and I've pursued both at one time or another. My first venture into comics, and my first published book, was David. It was the story of David, the shepherd boy who penned the Psalms. It was a story I've always loved and I've never seen it retold very well. I find that most artists are pursuing something other then their actual vocation. Some animators are going home to paint on canvas. Some are going home to dabble in new mediums like iOS or Android entertainment. Others go home and draw comics.

Rust: Visitor in the Field is the first volume of your new series, set in a time just after a war you probably won't find in history books - and with what sound like steampunk elements. What were your inspirations for this world? And the story?
Royden: My inspiration for the world definitely came from my childhood; I grew up on the Canadian Prairies. I use to walk through the wheat fields with my Dad, and he'd pull wheat kernels off the stalks and teach me how to make chewing gum out of it. I love science fiction, robots, jet packs. I just mashed it up and tried to envision a story that would grab my attention.
The big news coming out of San Diego Comic-Con was that Fox has optioned the book for a movie. While movies based on comics have become commonplace now, was this something you even considered while creating it? Have you considered turning your other work into animated projects? (Rust will be live-action.)
Royden: Every creator sees film as the holy grail of entertainment and storytelling. I'm no different and I surely imagined a movie based on the book, but I never actually thought it would happen. It's overwhelming and exciting. I'm not thinking so much about past projects right now as much as I am about Rust. Rust still has a lot of work and a story to be told.
How did VFS prepare you for such a varied career?
Royden: None of this would have been possible without my education at VFS. I'm not kidding in the least. I think about my education there often and how I lucky I was to choose that program with the instructors I had.
Thanks, Royden!